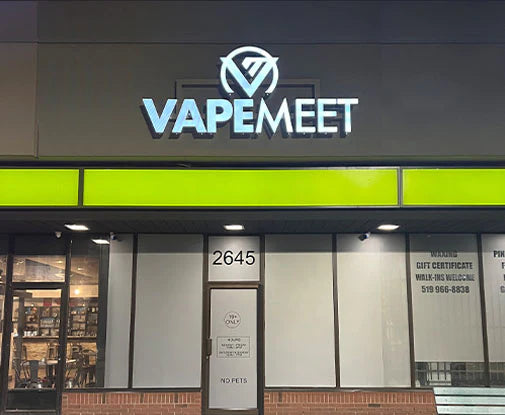 VapeMeet: A Look Inside Windsor's Favourite Vape Shop
If you're looking for the best vape shop in Windsor Ontario, look no further than VapeMeet! We are your one-stop shop for all things vaping, from beginner to expert. We have everything you need to get started, including starter kits, mods, tanks, coils, e-juice and more! In this blog post, we'll give you a sneak peek inside our store and show you what makes us the favourite vape shop in Windsor.
Tyler has been working at the Windsor VapeMeet for over five years and 7.5 years tobacco-free as well! "I've helped countless people on their journey towards quitting smoking and making big life changes, whatever that may be, towards a healthier lifestyle. It's been tremendously rewarding for me, and I'm very knowledgeable in the field with skills going back to vapings birth."
 If you're on a mission to quit smoking, you'll be happy to know that VapeMeet offers a safe and effective alternative to traditional cigarettes. Vaping has been a game-changer for many of our satisfied customers. Not only does it create the same hand-to-mouth sensation and nicotine rush, but vaping also offers an abundance of customizable options for flavours and strengths. Plus, with VapeMeet's support, breaking free from your cigarette addiction and achieving a healthier lifestyle is more attainable than ever. We're a bit more than your regular vape shop in Windsor. 
"We moved locations last summer from downtown to Howard. The new faces I've met and the people I see are very kind and listen and learn well!" explains Tyler. "It's been wonderful working alongside these other businesses in our plaza! We're also not too far from the Devonshire Mall- it's a few good blocks up, we're on the bus route."
VapeMeet Windsor is located in the plaza on the corner of McDougall and Howard Avenue. Situated along with SOUQ Lebanese Grill and Tommy Nails in one corner and surrounded by many establishments, this plaza is the ultimate one-stop shop for all your needs! Whether you need a quick snack from Subway or Tim Hortons, pampering from the hair salon or cosmetics store, financial assistance from the bank, or expert advice on weight loss, this plaza has got you covered. Plus, if you're into cannabis products, two dispensaries are nearby. 
Stepping out of the VapeMeet Windsor store location, visitors are greeted by the vibrant city of Windsor, which offers many activities and attractions for tourists and locals alike. Nestled in southwestern Ontario, this bustling city of over 200,000 is renowned for its unforgettable nightlife and thrilling casinos.
However, there's more to Windsor than just its reputation as a party capital. This city boasts a rich and diverse history, showcased at Windsor Castle, where visitors can delve into the past and discover the city's important heritage. Additionally, nature enthusiasts can explore the Canadian Museum of Nature, which provides an interactive and educational experience for people of all ages. The exhibits offer a chance to discover the region's extensive history and natural beauty, from its rich biodiversity to its geological wonders.
Windsor accommodates numerous family-friendly attractions, including the renowned Adventure Bay Family Water Park, which promises a fun and exciting day of water activities. Further, Old Walkerville, one of the most charming historic neighbourhoods in the city, has a range of cafes and restaurants that cater to families and provide a more local dining experience in Windsor.
Lastly, Windsor is also a place of relaxation and rejuvenation, with its numerous parks and recreational spaces offering locals and visitors an escape from the hustle and bustle of the city. The Riverfront Trail and Dieppe Garden are excellent spots to take a stroll or bike ride along the riverside and absorb the calming scenery with its various flowers and statues paying homage to the city's former soldiers.
After exploring the vibrant city of Windsor, it's clear that this bustling hub has something for everyone. It's no wonder that VapeMeet feels privileged to call this lively location home. With its impressive array of activities, from first-class shopping to fascinating historical landmarks, Windsor truly has it all. Whether you're a thrill-seeker seeking out exciting adventures, or a foodie looking to tantalize your taste buds, Windsor has many options just waiting to be explored. At VapeMeet, we couldn't be happier to be situated in one of Canada's most incredible cities.
Need more vapes in your feed? Stay updated with all our deals and promotions by following our Instagram page!