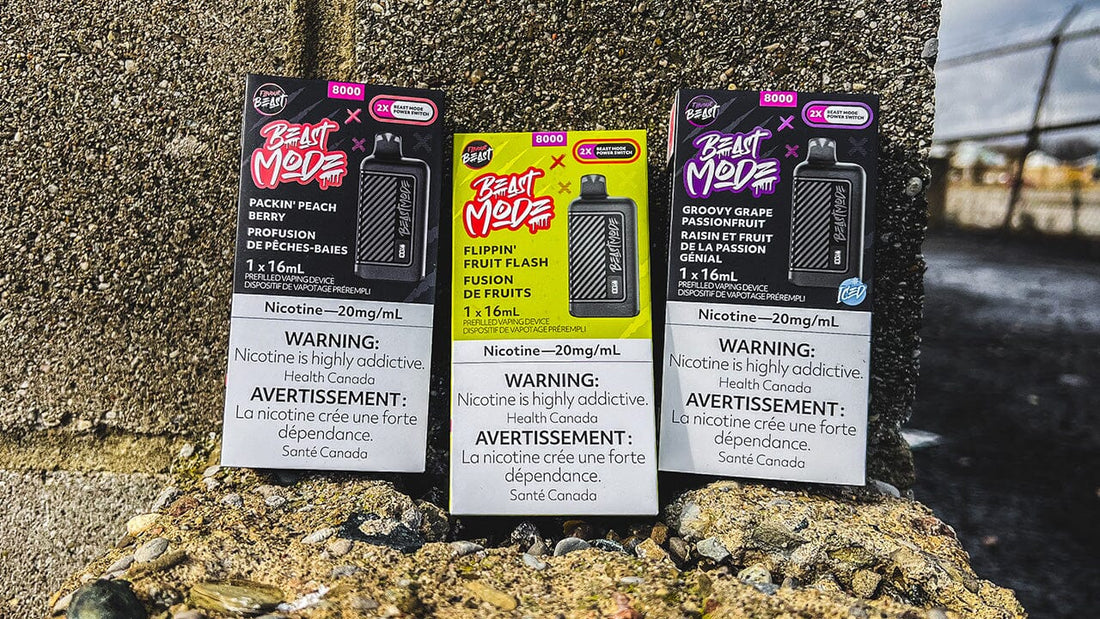 Unveiling the New Flavour Beast Beast Mode: New Exclusive Flavours
VapeMeet just got a flavour-packed upgrade with the arrival of new Flavour Beast: Beast Mode Rechargeable Disposable 8000 Puff Vapes. The latest addition to the Flavour Beast family brings an exclusive range of enticing flavours, promising Canadians the ultimate trifecta: portability, dense clouds, and an explosion of flavours that satisfy discerning taste buds.
Embracing the New Flavours of the Flavour Beast BEAST MODE
The Flavour Beast Beast Modes series introduces a quartet of tantalizing flavours that are bound to upgrade your vaping experience:
Beast Mode 8K
Get ready to be amazed by a vape that delivers a staggering 8000 puffs. Unveiling a blend that tantalizes the taste buds while meeting your nicotine cravings, the Beast Mode 8K promises a long-lasting, reliable experience, ensuring you savour every puff until the end.
A burst of fruity indulgence awaits with Fliipin Fruit Flash. This flavour offers a symphony of diverse fruits dancing on your palate, ensuring an exhilarating vaping experience that's as refreshing as enjoyable.
Transport yourself into a realm of grape and passionfruit delight. Groovy Grape Passionfruit harmonizes the sweetness of grape with the tangy zest of passionfruit, creating a vaping sensation that's both exotic and satisfying.
The marriage of luscious peach and the tartness of assorted berries defines the Packin Peach Berry flavour. It's a harmonious blend that tantalizes with every puff, creating an unforgettable vaping escapade.
Unveiling the Features
The standout feature of the Flavour Beast Beast Mode is its ability to cater precisely to Canadian vapers' needs. Here's what makes it a game-changer in the industry:
Airflow Control:

This feature ensures the production of exceptional-tasting vapour through its mesh coil, elevating the overall vaping experience.

Long-lasting Satisfaction:

The mesh coil combines 16ml of 20mg salt nicotine pre-filled e-liquid, ensuring a long-lasting and profoundly satisfying smoke for vapers.

Rechargeable:

Unlike conventional disposable vapes, the Flavour Beast Beast Mode is fully rechargeable using a USB C cable, allowing for a more sustainable and cost-effective vaping experience.

8000 Puffs:

This vape is rated to offer a genuine 8000 puffs, ensuring every draw is as satisfying as the first.
Conclusion: Your Perfect Canadian Vape
The Flavour Beast Beast Mode is not just a vape; it's a game-changer for Canadian vapers. With its airflow control, delicious sweet vapour flavours, and 8000-puff longevity, it offers a vaping experience that's second to none. The ability to recharge and utilize every drop of e-juice makes it a fantastic and convenient choice for those seeking a reliable, no-fuss vape experience.
The Flavour Beast Mode series is your ticket to an unparalleled vaping adventure if you're looking for a vape that encapsulates quality and innovation. Indulge in the new exclusive flavours and embrace a vaping journey that's set to redefine your expectations.
At VapeMeet, we're committed to providing you with premium vaping solutions. Explore our range of products and take advantage of exclusive deals to enhance your vaping experience. Choose STLTH Pro and redefine the way you vape! Stay updated with all our deals and promotions by following our Instagram page!