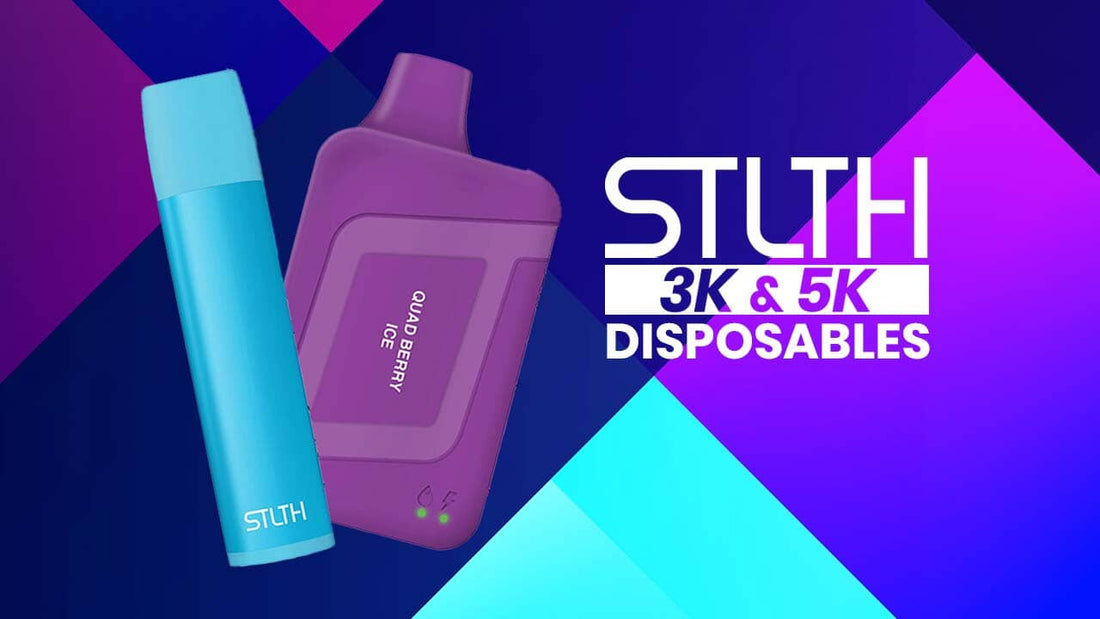 The new STLTH 3K and STLTH 5k Vape pens
STLTH has recently released two new styles of throw away vapes - the
STLTH 3
and S
TLTH 5K
vape pens
. Built with convenience, these all-in-one disposables have enough battery life to satisfy even the most demanding vapers. The STLTH 5K offers pre-filled, premium e-liquid and enough nicotine salts to last up to 5000 puffs, while the STLTH 3K's 3ml tank can take you up to 3000 puffs before needing to be replaced. Each device is sleek, lightweight and just as easy to use as any other STLTH device. Whether you're looking for an entire day or a couple of days' worth of vaping, STLTH 5K and STLTH 3K are sure to satisfy!
The 5K offers a whopping 5000 puffs, while the 3K still gives you 3000 puffs.
STLTH offers two great disposable vape devices: STLTH 5K and STLTH 3K. The 5K has a whopping 5000 puffs, meaning users can get extended vape sessions from a single rechargeable vape device. Meanwhile, the STLTH 3K still grants 3000 puffs of dense vapour for those who want shorter sessions on the go. Both STLTH disposables provide an enjoyable vaping experience without being too pricey, making them an excellent choice to meet your needs.
STLTH 5K and STLTH 3K offer a range of scrumptious flavours for your taste buds, such as Strawnana, Apple Kiwi Melon and grape ice. Both disposables, STLTH 5K and STLTH 3K come with impressive battery power – STLTH 5K has 500mAh, while STLTH 3K has 350mAh — coupled with high comfort, making them the perfect solution for users looking for an easy vaping experience. With so many flavours, STLTH 5K and STLTH 3K guarantee a tasty and enjoyable journey into vaping.
STLTH disposables are the perfect option for vapers who need convenience and quality. These high-grade disposables feature STLTH's high-quality quality e juice you've typically found in their line of e pods. Plus, whether you prefer STLTH 5K or STLTH 3K, these STLTH disposables prove that convenience doesn't have to come at the cost of quality.
Pick up your STLTH 5K or 3K throw away vapes and enjoy hours of flavourful vaping!
STLTH 5K and STLTH 3K disposable vaping devices offer all the convenience and flavour of traditional STLTH e-cigarettes with the bonus of being incredibly easy to use! With no setup or charging required, STLTH 5K and STLTH 3K disposables are great alternatives to setting up your STLTH device. Enjoy stress-free vaping with STLTH – pick up your STLTH 5K or 3K disposable today!
The STLTH 5K and 3K throw away vapes offer great features for on-the-go vaping, including a delicious variety of flavours. With the same quality, you've come to expect from STLTH products, these disposables are perfect for anyone looking for an easy and convenient way to vape. So try out the new 5K or 3K today!