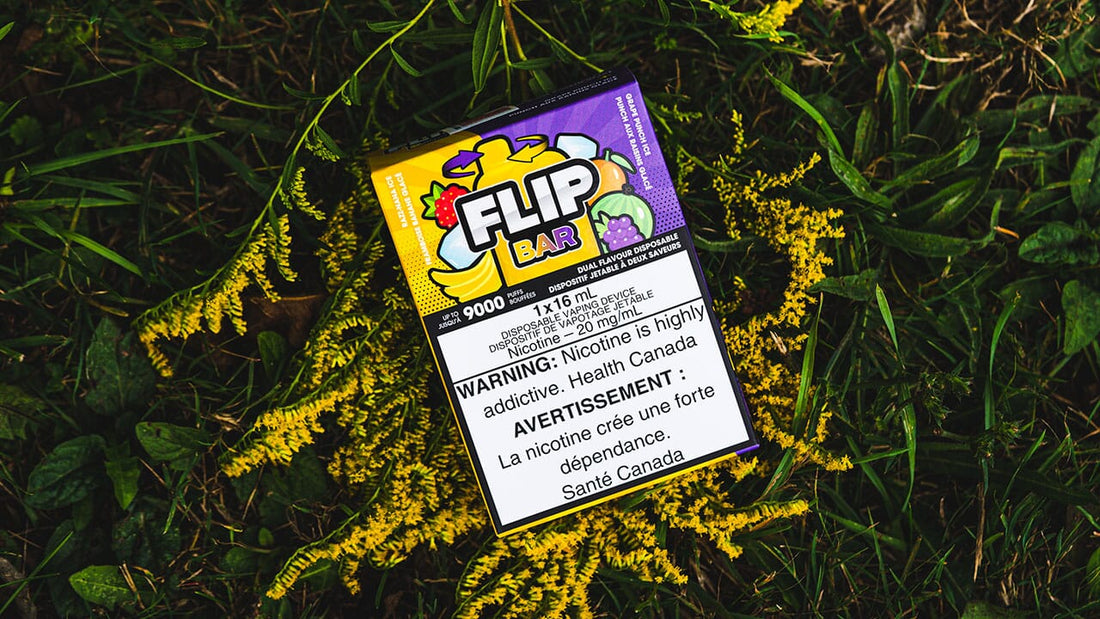 Flip Bar Dual Flavour Vape Review: Surpassing Skepticism with Every Puff
As a seasoned vaper, I must admit that I've encountered my fair share of gimmicky vape devices claiming to revolutionize the experience. So when I first laid eyes on the Flip Bar Dual Flavour Vape, I couldn't help but raise an eyebrow. After all, it promised not just one but two flavours in a single disposable device—it seemed too good to be true, right? Well, allow me to share my journey from skepticism to delight as I discovered that this vape lived up to the hype and then some.
The Flip Bar Vape is Dual-Flavour Delight (5/5):
What struck me immediately about the Flip Bar disposable vape is the brilliant idea of having two flavours in one device. It's like having a vape with a built-in palate cleanser! With a staggering 9000 puffs, this device offers incredible value. Why? Well, because it caters to the fickle nature of our taste buds. There are days when you crave the sweet, fruity embrace of one flavour, and then there are moments when you yearn for the robust satisfaction of another. With the Flip Bar, you can easily switch between these delightful worlds. It's the kind of versatility that keeps your vaping experience exciting and satisfying and ensures you get the most value out of your investment.
Vape Design That Impresses (4.5/5):
Beyond the dual-flavour system, the Flip Bar's design and build quality impressed me. Its slim, ergonomic shape fits comfortably in your hand, and the device feels substantial and well-made. The addition of battery indicators on the device is a thoughtful touch, ensuring you're never left wondering when it's time to recharge or replace.
Performance Beyond Expectations (4.7/5):
Despite my initial reservations, the Flip Bar disposable performance truly exceeded my expectations. The dual vertical mesh coils consistently delivered a satisfying flavour with every puff. It's remarkable how the flavours remained vibrant and full-bodied throughout the device's impressive 9000-puff lifespan.
Flip Bar Value That Can't Be Ignored:
Now, let's discuss its price. At just $19.99 before taxes, this vape is an absolute steal. With a staggering 9000 puffs and the ability to switch between two delicious flavours, you're not just getting a vaping device but an experience that keeps giving. Think about it—other vapes may leave you searching for the next flavour to try or a backup device when your battery runs out. With the Flip Bar, all your vaping needs are conveniently bundled into one affordable package. It's economical and ensures you'll enjoy satisfaction and flavour diversity without breaking the bank. The Flip Bar, Dual Flavour Vape, offers outstanding value for newcomers and seasoned vapers.
In Conclusion, In a world where vape gimmicks are a dime a dozen, the Flip Bar Dual Flavour Vape stands out as a genuine game-changer. My skepticism was quickly replaced with appreciation for its innovative design and exceptional performance. If you're like me and tend to be wary of marketing claims, the Flip Bar vape is more than just a gimmick—it's a delightful and easy-to-use device that delivers on its promises. Give it a try, and I'm confident you'll be as pleasantly surprised as I was. Its dual-flavour feature and incredible puff count are a testament to the value of variety in vaping.
At VapeMeet, we're committed to providing you with premium vaping solutions. Explore our range of products and take advantage of exclusive deals to enhance your vaping experience. Choose STLTH Pro and redefine the way you vape! Stay updated with all our deals and promotions by following our Instagram page!