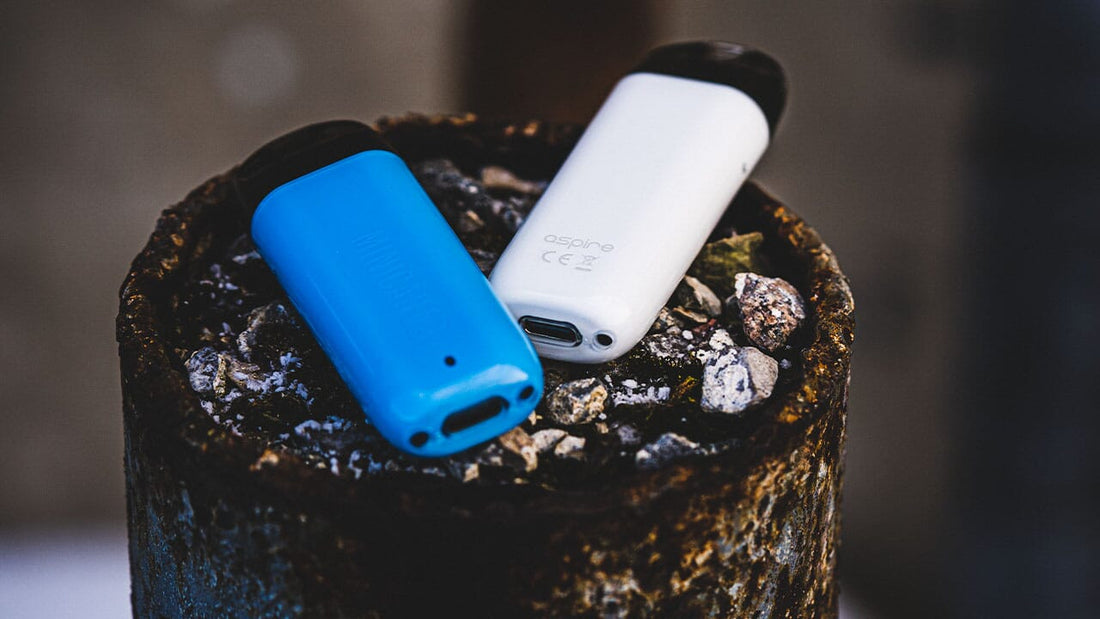 From Mods to Pods: The Rise of the Salts
From Mods to Pods: The Rise of the Salts
Businesses around the country are trying to wrap their heads around the growing trend of pod systems in the market place. Has the vaping technology simply gotten better? Have consumers driven this revolution? Did we travel back in time?

It was around 7 years ago that the rebuildables started to hit the scene. From early clumsy Genesis atomizers, the humble two-post drippers began their domination over the marketplace. The resistance got lower, the wattages higher and it seemed like everyone was chasing the clouds. Of course, this trend spawned nicotine levels in "freebase" e-liquids (3mg, 1.5mg) that would have seemed insane just a year earlier.

Your average vaper had a 'bigger is better' mentality and it wasn't unheard of for devices to rock 3 or 4 18650s and donning 30mm drippers. Eventually, with better chip sets and more optimized rebuilding interfaces, the devices transitioned back to single or double 18650s, but they didn't sacrifice any power – in fact, they got even more powerful and the price is what dropped.
The past 18 months however, have seen an influx of new pod systems and mouth to lung (MTL) devices flood the market with no signs of slowing down. The mighty JUUL has undoubtably been the tip of this spear, and while they still enjoy a majority market share, there have been dozens of companies hot on their heels
We're a big fan of the SWIS pod system around here, but the pods, coils and even the device are essentially improved versions of the JUUL. The STLTH, Suorin, Breeze and Minifit (just to name a few) are considered by many to be top of their class, and vapers everywhere seem to be switching to these relatively tiny devices that are really driving the sales of salt nicotine e-liquid. 
We'll skip the science lesson and suffice it to say that salt nicotine is lower in alkalinity and many vapers report it being much smoother. This means that while you are getting less vapor production from your MTL devices, you can 'up' your nicotine levels (quite substantially) without getting too much throat hit – and the idea is that things will balance themselves out.But this is Vaping 101, so what do you need to know about salt nicotine and these pod systems?
Now this sounds great, but for the longest time, JUUL had the market cornered for Salt Nic products, but things are changing. We know that JUUL pods are great, they really work, but they are also quite expensive and vapers making the transition from a traditional set-up to using only the JUUL would be in for a big hit to their wallet. Many companies, such as Plus Pods, have popped up offering JUUL-compatible pods for slightly lower prices.
The good news is that the liquid itself is not vastly different than what you're used to. It's usually on the thinner side, which is necessary for working properly in pod systems, and of course it's made with salt nic, instead of standard nicotine.
Better still though are the companies (like VapeMeet) producing actual bottles of e-liquid with Salt Nicotine. We noticed that our customers really want salt nic, but with better flavour than JUUL pods, and at a much lower price. Obviously, we have delivered in a big way and are launching new salt nic lines all the time – much to the delight of our customers.


Now, people can buy the pod system that they like, along with a bottle of salt nicotine e-liquid for only a couple dollars more than a standard bottle of e-liquid (it really does cost us a couple dollars more to produce). We can really go to town on these flavours too, because the higher PG ratio lets us replace a lot of the PG with flavouring, ensuring that even in a MTL set-up you are getting the flavour you would expect from a dripper.

You can grab a STLTH, a Breeze or whatever you fancy and load it up with one of our classic VapeMeet flavours that we have re-made in salt nic form, or some flavours from our new salt nic lines like Salted and Salt Shaker that we designed specifically with salt nic vapers in mind. The big benefit is not only flavours you love, but a small fraction of the price you would pay for the equivalent amount of liquid already in pods. There are also plenty of refillable JUUL-compatible pods like the SWIS and the OVNS JC01s.

So, if you're looking to get into the salt wave, grab yourself a pod system and a few bottles of salt nic e-liquid if you want big flavour at an affordable price. We still love our JUULs, but it never hurts to have options!