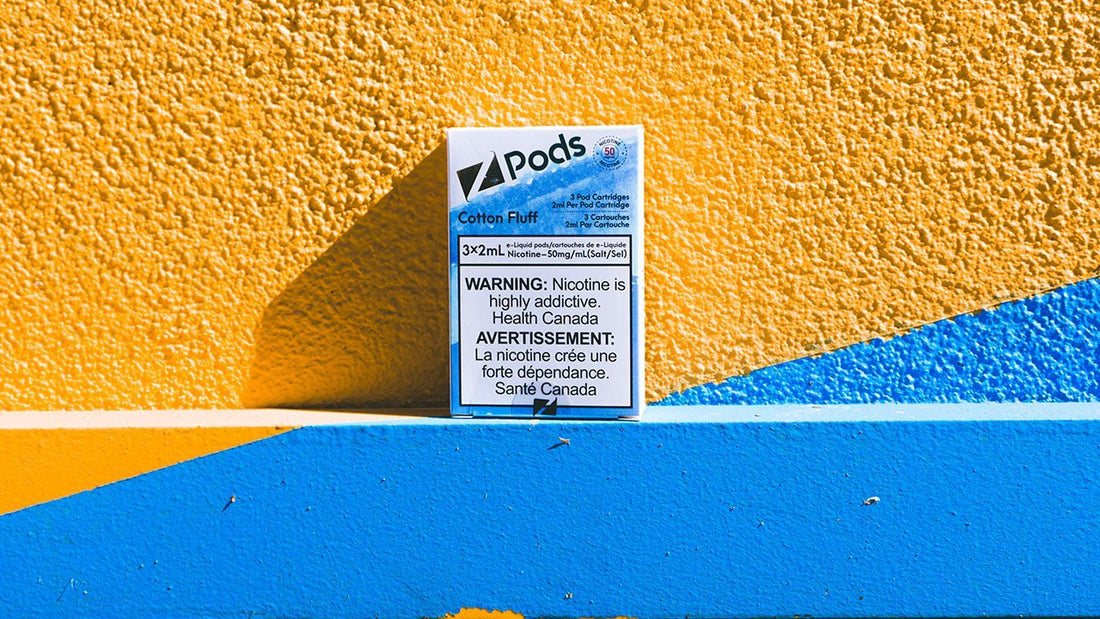 Z-Pods STLTH Compatible Pods Review
Z-Pods is second only to STLTH in the number of vape juice flavours they offer in their product suite. With so many flavours, you can expect to find a broad selection, anywhere from real fruit to some truly outside-the-box creations! As you shop, you'll see vape juices like Bear Foot, Chew, Cotton Fluff, Mango Pineapple, NRG, Passion Fruit Orange Guava, Sour, Strawnana, and Watermelon Lemon.

Z-Pods are available in packs of three with 2mL of vape juice in each. All flavours are available in 50mg salt nicotine concentrations, with a few flavours also available in 35mg salt nicotine blends. All Z-Pod vape pods are mixed in a 50VG/50PG ratio, helping flavours be brighter and making just the right amount of vapour.
The Z-Pod Flavours
Z-Pods offer a large suite of flavours that will satisfy an even larger swathe of vapers. You're certain to find a new favourite in their expansive product line!
Z-Pods have managed to capture the flavour of your favourite nostalgic treat to perfection!.You'll catch gentle notes of a variety of fruits on the exhale, though the smooth sweetness of peach will be most predominant.
Your jaw will be aching to maw on this juice with the authentic chewy taste it offers! You'll get a sweet hit on the inhale, but the full flavour of your favourite chewy treat will coat your mouth as you exhale. The salt nicotine gives this juice a particularly good mouth-feel, and you may forget that you're not actually chewing!
Do you yearn for the sweet taste of that classic fluffy treat? Z-Pods does not disappoint with their Cotton Fluff vape juice. Sharp sweetness will hit on the inhale, and the sugary, sticky taste of fluff will coat your mouth on the exhale. For those longing for the tastes they fell in love with during childhood, you will find your sweet memories blended into Cotton Fluff!
Mango Pineapple is a delicious collaboration between the smooth sweetness of mango and the tart sweetness of pineapple. You'll catch those sharper sweet pineapple notes on the inhale while the smoother mango notes shine through on the exhale. Mango Pineapple is a delicious tropical blend that will delight vapers who love well-crafted, exotic flavours!
For the energy drink junkies out there, Z Pods has crafted NRG, a vape juice that is formulated to taste just like the real thing! Expect some strong energy notes to shine through, especially on the exhale as the vapour coats your mouth. You won't get a caffeine buzz, but the salt nicotine kick is a fantastic alternative!
Another tasty tropical sensation from Z Pods! This recipe takes the tang of passion fruit, the sweet citrus of orange, and the creamy sweetness of guava to create a decadently balanced tropical experience. Lovers of unique tropical blends will love what Passion Fruit Orange Guava has to offer!
Sour offers a one-dimensional flavour experience that crushes the one tasting note it offers...you guessed it, sour! If you like being buffeted by powerful, sour flavours, then Sour is what you need! You'll catch sour notes on both the inhale and exhale, and your cheeks and tongues will be put to the test with the intense sour experience.
Strawnana takes the sharp sweetness of strawberries and the creamy sweetness of bananas to create a deliciously balanced fruit blend. Many vape juice lines attempt this blend with poor results, but Z Pods gets the recipe just right to create one of the most delicious flavours from their product line. If you like strawberry and banana vape juice tastes, then Strawnana is a must-have!
Watermelon Lemon offers a more unique flavour blend that is tough to find in other brands. Z-Pods has taken the juicy sweetness of watermelon and mixed it with the sour citrus of lemon to create an unexpectedly well-balanced fruit blend. The lemony sourness will hit on the inhale, while the juicy sweetness of watermelon shines through the sour on the exhale. If you're looking for classic flavours crafted in a unique way, then Watermelon Lemon should already be in your shopping cart!
Conclusion
Z-Pods steps up to the plate to offer a satisfying variety of flavours. Even though their product selection is broad, you'll still be able to taste the quality of ingredients in each and every puff. Z-Pods are ideal for vapers who want a wide suite of flavours, especially for vapers that are looking for potent 50mg salt nicotine blends!
Find the perfect pack of pods? If you've made it this far in our review, this may be the right line for you! Check out the Z-Pods STLTH Compatible Pods collection page to shop now! 
Stay up to date with all the new flavours and what people are saying about compatable STLTH Pods on our Instagram and Facebook pages.