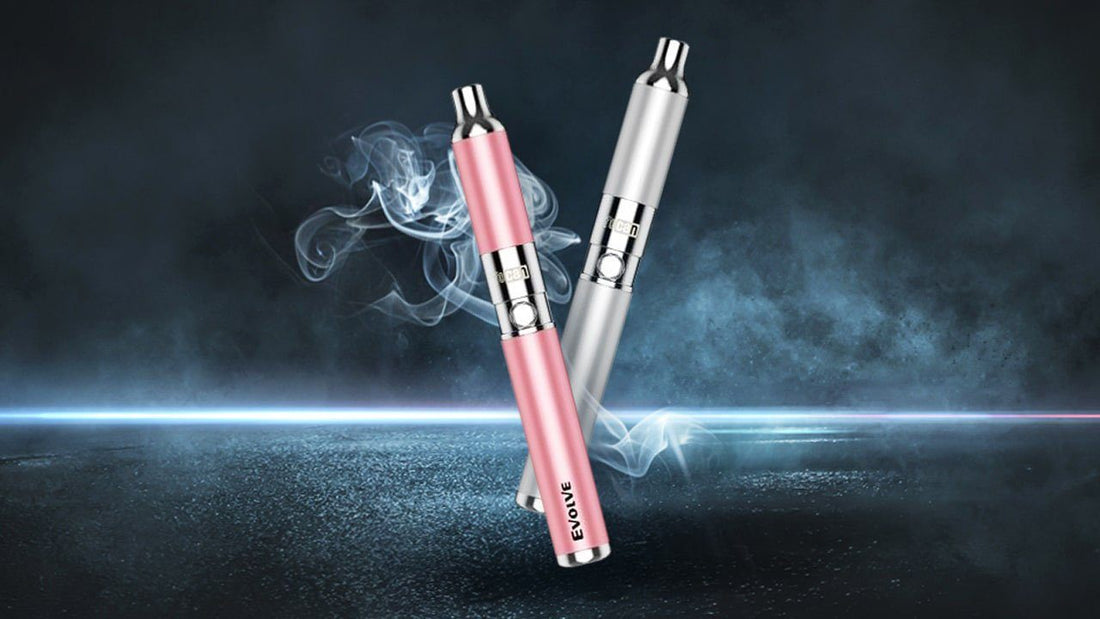 Yocan Evolve D Vaporizer Review
The Yocan Evolve D continues this proud tradition, providing a simple cannabis vaping experience and a wide selection of replacement parts. If you're looking for a device that is built to stand the test of time at a very friendly price, then the Evolve D deserves closer inspection.
Yocan is an incredible brand in both the cannabis and vaping markets. They are able to offer budget-friendly devices that are made with variable, replaceable parts, all packed into a high-quality, easy-to-use build.
Look and Feel of the Yocan Evolve D
The Evolve D uses stainless steel components to give the device a surprisingly hefty, quality feel. It's about 5in long, and with its slender, cylindrical design, makes it a great choice as a discrete travel buddy!
You'll also get solid cannabis capacity, so if you're hoping to have a device that you can take puffs on for long periods without needing to hassle with repacking, the Evolve D stands as an excellent choice.
There is a single button on the Evolve D, which is simply the power button. There aren't any other features or options to manage, which is a big plus for beginners and users on the go, but may prove to be a challenge for experienced cannabis vapers.
The vaporizer is designed for easily replaceable components. Replacement batteries can be purchased, as can replacement heating coils. It's a fantastic design that makes it easy to stay with the same device for the long haul!
Overall, the look and feel are simple but give the feel of a high-quality build. It will feel great in your hand (and will easily last if properly maintained!)
Performance
One of the reasons that the Evolve D seems so stripped down in terms of features is because it is a combustion pen (not a convection pen). This means that the cannabis will make direct contact with the pancake coils, which will burn the cannabis, creating smoke. Since the goal is combustion, you won't find variable heating like you would with a convection vape.
Combustion also uses far less battery power (there's much less surface area to heat on a coil than there is in a heating chamber), so the Evolve D only needs a 650mAh battery to last through a whole day of vaping while on the go.
The performance is simple and straightforward because you're getting smoke, not vapour. However, you'll get a super discrete alternative to using a glass pipe or papers while still getting the strong punch of real smoke.
Conclusion
If you are in the market for a combustion vaporizer, then you'll be hard-pressed to find a better option than the Evolve D. It features an excellent build, straightforward features, and replaceable parts that will last as long as you continue to maintain it. All of this wrapped up with a respectable cannabis capacity, a discrete design, and enough battery power to get you through the day.
Of course, the Evolve D isn't for everyone. Namely, those who are looking for authentic vapour will want to choose a different device entirely, as the Evolve D only creates smoke. Convection vaporizers use a heating chamber with heated walls, which is why they tend to be more expensive (the heating element is more complex and requires far more power, which means a larger battery, which also increases the cost).
If you're ok with not having genuine vapour, then the Evolve D is a fantastic alternative to traditional smoking methods. The quality of performance, longevity, and price point make the Yocan Evolve D an unbeatable choice.
Need more vapes in your feed? Stay updated with all our deals and promotions by following our Instagram page!