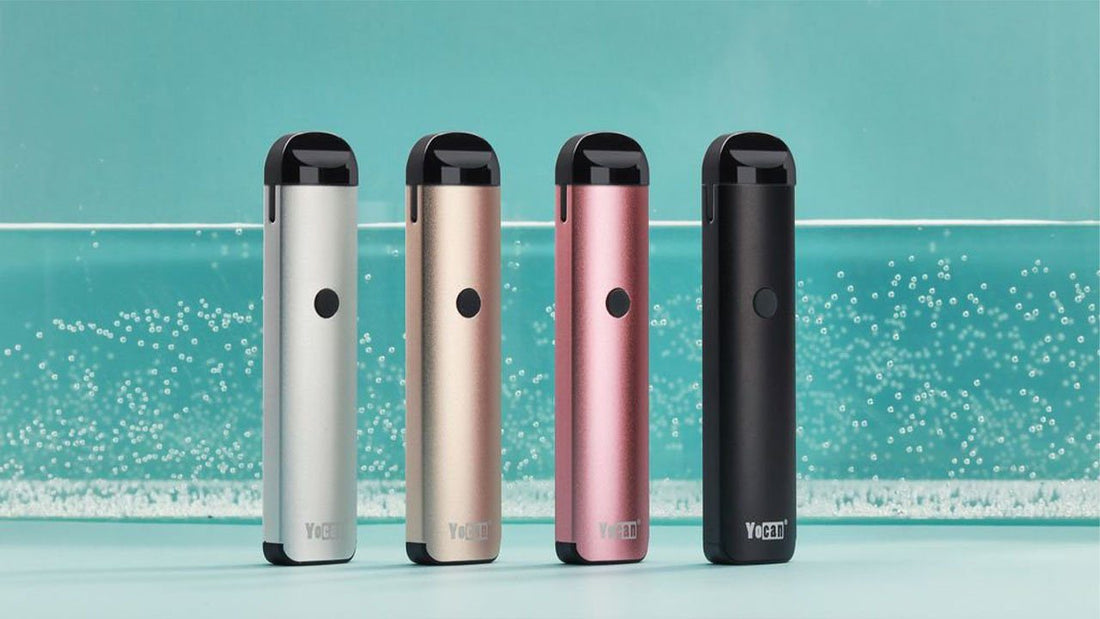 Yocan Evolve 2.0 Vaporizer Review
It never hurts to be on the cutting edge of something different and new. While the Yocan brand established itself with high-quality, budget-friendly vaporizers that are more traditional in design, the Evolve 2.0 offers something patently different. Instead of standard loading chambers for wax or refillable tanks for e-liquids, you'll find a novel, reusable pod system.
The Evolve 2.0 is positioned to meet your concentrate or e-liquid vaping needs in modern, convenient ways. Take a look below to see exactly how!
Look and Feel
The look and feel of the Evolve 2.0 are decidedly different than other Yocan vaporizers with which you might be familiar. Instead of a cylindrical, pen-like design, you'll find a small, flat device that really doesn't look like a vape pen at all. It's an ideal choice for discrete, public vaping because even if people see the device, it's still not immediately clear what it is!
The Evolve 2.0 is not only discrete, but it is quite simple. It features only one button, which serves as both the power button and the means by which to navigate through the three included heating options. You don't have a lot of heating options, but they are high enough to enjoy wax and low enough to not scorch e-liquids!
The pods themselves snap onto the body with basic magnetic connections, so it's easy to cycle through different pods and substances. Over time, the heating element of pods (especially the wax coils) will need to be replaced, which Yocan makes easily available.
The overall design is compact, discrete, and extremely simple to use. You won't find a versatile pod-based system like the one Yocan has provided with the Evolve 2.0!
Performance
In terms of pod-based vaporizers, the Evolve 2.0 performs exceedingly well. The wax pod makes use of a dual quartz coil that does a fantastic job of providing smooth, satisfying vapour. The pod for e-liquids uses a ceramic coil that is perfect for providing clean and crisp vapour with each and every puff.
While vaping, you'll have three different heating choices to choose from: low, medium, and high. Not being provided with a specific temperature can make it challenging to know where to start when using a specific pod for the first time, so always start with the lowest temperature and work your way up.
You can choose between attempting to draw vapour as soon as you power on the device, or making use of the 10-second warm-up feature so you don't have to hassle with weak pulls and thin vapour.
Finally, the Evolve 2.0 is powered by a 650mAh battery, which will get you through a day of casual vaping pretty easily, regardless of whether you are using waxes or e-liquids. Note that using higher temperatures will burn through the battery more quickly!
Overall, the performance is fantastic for a pod-based vaporizer. You'll get great tasting vapour with a bit of heating variability while still enjoying an overall all simple design.
Conclusion
If you enjoy using pod systems, then the Evolve 2.0 should be at the top of your shopping list. It manages to handle both e-liquids and concentrates extremely well while keeping a compact, discrete design that pod vapes are known for.
While this is a great pod vape, you'll want to keep in mind that it does not offer a full-featured experience. Heating variability is going to be very limited, and your heat ceiling is going to be lower than other, more expensive devices. While the device is great for on-the-go use or those transitioning from disposable pod vapes, those looking for a full-featured, premium vaping experience for wax or e-liquids may want to look into dedicated devices for each.
For those looking for a fantastic, straightforward pod-based system, you will be quite happy with the purchase of the Yocan Evolve 2.0!