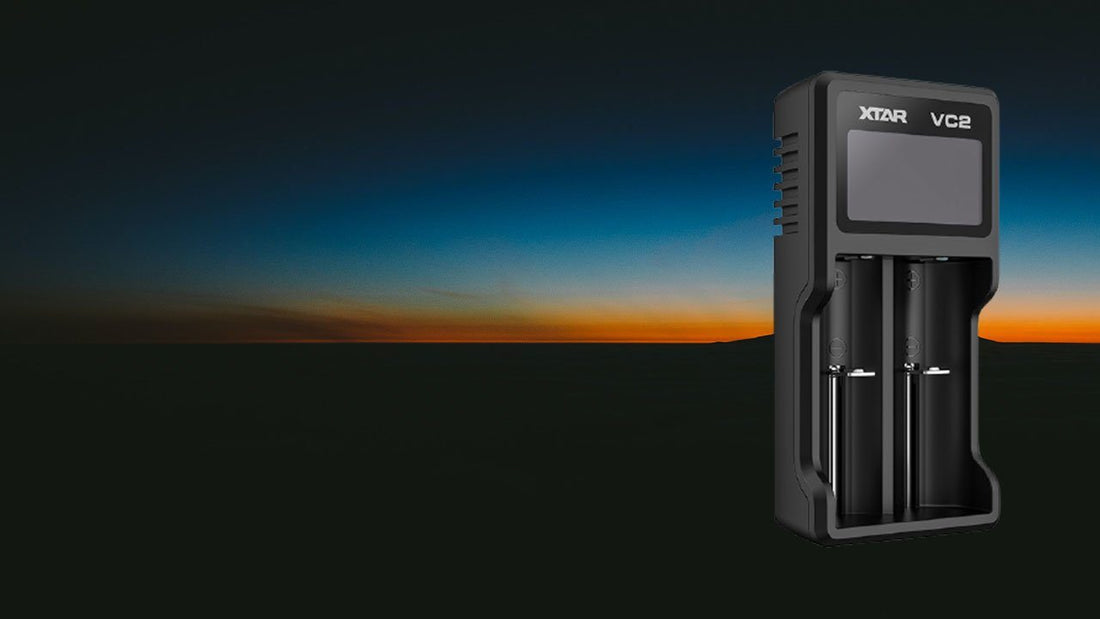 XTAR VC2 Charger Review
Powerful box mods are some of the best vaping devices you can get. They have a broad range of heating options, can accommodate coils with a variety of resistances, and can connect to all kinds of unique attachments that can add a welcome change to your vaping style. However, these and other premium features are only possible when powered by high-output batteries.
Most high-end box mods have replaceable batteries, but these aren't the kind you can just throw away and replace. They are powerful, high-amp batteries that can be quite expensive (far more expensive than standard batteries for consumer electronics). The batteries also come in a variety of sizes, so finding a charger they all easily fit in can be challenging.
Unless, of course, you have the XTAR VC2 Charger. This handy device is compatible with a wide range of battery sizes (without the use of spacers), and will take a dead battery back to full life before you know it!
Look and Feel
The XTAR VC2 charger is a sleek device that is perfect if you need a charging travelling companion. It uses a micro-USB slot to plug into your power supply of choice (we recommend a power supply that connects to a standard home outlet). Of course, if you're travelling, a power supply connected to the electronic cigarette lighter also works well.
You won't be able to adjust charging settings, but you will have access to a large, bright digital display that shows a variety of charging information, which is great if you're trying to determine how much of a charge a battery has and how far away it is from a full recharge.
The build quality of the XTAR VC2 is surprisingly good, with durable ABS plastic that does a great job resisting heat (and won't overheat during intense charging times).
Overall, this is a basic charger that is perfect for vapers using rechargeable batteries but don't want to finagle with charging settings. All charging features are automated, simply pop in your battery and the XTAR VC2 will do the rest!
Performance
The performance from the XTAR VC2 is solid. It can take up to 1A of input power and can discharge a maximum of 500mA to charge connected batteries, so be sure to get a power supply that can take advantage of the decent amp capacity. The higher amps the power supply can handle, the faster your batteries will charge.
All kinds of batteries are going to charge well within the XTAR VC2. You'll want IMR or IFR batteries with a 4.2V charge voltage if you want to use this charger. However, you have a lot more flexibility with the battery size, as it can accommodate 16340, 18350, 14500, 17500, 18500, 16650, 18650, 26500, and 26650 sized batteries. Most box mods will take the 18650 size, though having a bit of flexibility with charging options might open up niche box mod designs that make use of less common battery sizes.
The display screen shows vital information for each connected battery, including how many amps its currently drawing and the current voltage the battery has. The XTAR VC2 also uses a "smart charging" feature for completely dead batteries, as it will slowly charge them at low amps until it is safe to charge at the maximum 500mA current.
The performance of the XTAR VC2 Charger is simply outstanding. It is fool-proof, so beginners to high-amp batteries can safely charge without risk of ruining the battery, while some advanced on-screen gauges will appeal to more advanced vapers.
Conclusion
The XTAR VC2 Charger is a fantastic choice, especially as a travel companion. You can safely and easily charge batteries without needing to worry about overcharging or otherwise ruining them.
The maximum 500mA charging output may disappoint some (this extends how long it takes the battery to charge). But its important to keep in mind that a slower charging rate will increase the overall live of your batteries. It's also always good to have a couple of battery spares so you aren't at the mercy of a slow charging time.
If you've been looking for an easy to use, high-quality charger, then the XTAR VC2 Charger will be an excellent choice.