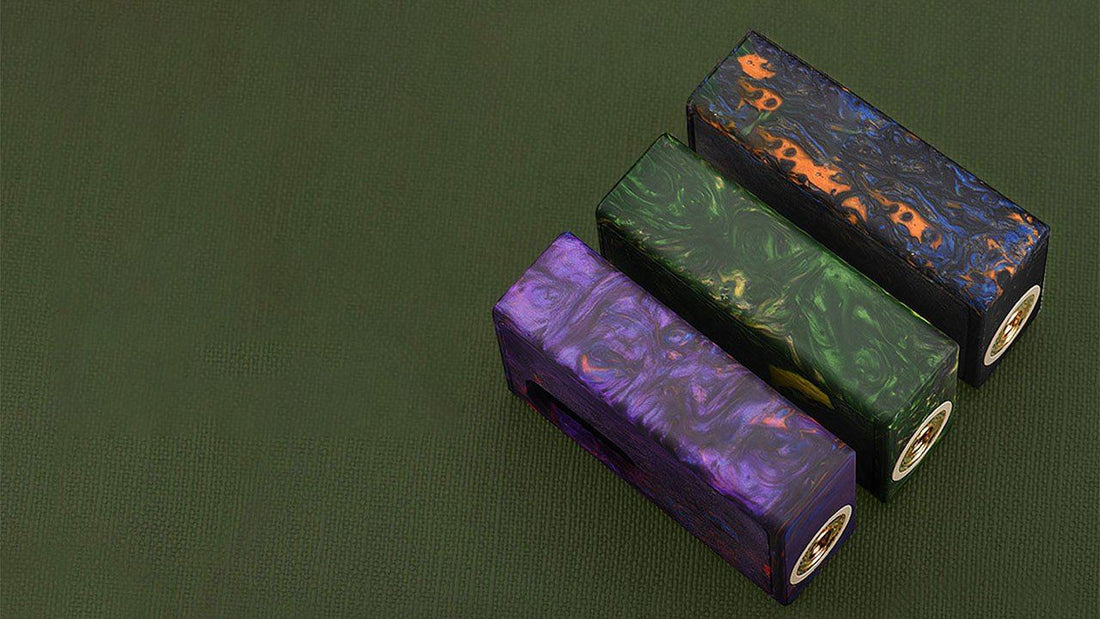 Wotofo Ram Squonk Review
You know how some dogs are so eager for affection that, regardless of how much you pet them, they always act like they're starved for attention? Do you feel that way when vaping from a traditional box mod? If you never feel like you're getting enough vapour in a hit, then you may want to consider a squonk box! Squonk boxes let you squeeze e-liquid into the atomizer, allowing you to get thick, powerful vapour quickly and easily.
Squonk boxes are relatively new to the vaping scene, and one of the first squonk boxes to the market was the Wotofo Ram Squonk! It has a premium look and feel, especially when compared to other squonk boxes, and its performance will make you an instant fan.
If you're considering a squonk box (but want a more premium device), then the Wotofo Ram Squonk is the first place you should look!
What's in the Box
1 x Device
3 x Squonk Bottle (7mL)
1 x User Manual
Look and Feel
The Wotofo Ram Squonk has a design that will catch the attention of onlookers immediately. The panels are a mix of Padauk wood and resin, which not only gives way to bright, vibrant colours but also gives a satisfying smooth feeling in your hand.
It has measurements of 47x24x77mm, so it's larger than a lot of squonk boxes but still a comfortable, ergonomic size to handle. The squonk tank and the firing button are located close together, so squeezing and then firing is easy to do with one-handed operation.
Overall, the design and style of the Wotofo Ram Squonk are head and shoulders above other squonk boxes. If a satisfying style is a priority to you, you won't be disappointed with this device.
Performance
The performance of the Wotofo Ram Squonk is also noteworthy among squonk boxes. It comes with three PET-grade squonk tanks, so you can safely squeeze e-liquid without any concerns of chemical leaching. They all have 7mL capacities, which will provide ample squonking before needing to refill.
All metal parts have 24K gold plateed connections, which helps supports conductivity and will help prevent corrosion (a potential problem given how messy squonks can be if you make a mistake). This device is mechanical, so you don't have variable wattage options with the Ram Squonk, though its power output is sufficient to provide great tasting vapour from most atomizers with a responsible build.
The Wotofo Ram Squonk makes use of standard 18650 batteries, which gives it the punch it needs to quickly vaporize vape juice that you have squeezed into the atomizer. Since the device is designed with 510 threaded connections, most vape juice tanks will easily fit and work well.
Overall, the performance is great, especially when compared with other squonk tanks, and this is largely due to the 18650 battery given it plenty of amps and juice to quickly vaporize large amounts of vapour!
Final Verdict
The Wotofo Ram Squonk is a fantastic option for high-end squonking, especially in a market with so many low-end choices. However, even in offering premium features, the price point of the Wotofo Ram Squonk is quite approachable, even if you're just looking to try squonking for the first time.
Of course, if you're looking for a full-featured box mod, this device is not it. You won't get variable voltage or wattage, so you'll need to be careful and make sure the vape juice tank you choose is compatible with the device. If squonking is not a primary focus for you, then you will definitely want to look at other box mod options.
However, for those looking to either upgrade to a premium squonk tank or try squonking for the first time, the Wotofo Ram Squonk is a tough choice to beat!