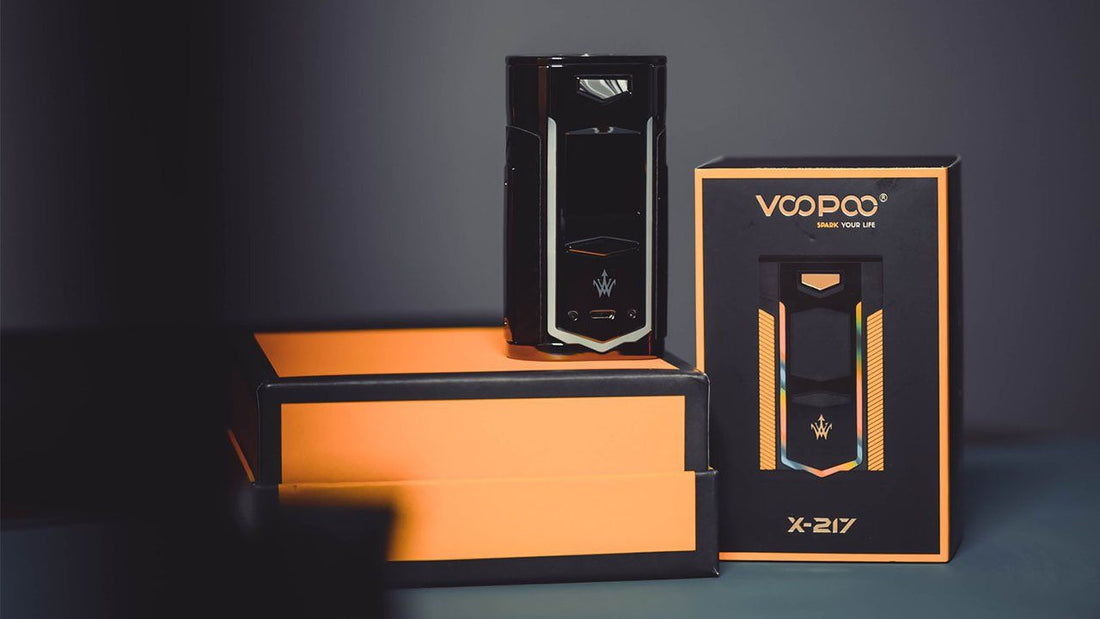 VooPoo X217 Mod Review
If you're familiar with the VooPoo brand, one of the things that will catch your eye about the X217 is that it has a different style when compared to other VooPoo vaporizers. This is because the X217 is a collaborative effort between VooPoo and Woody Vapes.
The result is an absolute beast of a box mod. It is fully featured, compatible with a wide variety of batteries and practically any attachment that will physically fit onto the body of the vape. If you've been looking for a premium upgrade to your more basic vaporizer or box mod, the X217 offers a tempting solution.
Is the VooPoo X217 right for you? Read on to see if the style and features are a good match!
What's in the Box
1 × VooPoo X217 Box Mod
1 × GENE Chip Card
1 × USB Charging Cable
1 × User Manual
1 × Warning Card
Look and Feel
You'll find the look and feel of the X217 to be quite premium. The body is a mixture of zinc alloy with carbon fibre strategically laid throughout the device for easy handling. It also features a 1.3in TFT display where you'll navigate through several different menus of features. Menus are navigated with a single button, which can take a bit of getting used to, though we caught on pretty quickly.
The overall measurements of the X217 are 93.6x49.6x33mm, making it a decently sized box mod. If you're looking to be discrete, there are less conspicuous options, but if stealthy vaping isn't a concern for you, the X217 handles quite nicely.
Finally, LED lights are installed throughout the body of the device, giving it a bright, eye-catching style. You'll also have your choice of several different kinds of body plates, each with unique colours and designs.
Performance
While the design and style of the X217 is quite eye-catching, you'll find the performance to be even more impressive. It supports a wattage range of 5-217W, a voltage output range of 0-7.5V, and can read resistances between 0.05-3.0ohms. Along with the 510 threaded connection, you'll be hard-pressed to find a vape juice tank or vaping attachment that isn't compatible with the X217.
Its performance is powered by the GENE.FAN FIT chip, supporting a firing speed of .01seconds, which means you can go from cold to taking puffs in less than a second! The device is capable of reading Ni200, titanium, and stainless-steel-based heating coils, and performance can be adjusted in three separate modes: power, voltage, or custom mode.
The X217 is compatible with all kinds of high-amp batteries, including 21700, 20700, and 18650 batteries. That kind of juice can fry vape juice tanks pretty quickly, so if you don't feel comfortable with manually adjusting wattage, the X217 automatically detects the kind of coil being used and adjusts power settings accordingly.
Overall, the performance is top-notch, out-competing the vast majority of box mods on the market. If you want a feature-filled box mod that can use nearly anything kind of atomizer you throw at it, the X217 is a fantastic choice.
Final Verdict
The VooPoo X217 is a unique choice among high-end vapes that will appeal to many. Not only can you count on a high-end performance that provides consistently great tasting vapour, but you'll also get that performance wrapped into a very stylish, modern-looking design.
There's not much to say poorly about the X217, and while it does support features that make it easy for beginners to use, the overall suite of features (and the price tag) might be a bit of a waste for those that are just getting started.
However, for experienced vapers looking for a significant upgrade, or beginners who are willing to invest in a high-end device right out of the gate, the X217 proves to be a fabulous choice.
Has our review convinced you? If you're ready to shop, check out the X217 Product Page!