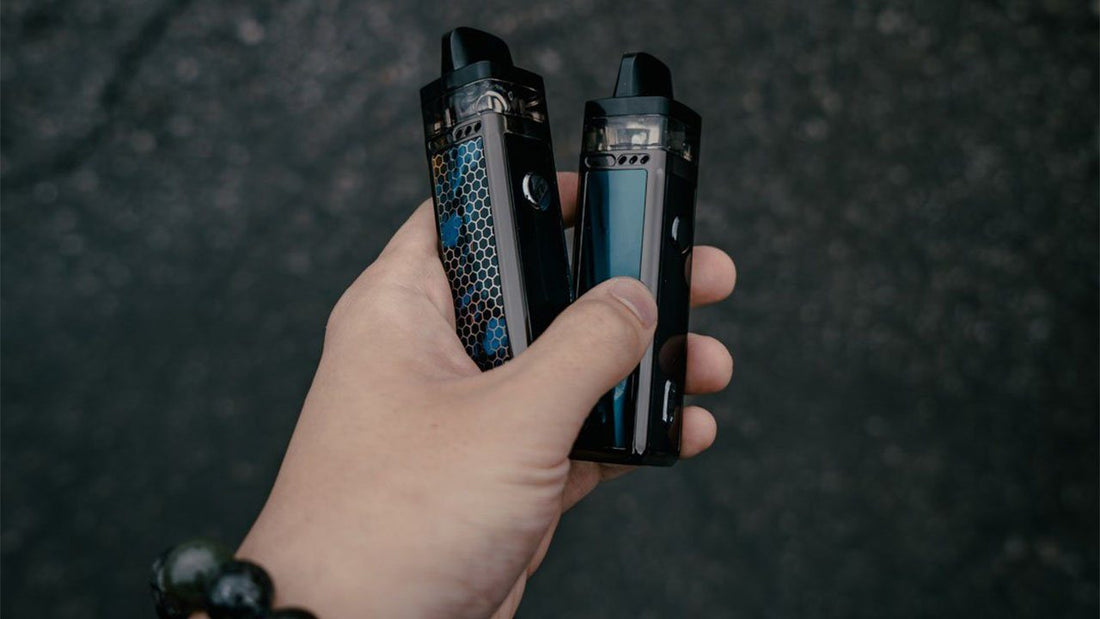 VooPoo Vinci Pod System Review
If you're looking for a wide selection of high-end box mods, then VooPoo is a brand you should be paying attention to. The brand puts a lot of thought and creative energy into creating devices that not only perform at extremely high levels but also look good, handle well, and have a fantastic style.
This is exactly what we find with the VooPoo Vinci. Unlike some of the other boxy-style box mods, the Vinci offers a refreshingly unique design. It's a true hybrid between a traditional pen and a classic box mod, and it offers many of the benefits of both (while avoiding many of their pitfalls).
You end up with a device that handles like a vape pen but has the feature offering of a full-fledged box mod. If you've been in the market for a device that is simply different (but still provides delicious vapour), then the Vinci is deserving of further investigation.
What's in the Box
1x Vinci Device
1x Pod
1x Coil - PnP VM1 0.3 ohm
1x Coil - PnP R1 coil 0.8 ohm
1x Micro USB Cable
1x User Manual
Look and Feel
The Vinci provides a unique look and feel that gives it an edge over other box mod style vapes. It has measurements of 104x25x25mm, which means it is much longer and slimmer than other box mods. This allows it to be more discretely used in public since it's easier for your hand to wrap around and conceal the device.
The small OLED screen is just large enough to comfortably display the myriad of settings options that are at your disposal while not monopolizing too much space. As with most box mods with a display feature, the firing button is located above the screen, while the navigational buttons are located below.
If you're concerned with aesthetic appeal, the Vinci is available in a wide variety of bright, vibrant colours. The design comes together to create a device that is pleasantly discrete, comfortable to handle and use, and still provides a splash of fantastic style!
Performance
The performance of the Vinci is top-notch and competes with other traditional box mods in a similar space. It supports a wattage output of 5-40W (and supports manual adjustment), and the device is compatible with all PNP heating coils.
The built-in tank has a capacity of 5.5mL, and when that's combined with the 1500mAh internal battery, you get easy all-day vaping. Since the device caters to vapers who want to puff clouds while out and about, the longevity of a single charge is a powerful feature provided by the Vinci.
If you'd prefer to not manually adjust the wattage to your preference, the GENE.AI chip automatically detects what kind of coil is being used and automatically adjusts the power. This is ideal for beginners who may unintentionally damage heating coils with too much power while they learn to operate a device with manual adjustment.
Overall, the performance of the Vinci is excellent. There are enough features to tweak your vaping experience to your specific tastes and enough power to get you through an entire day of vaping. Since you can use any PNP heating coil, vapers can easily enjoy both freebase nicotine and salt nicotine e-juices!
Final Verdict
The VooPoo Vinci is a tantalizing choice for vapers looking for a compact, portable device with a unique form factor that provides enough features and power to provide great tasting vapour. You also get a nice splash of style with the OLED display and the design options you can choose from.
However, as tantalizing as the device is, the features are still more limited than a traditional box mod. For starters, both the battery and the e-liquid tank are built-in. This means you won't be able to exchange the battery as it loses its ability to hold a charge, and you can't exchange the tank for one of your choice (or experiment with other attachments). For beginners, this may not be a problem, but more experienced vapers may find these limitations a bit too much.
The Vinci is an excellent choice for beginners looking to safely transition into a vaporizer that is a bit more complex without being overwhelmed, or for experienced vapers that are looking for a travel-friendly device that still provides great tasting vapour!
Has our review convinced you? Head over to the Vinci Product Page to shop now!