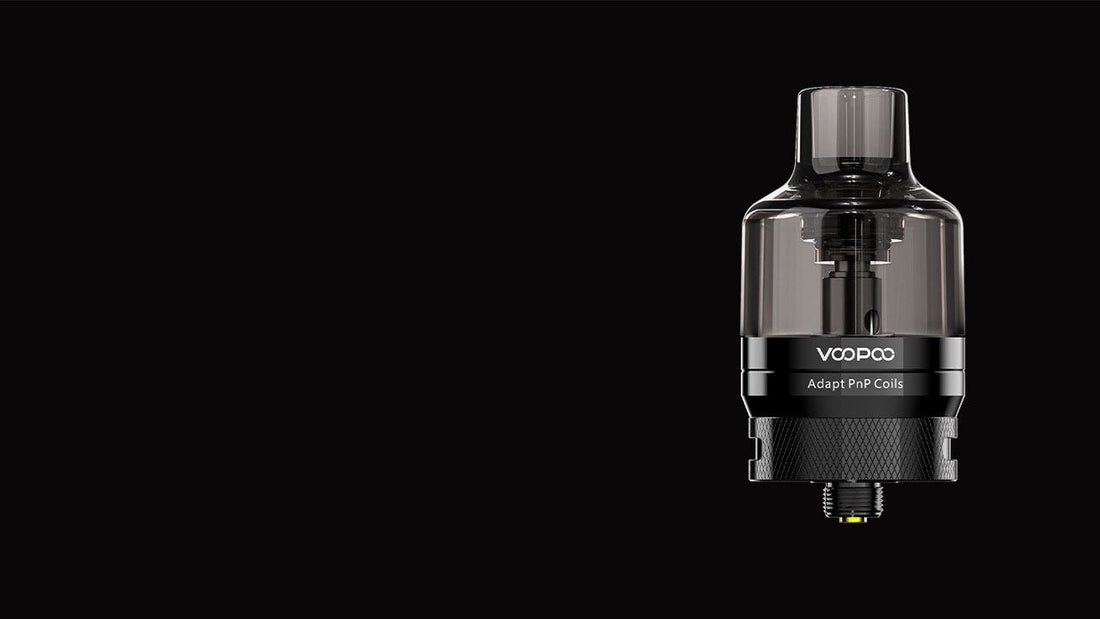 VooPoo PnP Tank Review
VooPoo is a fantastic vaping brand, both in terms of its devices offering as well as its vape juice tanks! The VooPoo PnP Tank is a great option for vapers with less powerful box mods, or for those that happen to have the VooPoo Drag X, Drag S or Drag Max Box Mod models.
If you're moving to refillable vape juice tanks for the first time, or you're simply a fan of what VooPoo has to offer, the PnP Tank has a wonderful build and excellent features to make your vaping experience a great one!
What's in the Box
1 x PNP Tank
1 x Coil - PnP-VM1 0.3ohm
1 x Coil - PnP-VM6 0.15ohm
1 x User Manual
Design
The design of the PnP Tank is a unique one, as it offers two connection methods. The first is the base connection, which magnetically connects to the Drag X, Drag S or Drag Max, providing a fantastic look and easy handling. The other connection method is a 510 threaded attachment, which allows the PnP tank to be used with any 510 threaded box mod that meets the power requirements.
The PNP Tank sports a 4.5mL vape juice capacity, and it uses a bottom-fill design to keep spills to a minimum. Since you have to hold the tank upside down to fill it, you don't risk getting drips of e-liquid in the vapour path of the tank (a potential risk with other top-filling designs).
Finally, you can find adjustable airflow at the base of the tank, which is ideal for those interested in tweaking their vapour. Overall, the design is pleasantly straightforward and a fantastic choice for those easing their way into refillable tanks.

Performance
The PnP Tank focuses on sub-ohm performance, and it does its job quite well. You'll find two coil types that come with the tank: a 0.3ohm PNP-VM1 Coil (which is best used between 32-40W), and a 0.2ohm PNP-VM5 Coil (which is best used between 40-60W). Should these particular coils not fit your fancy, the PnP Tank is compatible with all PnP coils.
The PnP family of coils are available in a multitude of resistance optiions. From the VM6 allowing for mid-high wattage vaping at 60-80W to the C1 coil that is designed for MTL vaping at 10-15W.
The coils exceed in providing a great sub-ohm vaping experience at low-wattages, where you can expect to find a pleasant focus on flavour. For heavy vapers, our testing found the PNP coils to have a surprisingly long lifespan.
For the best performance, we recommend pairing this tank with the VooPoo Drag X, Drag S or Drag Max (as it was designed for those box mods as a magnetic pod system).
Conclusion
The PnP Tank is simple, straightforward, and an excellent choice for those dipping their toes into refillable tanks with replaceable coils for the first time. It is also an ideal choice for those that already have the Drag X, Drag S or Drag Max (though we found this tank to function well on a variety of different box mods).
The PnP Tank is great for low to mid-range box mods, as its coils require very low wattage output. However, this could be seen as limiting for vapers looking to get a higher-end tank for their more powerful box mod. However, don't let sheer numbers fool you, the PNP Tank has fantastic flavour and life. We're sure you haven't tried low wattage vaping like this!
For vapers new to vape juice tanks or variable coils (or for fans deeply entrenched in the VooPoo ecosystem), the PnP Tank will provide an excellent experience!