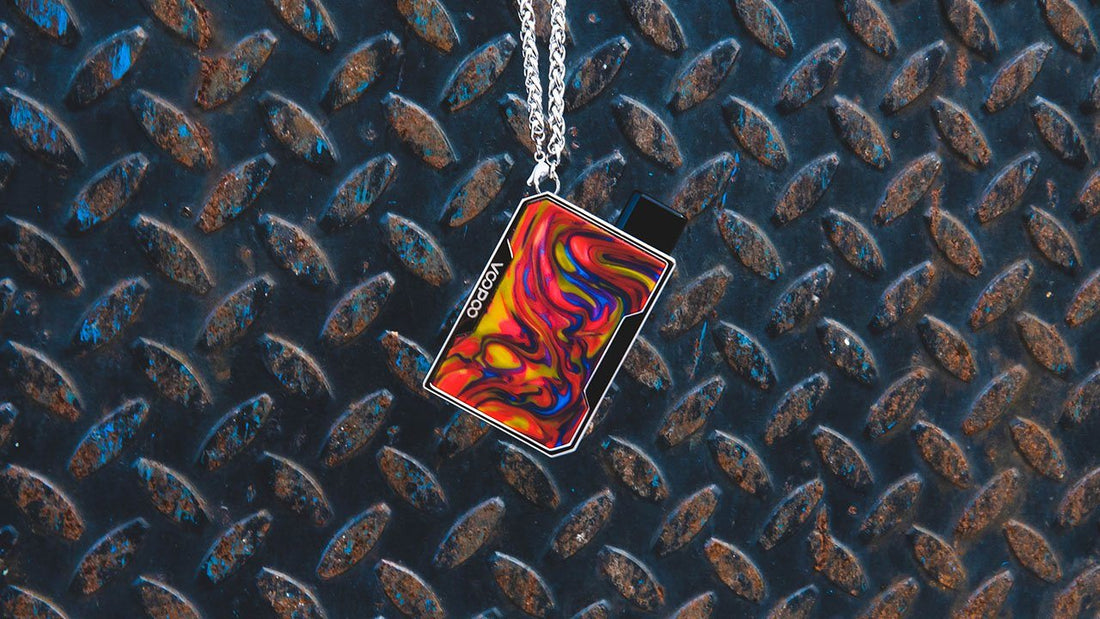 VooPoo - Drag Nano Pod Kit Review
Voopoo has been dominating the box mod game for a long time now. Drag and Drag 2 are still two of the best box mods you can get, and now Voopoo is trying their hand at the pod vape market. The Drag Nano is basically a miniaturized version of Drag without a screen or a button. It's a super small pod vape built with the same high-quality materials and craftsmanship as the rest of Voopoo's devices, and it has a gorgeous design to boot. Like other pod vapes, the Drag Nano is intended to be used with nicotine salts and delivers a super tight draw. However, it's more of a limited lung hit than a true MTL draw, but I'm going to get into it a little later. 
Specifications
Size: 54.5 x 35.0 x 11mm

Weight: 55g

E-Liquid Capacity: 1ml

Charging: Via USB

Battery: 750mAh Internal Battery
What's  In The Box
1 x Drag Nano Device

1 x Drag Nano Pod

1 x Chain Necklace

1 x USB Cable

1 x User Manual

1 x Warranty Card
Design
It's called the Nano Drag for a reason. It weighs just 55g, which is a feathery light. Plus, at 54.5mm by 35mm by 11mm, it's super-small, even beside the standard pod vape. You can easily put this device in your pocket or bag, and you won't even notice it's in your pocket. It's easy to hold, and in your hand, it feels good. It is a very solid and well-constructed vape, as you would expect from Voopoo, and there are no design or quality defects. It's definitely one of the nicest pod vapes on the market, hands-down. Plus, the device is draw-activated so there are no buttons and this gives the Drag Nano a nice, clean look.
Flavor Production
VooPoo has packed the VooPoo Drag Nano Pod with its GENE chip, and this chipset brings with it a wealth of performance and safety features. You've got draw-activated firing, variable voltage, and "Cold Boot Mode" to kick out even more flavor from each draw. Powered by a 750mAh battery, the VooPoo Drag NANO Pod will run all day, providing you with the opportunity to top it up during the day. Do this, and you're going to be vaping all day and night without any issues whatsoever. You've even got a fast charge, so even if you run out of juice, you can quickly top it up (less than 40 minutes for 70 percent). The flavor, the performance of the coil head, the design – everything is flawless.
Overall Performance
So then, how's the performance? It's bloody good, as expected. The VooPoo Drag NANO Pod vapes well and is consistent, hitting hard on each draw. It is draw-activated, as noted earlier. Normally, I don't like this pod style, but it's completely nailed by VooPoo. It's working perfectly,  
delivering intense hits every time. The flavor is brilliant, too. Whether it's a cold boot mode GENE chip or just a good coil design, I don't know. Either way, the flavor performance of the VooPoo Drag NANO is brilliant. That's basically supposed to tell you everything you need to know about how this vape works!
Battery Life
Although small in size, the Drag Nano packs a good 750mAh battery. This is enough to get you through a day of medium use, especially if you pick it up during the day. There's a small LED indicator on the side of the device to let you know the level of the battery. There are three colors:
Green: Above 60%

Blue: 60-20%

Red: Less than 20%
Verdict
The Nano is another great Voopoo device. Design and build quality are the highlights of this mod; it has one of the nicest designs and shape factors out there. Plus, this is super small and light. The Drag Nano delivers a really tight and restricted direct lung hit, but I wouldn't call it MTL because you really have to pull with your lungs. The flavor is great, although it could be a little more pronounced. If you're looking for a well-designed, ultra-portable pod vape, the Drag Nano is a great choice.
If you're still reading at this point then there's a good chance this product is exactly what you're looking for. Check out the VooPoo Drag Nano product page and order yours today. You owe it to yourself!