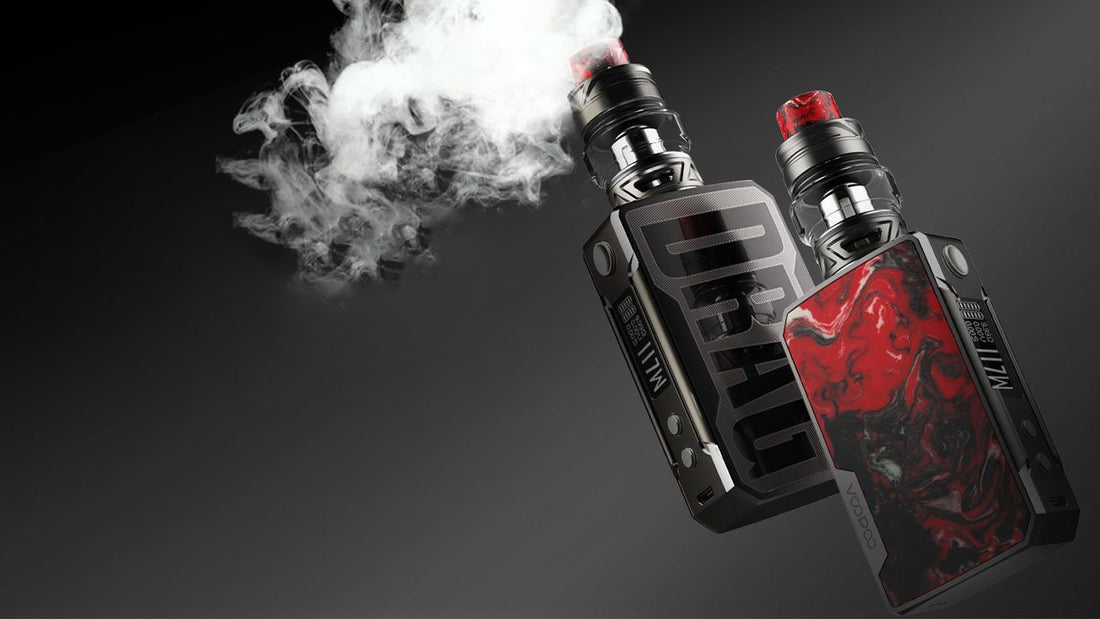 VooPoo Drag Mini Mod Review
VooPoo has gone out of its way to offer a wide selection of box mods that have been tweaked to fit a variety of vaping niches. The Drag Max is a super high-end device, the Drag Baby Trio is a super-compact, portable option, and there are several more.
Where does that put the Drag Mini? It's going to offer a fuller experience than the Drag Baby Trio does but will be a bit more user-friendly (and budget-friendly) when compared to the Drag Max. Put more simply, the Drag Mini offers a more traditional box mod vaping experience that many vapers are already accustomed with.
However, a familiar experience doesn't translate to a sub-par one. The Drag Mini carries its weight in providing great tasting vapour. Read below to see exactly what it brings to the table among VooPoo's choice of products!
What's in the Box
1 × Drag Mini Mod
1 x GENE Chip Card
1 × USB Charging Cable
1 × User Manual
1 × Warning Card
Look and Feel
The Drag Mini is a bit of a misnomer. While it's definitely smaller than the Drag 2, it's still on the heftier side of vaporizers that strive to be compact. It has measurements of 81.5x48.5x25.5, which is relatively large. However, the size makes it easy to hold in your hand and navigate features, and compared to other full-fledged box mods, the compact size makes it easier to use discretely and pack for travel.
The zinc-alloy body gives the Drag Mini a great feel without being too heavy, and the small OLED display is ideal for showing heating settings and battery info without taking up too much space. If you're concerned with style, there are several different resin plates to choose from, each offering a great looking aesthetic for those looking to spice up their vaping fashion!
Even being a "mini" option, the Drag Mini still offers a premium look and feel that you would expect from the VooPoo Drag line of vaporizers.
Performance
The style might be the first thing to catch your eye, but the performance of the Drag Mini is what will keep your attention. It makes good use of the wattage output range of 5-117W, a voltage range of 0-7.5V, and it can read resistances between 0.05-5.0ohms. This wide range of options means the Drag Mini is compatible with a huge variety of vape juice tanks as well as other attachments.
If you're not one to tinker with fine-tuning your precise wattage output, the Drag Mini uses the GENE.FIT chip to automatically detect and adjust to tanks that you connect to it. This means even beginners can experiment with different e-liquid tanks to find the combination that's right for them!
What might be the most notable feature in terms of performance is the 4400mAh internal battery. This matches the capacity of two 18650 batteries, meaning you won't have to sacrifice power or performance by opting for an internal battery.
Overall, the performance of the Drag Mini matches many high-end vapes. Many vapers will feel quite comfortable making this device their primary vaping option!
Final Verdict
The Drag Mini is "mini" in name only. It offers a broad suite of features, making it comparable to most fully-featured box mods on the market. It continues with the premium look and feel that VooPoo has built its brand around while still giving ample focus to vapour production and taste.
While an impressive device, the Drag Mini has some limitations that may be deal-breakers for more experienced vapers. For starters, the lack of removable batteries may be a turn-off to heavy vapers (since batteries lose charge over time). The wattage range is fine for most vape juice tanks, but some higher-end tanks will need higher wattage options than the Drag Mini provides.
However, for the majority of vapers, the Drag Mini is a fantastic option, especially if you're looking to get a high-end box mod for the first time. This device is very beginner-friendly while still providing a solid experience for experienced vapers!
Are you ready to start shopping? Head over to the Drag Mini product page now!