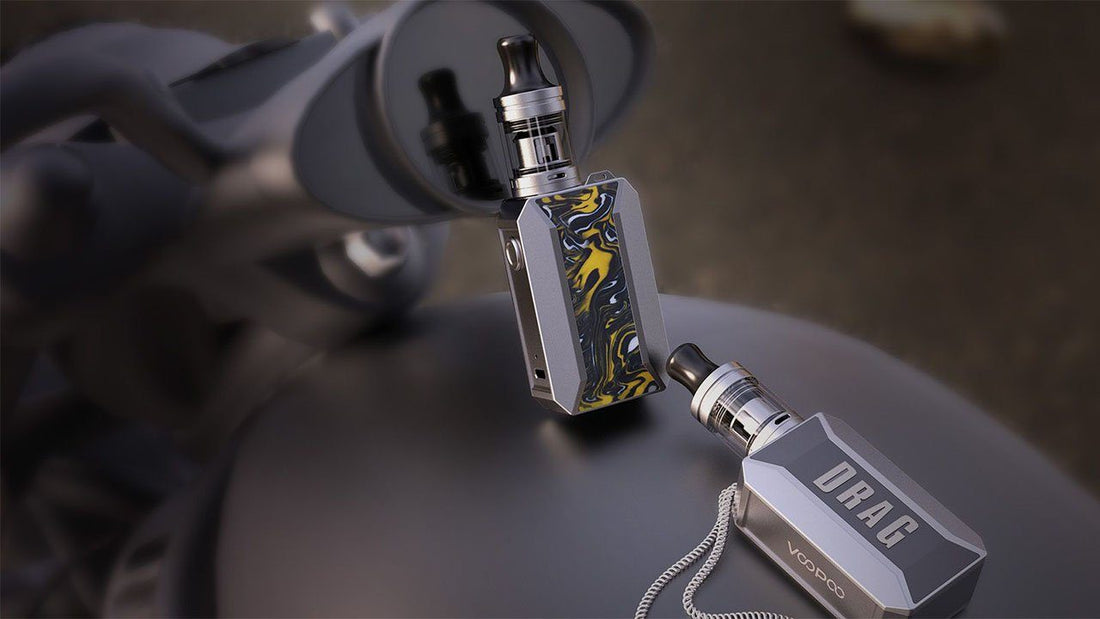 VooPoo Drag Baby Trio Pod System Review
When two box mods love each other very much, they make a baby box mod. While you don't need to concern yourself with the specifics of exactly how that happens, what you should concern yourself with is the VooPoo Drag Baby Trio!
Hoping to one day live up to its parents' name, the Drag Baby Trio is one of the highest compact box mod designs on the market. However, VooPoo has made sure to make the Drag Baby Trio not only small but also capable of providing a wonderful vaping experience.
If you're in the market for a super small, super discrete box mod, keep on reading to see if the Drag Baby Trio is right for you!
What's in the Box
1 × Drag Baby Trio Device
1 × Tank
1 × Coil - PnP-M2
1 × Coil - PnP-C1
1 × Micro USB Cable
1 × User Manual
Look and Feel
The Drag Baby Trio is, as its name implies, just a baby. With measurements of only 58.5x35x21.5mm, this box mod will completely conceal in most users' hands, making it a perfect option for public vaping. The zinc-stainless-steel alloy gives it a premium feel in your hands and it is surprisingly lightweight, further cementing it as a great travel buddy option.
There is only one button to operate on the Drag Baby Trio (the fire button), which is placed in a great ergonomic position. Overall, the look and feel are simple but easy to use. At its size, any more buttons or other features would make the device feel quite crowded, so the Drag Baby Trio has a great design for its size.
Performance
Even with limited features, the Drag Baby Trio performs quite well. It has a power range of 5-25W and can read resistances between 0.5-3.0ohms, which will let it be compatible with several heating coils. Speaking of coils, the kit comes with three: a 0.6ohm PNP-M2 coil, a 0.8 PNP-R1 coil, and a 1.2ohm PNP-C1 coil. It comes with everything you need to vape either freebase nicotine or salt nicotine vape juices.
The Drag Baby Trio does not support manual adjustment of wattage or temperature. Instead, it relies on the GENE Trio Chipset to automatically detect the coils being used and to change the power output accordingly. In our experience, the Gene Trio Chipset performs extremely well, and we didn't have much trouble enjoying e-liquids on any of the coils.
This device features a built-in 1500mAh battery, which considering the physical size of the Drag Baby Trio, is crazy capacity. Since the device is geared towards on-the-go use, the battery capacity makes all-day vaping away from a charger easy.
Overall, the performance is quite nice, even given simplified suite of features. While some vapers may be frustrated with the lack of adjustable features, the performance it provides and the vapour produced are very agreeable!
Final Verdict
The Drag Baby Trio may only be a wee little device, but its design and performance pack quite a punch. You'll get a very similar high-end feel from this device that you get from the Drag Max (they are made from the same materials, after all), and the performance in vapour production will satisfy the vast majority of vapers.
Though the device is great for what it is, there are some noticeable limitations. For starters, the included tank cannot be removed. While you'll be able to exchange different heating coils, the 1.8mL capacity tank is there to stay, If you were hoping to use your choice of vape juice tank, you'll need to consider another device.
It's also worth mentioning again that this device also offers no adjustable features. While the chipset performs extremely well, if you're looking for a device that you can tweak to your precise preference, you'll want to shop for a more typical box mod device.
However, if you're an experienced vaper looking for an easily portable box mod, or you're a beginner vaper who is getting a box mod for the first time, the Drag Baby Trio promises an easy to use, satisfying vaping experience.