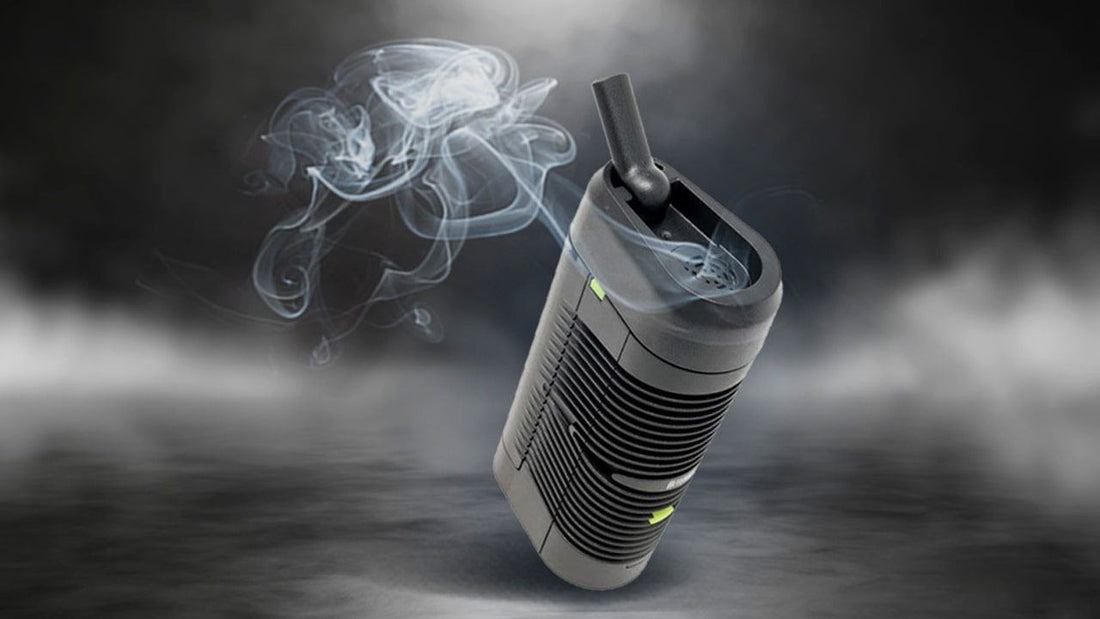 Vivant Alternate Vaporizer Review
Being a newcomer to the market, some may be weary of the Vivant brand. Luckily, they have hit the ground running by releasing an excellent selection of vaporizers, each catering to a slightly different niche of vapers.
So what does the Vivant Alternate bring to the table? It uses a unique, forward-thinking design to provide an industry-leading cannabis vaping experience. It's packed with premium features and comes with cutting-edge accessories (like a modular grinder!)
For those looking for a vaporizer that's less concerned with traditional design and more concerned with providing a unique, extraordinary cannabis vaping experience, the Alternate deserves a close inspection.
Look and Feel
The look and feel of the Alternate are quite unlike most cannabis vaporizers. For starters, the digital display, power button, and toggle buttons are located on the bottom of the device (as opposed to the sides or on top). This allows the device to make use of a heat-sink design to help quickly dissipate heat from the body.
The battery is replaceable and the case is located alongside the device's spine, while the unique, adjustable mouthpiece is located at the top. Opposite of the battery case is the airflow adjuster, which is fantastic for helping to curate how thin or thick your vapour is.
The design is very ergonomic and feels great in your hands. While the Alternate isn't exactly small, it does a good job of not drawing attention in public (since it looks unlike most cannabis vaporizers on the market). However, it's not a compact design, so the overall cannabis capacity is solid for extended vaping sessions.
Performance
The performance of the Alternate is solid, though a bit of a mixed bag, depending on what you're looking for. In terms of power conservation, it does well, since it will reach your desired temperature but will indicate when it's cooling if you haven't taken a puff in a minute or two. It's a nice feature that works to preserve your battery while explicitly letting you know when it's at temperature and ready to provide puffs!
As experienced vapers are aware, a cannabis grinder is a must-have if you're using a cannabis vaporizer, and not only does the Alternate come with a fantastic grinder, but it attaches to the heating chamber. This allows you to grind bud directly into the chamber without spilling bits and pieces from pinching the herb inside.
Vapour production is fantastic, but an all-plastic design (save the heating chamber) means that you won't get as crisp and clean of flavour as you would with a vaporizer with an all-glass vapour path. While vaping at the lower end of the 80-220C temperature range can help alleviate flavour-leeching issues, those who prefer their hits hot and heavy may notice a degradation in flavour quality.
The power behind the Alternate is a removable 18650 battery, which is an excellent feature, especially for serious vapers. Cannabis vaporizers tend to drain batteries quickly, so being able to swap batteries on the go not only can extend vaping sessions but can extend the overall life of the device.
The performance is pretty solid, though flavour-chasers may be disappointed by the all-plastic design of the Alternate.
Conclusion
The Vivant Alternate is a fascinating, non-traditional vaporizer that is a great choice for spicing up your cannabis vaping game. It offers top-of-the-line airflow, quality capacity, a replaceable battery, and a very comfortable and modern design. The aesthetics and features of this device are a welcome change from simple, more basic vaporizers.
However, flavour may be an issue, especially for high-temperature vapers. If you are used to vaping from a high-end vaporizer that uses an all-glass vapour path, the transition to the Alternate may leave you unsatisfied.
However, those looking for a great performing budget vaporizer (or those considering cannabis vaping for the first time), will have a very pleasant experience with the Vivant Alternate!