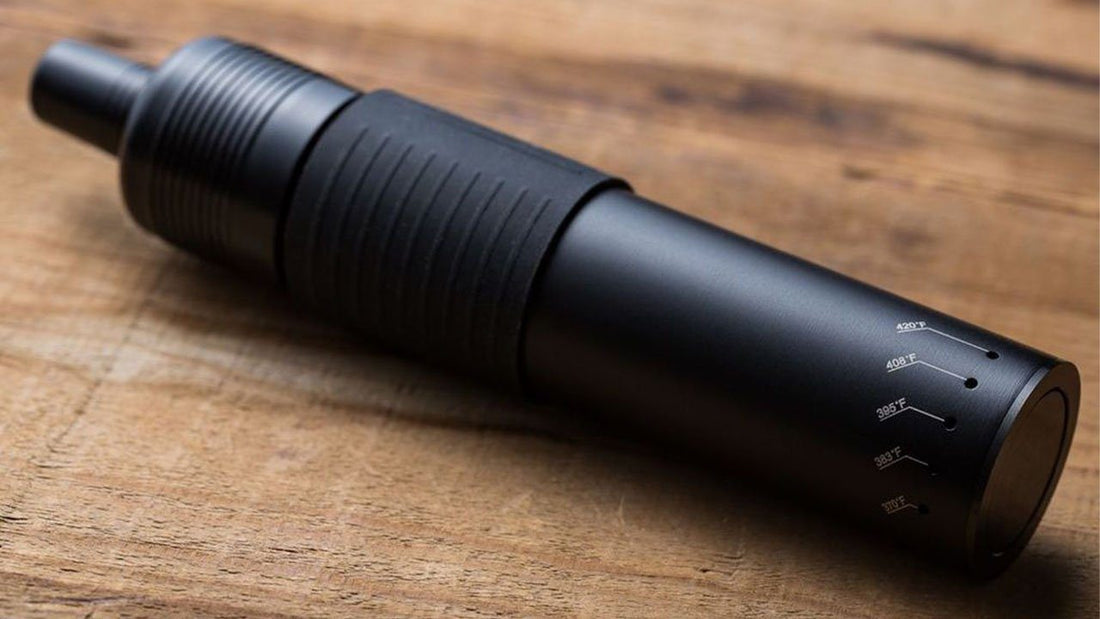 Vivant VLeaf Vaporizer Review
It can be tough to find a budget-friendly cannabis vaporizer that is able to successfully meet your needs as a primary device. For an excellent combination of quality, value, and versatility, the Vivant VLeaf stands as a strong choice.
You'll find several heating options, excellent airflow and solid heating time, all packed into a traditional pen-like design. If you're looking to move into a cannabis vaporizer for the first time (or want a handy travel buddy), then take a closer look at what the VLeaf will offer!
Look and Feel
You'll get a simple, straightforward design with the VLeaf. It sports a traditional cylindrical, pen-like design that travels and packs very easily. The ceramic heating chamber connects to a threaded mouthpiece connection, so packing, repacking, and cleaning are quick, easy processes.
The power button is located at the bottom of the device, which is the same button you'll use to rotate through the variable heating options that are preprogrammed in the VLeaf. Aside from that, you'll find a pretty straightforward device that is designed for easy use and comfortable handling!
Performance
While it is a breeze to get ready to vape, this pen isn't necessarily just for beginners. The preprogrammed heating ranges (ranging between 370-420F), give ample heating variation to allow beginners and experienced vapers alike to flesh out different tasting notes within the different ranges.
Vivant touts that the VLeaf is able to use both convection and conduction heating within the ceramic heating chamber. While you're still not hitting combustion (which means you're not going to get smoke), the dual heating system makes for more evenly vaped cannabis and speedy heating times. You'll get a super smooth flavour with this heating pattern (which is a boon for those that hate harsher vape hits).
It'll take about 30 seconds to reach max temperature, which is longer than counterparts like the VLeaf Go, but still pretty short when you compare it to the general market. Powering all of this is a hefty 2800mAh battery which is more than enough for most vapers to enjoy their cannabis all day while out and about!
The VLeaf also comes with a water pipe attachment, for those that prefer to vape through water filtration. It's a great kit-inclusion that can add an extra layer of quality to those that value flavour but aren't looking to drop several hundred dollars on a cannabis vaporizer.
In short, the performance is excellent for a basic vaporizer, and has the qualities to be a beginner primary device or a travel-friendly vaporizer for anyone!
Conclusion
The VLeaf is a simple device that offers solid performance and a comfortable build. It's a great choice for vapers thinking about vaping cannabis for the first time since its features are very straightforward. However, there's enough variation to offer (through heating options and the water pipe attachment), that beginners can begin to experiment with their vaping style to experience their favourite dry herbs in new ways.
For more experienced vapers, there are certainly limitations. Precision heating is a welcomed feature that is lacking, and an internal battery that can't be removed or replaced puts a defined lifespan on this device. Like with many Vivant devices, the vapour pathway includes plastic parts, which often affects the vapour flavour (especially when vaping at higher temperatures). Of course, if you're wanting to resolve these limitations, you'll need to prepare your budget for a significant investment!
For its price point, the Vivant VLeaf is an excellent choice, especially for beginner vapers who still want to experience higher-end features and performance!