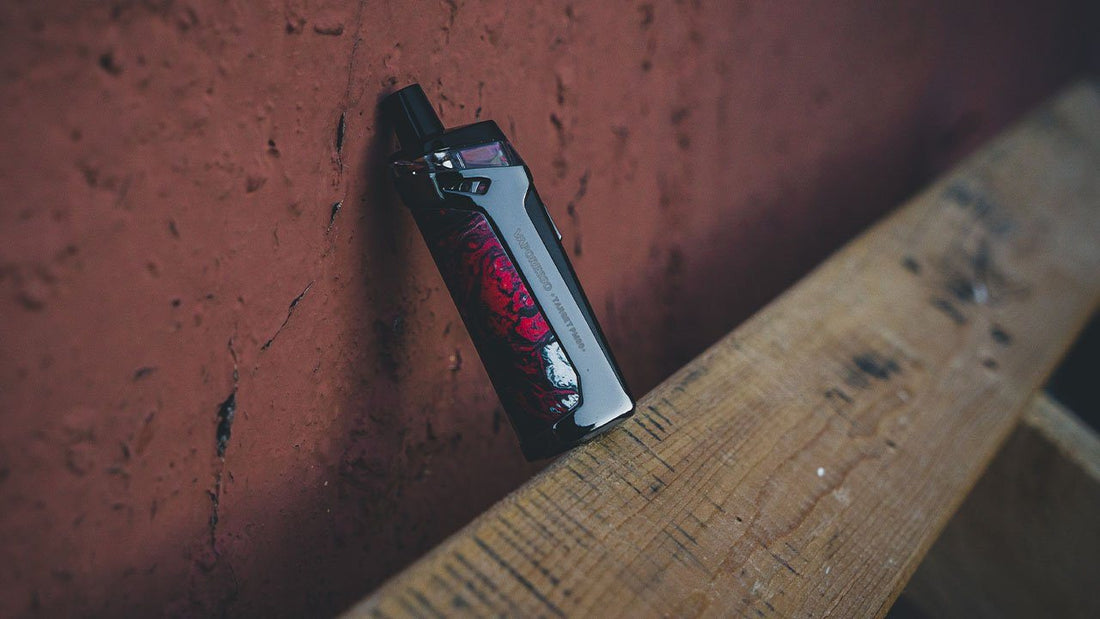 Vaporesso - Target PM80 Pod Kit Review
The Target PM80 is the latest pod AIO from Vaporesso—or pod mod, as these devices have come to be known as lately. It is the latest in a long line of pod vapes by popular manufacturer Vaporesso, but the first made solely for direct lung and higher wattage vaping. Vaporesso has become one of the premiere mod makers in vaping, but their pods and atomizers up to this point have been decent at best for the most part. The pods hold a solid 4 mL of juice and there are two coil options available  at the moment. Pods are refillable so you get to use your own juice in them, and the coils are separate from the pod; resulting in less waste and less money spent down the line. 
Specifications
Size: 102×24.8×33.4mm

2000mAh Built-In Battery

80W Max Output

96 Inch TFT Colour Screen

Large Firing Button

Variable Wattage

 
What's  In The Box
1 x Vaporesso Target Device

1 x Target Pod

2 x Replacement Coils

1 x Micro USB Charging Cable

1 x Spare plugs

1 x User Manual
Design
The Vaporesso Target PM80 is quite large for a pod system when compared to something like the Caliburn, but that's not the intention here. This device is made to give you the power of a larger mod, while also being small enough to fit in a pocket for on-the-go vaping. It's small compared to similar AIO devices like the Geekvape Aegis Boost or the Voopoo Vinci measuring approximately 102 mm x 24.8 mm x 33.4 mm and feels more like a small mod than a pod system—though surprisingly lightweight. The PM80 has a great shape in the hand, like a smaller, non-rubberized Aegis Boost. It may not be certified as "rugged", but mine survived a few accidental drops without being scratched. Overall, it's a pocketable DL setup that's pretty well built and can handle being out and about.
Flavour Production
The flavour produced was excellent from both coil options, very similar to most of the sub-ohm tanks in the same wattage range on the market. I tested mainly with 70VG/30PG juice and stuck to the recommended wattage range for each coil, and both of them had excellent flavour for a good amount of time (for me the coils lasted about a week with heavy vaping). I didn't experience any leaking or flooding of the coils as well, which is a major plus since I always had this device in my pocket when not in use. For me personally, the 0.2-ohm coils lasted a bit longer than the 0.3-ohm, but they both performed admirably and had a great coil lifespan for such small coils.
Overall Performance
The PM80 mod performs exactly as you would expect it to; remarkably easy to use, and the fire
is as instant as you can get. The real performance of a kit like this, however, comes down to the coils. Fortunately, Vaporesso has always been quite solid when it comes to flavourful coils, and the GTX line is no exception. The flavour produced was excellent from both, and performed similarly to most of the sub-ohm tanks in the wattage range on the market.
Battery Life
The built-in 2000mAh battery is a decent size for such a small device. But the PM80 is not an MTL pod system; it's all about the experience of direct lung vaping. That means, at high wattages, which you usually use with the included coils, the 2000mAh doesn't get you very far. I measured it to be about 4 hours of vaping (intensive chain vaping at that) which is not tragic, but certainly cannot be considered an all-day vape kit. Luckily, the 2-amp quick charge can get you out of a pinch, with a full charge taking about 60 minutes, and there's pass-through if you're really stuck.
Verdict
Vaporesso has really brought their A-game with this device. It's not perfect, but it's a small, well-built and reliable portable DL setup. It's probably not a daily device for most of us, mainly due to the limitations of the battery. But if you're a direct-to-lung vaper looking for something portable to satisfy your needs when you're on the go, the PM80 does an excellent job. I would like to hear from you. Have you tried the PM80 Vaporesso Target? How was your device experience?
If you're still reading at this point then there's a good chance this product is exactly what you're looking for. Check out the Vaporesso Target PM80 product page and order yours today. You owe it to yourself!