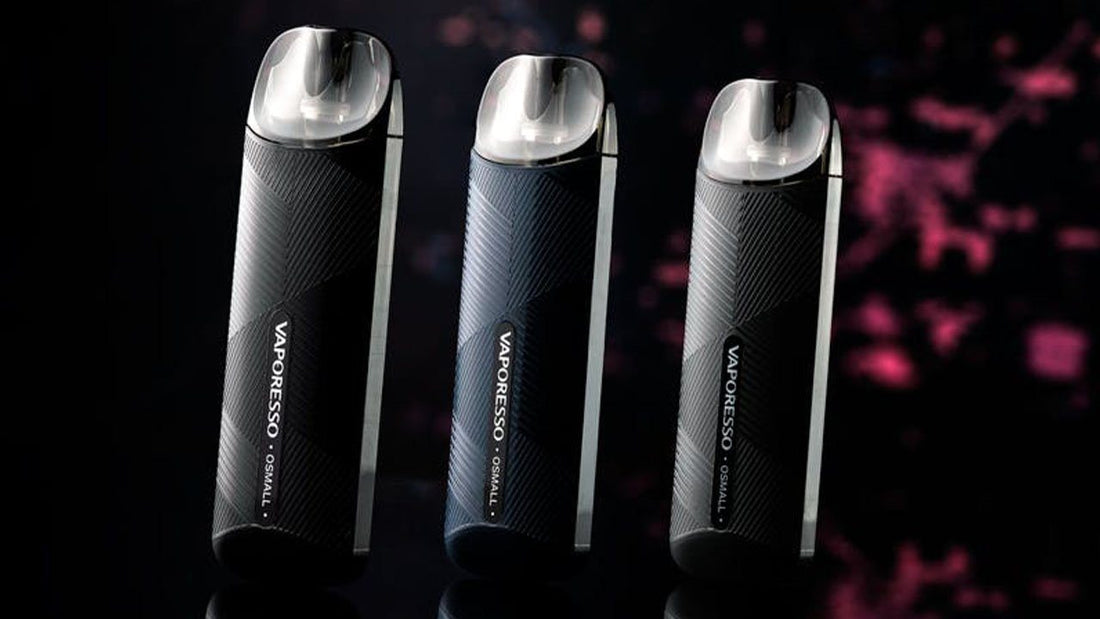 Vaporesso - Osmall Open Pod Kit Review
The Vaporesso OSMALL Pod System is the most recent pod-based AIO unit from Vaporesso. Unlike some of the companies other more robust offerings, the OSMALL is different. Unlike the Target PM80 which was released two months ago, the OSMALL is an ultra-portable and minimalist pod unit. It includes a built-in 350mAh battery and a 2ml capacity pod. It is actually intended for newer vapers who are searching for a smoking cessation tool. It's quite similar to likes of Uwell Caliburn and Smok Novo.
Specifications
Dimensions 84.2mm height. 26.5mm width. 13.4mm depth

Battery capacity 350mah

Resistance 1.2ohm

Pod capacity 2ml

Output wattage 11W constant

 
What's  In The Box
1 x Osmall Device

1 x Osmall Pod

1 x 

USB Cable

1 x 

Warranty Card

1 x 

User Manual
Design
The Osmall has a rectangular body that is flattened and rounded, which makes it slip easily and comfortably into a pocket. The outside of the body has a linear ribbed pattern that's nice to hold on, and it's well done. Overall, it's a simple and minimalist design. The charging port is located at the bottom of the device and it's a micro USB. I'd like to see a USB-C, but it's not a big deal—though I'm one of those people who'll keep bringing it up until the micro USB has seen its last day.
Flavour Production
The production of flavour has also been remarkable. It's just warm without getting overly hot or too cool. I've been consistently getting the full flavour of my e-liquids which was unexpected for such a small device. It would normally make the most sense to use thick juices with sub-ohm tanks. And I usually consider MTL to be better for feel of hit, and DL better for flavor. Looks like I could get my cake and eat it, too! Big respect to Vaporesso because I am getting both a killer throat hit and a saturated flavour for such a tight MTL.
Overall Performance
Why do I really like the Osmall? It's almost like it's on a mission! It's been able to handle whatever juice I've thrown at it. Place your mouth on the back of your hand and suck in. This is about the tightness of the draw. But the Osmall activates with just the slightest pull, and sometimes it can catch you off guard, particularly when you're using high strength nic salt. Even though the draw is super tight, don't pull it hard. Easy does it. There have been no leaks, spitting, flooding, and no burnt or dry hits in my use. One time, I got some gurgling, but after gently blowing the pod out from the bottom, the issue was quickly resolved.
Battery Life
It takes about 45 minutes to completely charge the Osmall, and it also offers pass-through charging. That's definitely a good thing, because the Osmall doesn't last the longest with just a 350mAh battery. It charges through a micro USB port located at the bottom of the device. There's only a tiny LED on the front side of the unit that's either solid white when taking a puff, meaning that it's charged, or it's blinking to show that the battery is running out. With such a discreet LED and the overall compact size of the Osmall, it's easily my favourite.
Verdict
The Vaporesso OSMALL is the perfect choice for any budding vaper. It's a very easy and straightforward way to help you quit smoking. It's very small and slim compared to any other vape-style pod, and  feels exquisite in your hand. Draw-activated and button-free designs play an important role in any successful smoking transition. The flavour is intense and pure, with a strong throat hit. I highly recommend OSMALL to any new vapers or smokers who are switching from smoking to vaping. It's going to be the best device for your first vape!
If you're still reading at this point then there's a good chance this product is exactly what you're looking for. Check out the Vaporesso Osmall product page and order yours today. You owe it to yourself!