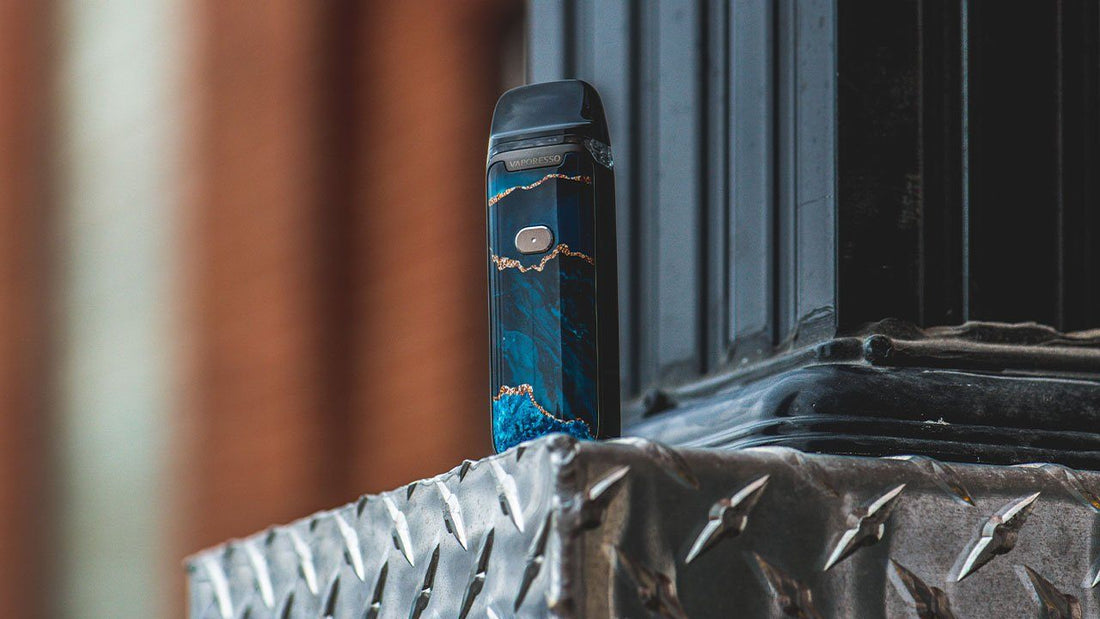 Vaporesso Luxe PM40 Pod System Review
Vaporesso is known for adding a luxurious spin on a wide variety of vaporizers within their Luxe line. While the Luxe line usually dabbles with full-featured box mods, you'll find several devices geared towards more niche audiences. A great example of a more unique vaporizer is the Luxe PM40.
The PM40 is a pod-styled vaporizer, which means it will excel in discrete public use. However, pod vapes have a reputation for less than adequate feature offerings, being tied to proprietary vape juice pods, and providing a very limiting vaping experience. You'll be happy to hear that the Luxe PM40 breaks this mould, offering a very unique pod vaping experience.
While it won't compare to the full box mods in the Luxe line, the PM40 still offers a premium feel with the pod vaping genre of devices. Read more to see what unique bells and whistles it brings to the table!
What's in the Box
1x Luxe PM40 Device
1x Replacement Pod
1x Coil - GTX 0.6ohm Mesh
1x Coil - GTX 0.8ohm Mesh
1x USB Type-C Cable
1x User Manual
Look and Feel
At first glance, the PM40 is going to look like a standard pod vaping device, but take a closer look. It has the power button located in an ergonomically ideal spot, and that same button is used to toggle different heating options. It also sports a very nice 0.69in OLED screen that shows your set heating options, battery information, and more!
The size will make the PM40 conceal easily within your hand. With measurements at 30.6x21.5x96.45mm, it's easy to use without the vape being visible at all. Though if people do catch a glimpse of it, they'll love the holographic IML panel that is great for a simple, dazzling display.
While the look and feel of the PM40 seem simplistic at first, a closer inspection reveals how much thought and effort is put into the design and style. This alone is enough to set it apart from most pod-style vapes on the market, but combine that with the performance, and you'll have a true work-horse.
Performance
What really sets the performance of the Luxe PM40 apart are the coil options, variable heating, and tank style. Unlike the vast majority of pod vaporizers, the PM40 does not rely on draw-firing to create vapour. Instead, it uses a classic button-fire mechanism that can heat between 4-40W worth of power. Variable heating is rare in this style of vape, so its presence here is quite welcomed.
There are two included coils at slightly different resistances. One at 0.6ohms and the other at 0.8ohms. While the difference may seem nominal, the variance can mean a lot to those who are switching between freebase nicotine and salt nicotine e-liquids.
The pod cartridge is refillable (something that is also missing in many pod vapes), and holds 4mL of e-juice. Combine that with the 1800mAh battery, and you'll get long-lasting performance, perfect for vaping while you're out and about.
While its performance doesn't match full-fledged box mods in the Luxe line, the PM40 still offers a satisfying vaping experience, especially for being a pod vape style device.
Final Verdict
If you love the look and feel of pod vaporizers but have been put off by the basic vaping experience they provide, then the PM40 is exactly what you need. It sticks to the slim form factor that has made pod vaping popular but still pays close attention to ergonomic handling and premium features like an OLED display.
The adjustable wattage, firing button, and high-quality coils make the PM40 a tantalizing choice for experienced vapers who may want a device while on the go. It is wonderful compact and discrete but still has the hardware to create great tasting vapour that veteran vapers demand.
For beginner vapers, it serves as a tantalizing option for a few different reasons. This is a simple, easy to use device that is a great budget-friendly transition from draw-fire pod vapes or disposable pod vapes. The refillable tank means that it is a decent choice as a primary device for users still figuring out what they like in vaping but know for sure they want a few bells and whistles in their device of choice.
Whether your an experienced vaper looking for a dedicated travel companion or a beginner vaper inching your way into the world of premium devices, the Vaporesso Luxe PM40 serves as an excellent choice for both!