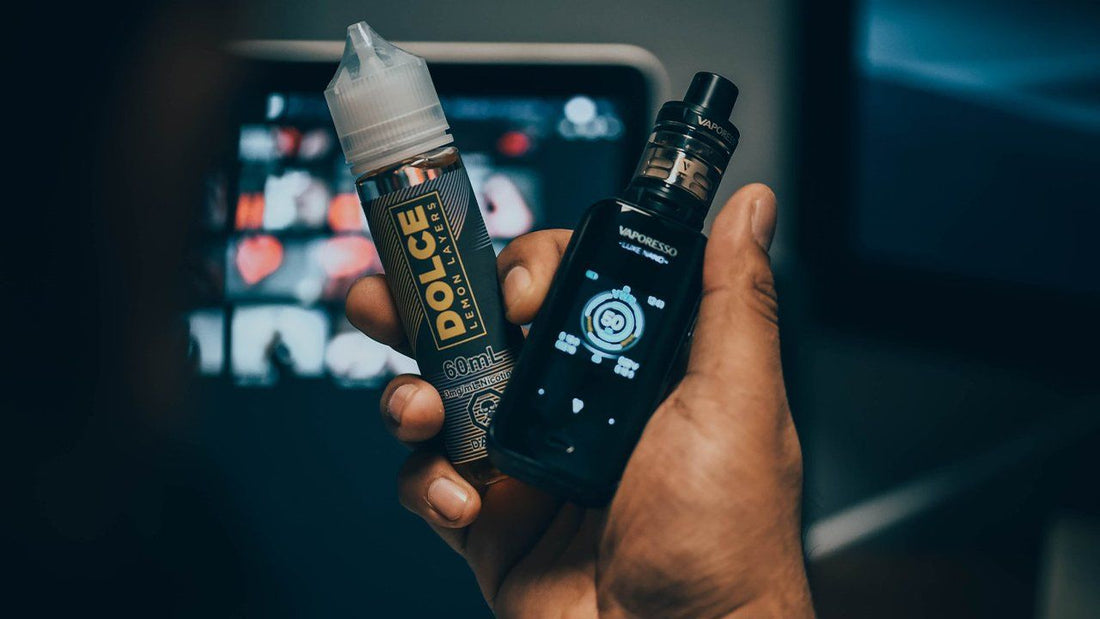 Vaporesso Luxe Nano 80W Kit Review
If you're looking for a versatile, gorgeous, premium vaporizer, the Vaporesso Luxe line is a great place to start. The full sized Vaporesso Luxe is an amazing device, but it may afford some bells and whistles that many vapers don't want or need. The overall size may also turn some customers off, especially if they want a bit more focus on public, discrete use.
Should this conflict sound familiar, then you owe it to yourself to give the Luxe Nano a closer look. It offers comparable features to the Luxe, including an impressive display screen, while catering more to the vaping crowd that is clamouring for more compact, discrete designs.
If you're looking for a premium, full-featured vape that is more compact, then read below to see if the Luxe Nano is the box mod you've been looking for.
What's in the Box
1 x Luxe Nano Mod
1 x Tank
1 x Coil - QF Strip 0.15 ohm
1 x Coil - QF Meshed 0.2 ohm
1 x Replacement Glass
1 x Silicone Case
1 x O-Ring
1 x Micro USB cable
1 x Warranty Card & User Guide
Look and Feel
The look and feel of the Luxe Nano are very comparable to the full-sized Luxe. With measurements at 123x40x26mm, it is slimmed down but still easy to use and handle. Even with a slimmer design, the Luxe Nano still offers a vibrant 1.3in TFT display. Not only does this make it easy to see and navigate features, but it supports a fantastic premium aesthetic.
Just like with the Luxe, the Luxe Nano has digital navigation buttons to choose options but maintains a physical button for power and firing. Aside from being smaller, the Luxe Nano offers a very similar overall feel as the Luxe.
Performance
Despite being more budget-friendly and with less room for extra features, the Luxe Nano still manages to provide a fantastic vaping experience. It supports a wattage range of 5-80W and can read resistances between 0.05-5ohms, both of which make it compatible with an incredible variety of vape juice tanks and other vaping attachments.
The Luxe Nano is built with the OMNI Board 4.2 chipset, which helps enable a large range of premium features, including a 0.002s firing time. You'll love the high-end performance and the great tasting vapour that the chipset helps to produce!
In addition to the box mod body, this kit includes the SKRR-S Mini Tank. It holds 3.5mL of e-liquid and supports two different heating elements with 0.2ohms and 0.15ohms of resistance. For freebase nicotine vaping, it is absolutely perfect, though if you're set on salt nicotine vaping, you may want to consider a tank with a higher resistance.
The entire kit is powered by an internal 2500mAh battery. While the lack of removable batteries may be disappointing to some, the insane capacity of this internal battery will keep the Luxe Nano kicking for a long, long time.
Overall, the performance is what you've grown to expect from the Vaporesso brand, especially within their Luxe line of devices. Vapour is produced quickly, the clouds are thick, and the flavour is delicious!
Final Verdict
If either the size or the price tag of the Luxe made you hesitant to make a purchase, the Luxe Nano offers a tantalizing alternative. It sports a size that is smaller but not too small while retaining a large display screen and a naturally ergonomic grip. The performance is nominally less than the Luxe, though the vast majority of vapers won't notice a difference.
What kind of vaper is the Luxe Nano ideal for? Those that value a premium look and feel equally with a compact and discrete design. If you're looking to use any and all vape juice tanks, the limited wattage range may leave you feeling restricted, though the offered range is plenty for all kinds of different e-liquid tanks (and not to mention dry herb and wax concentrate).
While we feel the Luxe Nano is still geared towards experienced vapers who have a solid idea of what they're looking for, the price and easily approachable features make it a decent option for beginners, too. For a full-featured, premium box mod with a wonderfully compact design, the Vaporesso Luxe Nano is just what you've been looking for!