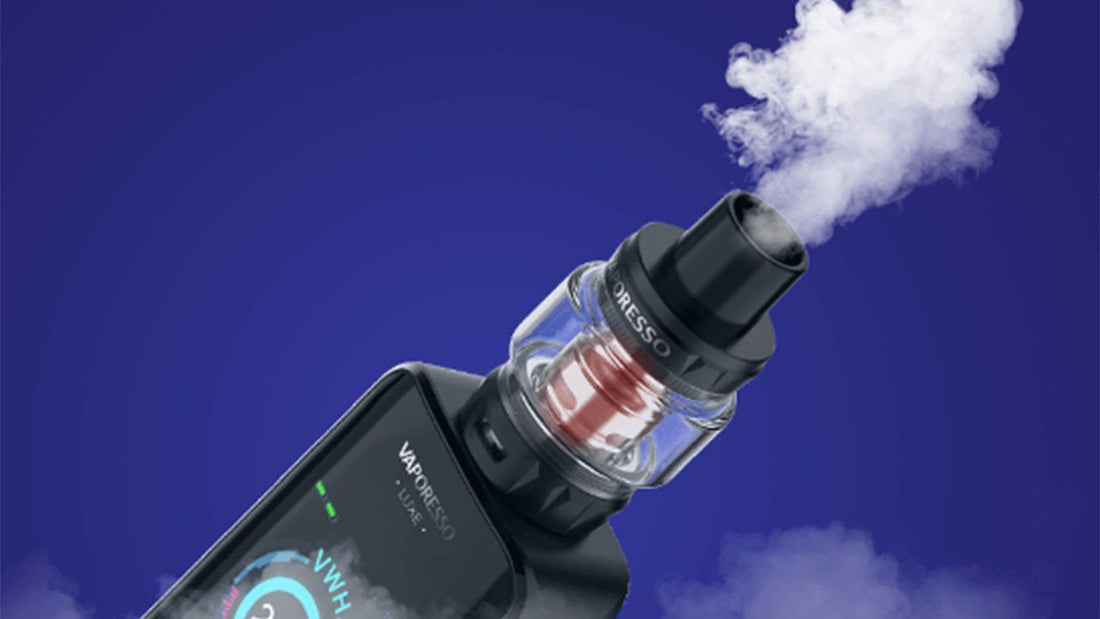 Vaporesso Luxe 220W Kit Review
Vaporesso has a large line of premium looking and feeling vapes. Some are jam-packed with customizable features, others are designed to have a comfortable, compact form factor, while others focus on other enjoyable niches.
What makes the Vaporesso Luxe stand out is not only its undeniably luxurious look and feel, but it also sports an enormous TFT display. It makes it easy to navigate menus, select options, and have just an eye-catching, gorgeous device.
While the Luxe 220W provides an incredible look, there's more to this book than just a cover. Take a look at what else you can expect when you take your first puff from the Luxe!
What's in the Box
1 x Luxe 220W Mod
1 x Tank
1 x Coil - QF Strips 0.15 ohm
1 x Coil - QF Meshed 0.2 ohm
1 x Replacement Glass
1 x Silicone Case
1 x O-Ring
1 x USB cable
1 x User Guide & Warranty Card
Look and Feel
The looks of the Luxe are going to be the first thing that catches your eyes. It has a whopping 2in TFT display that features tactile feedback and vibration-enabled buttons, which means it is easy to navigate options, select options, and know that options have been selected. The function keys, while virtual, are still easy to reach with single-hand use.
The power button remains a physical feature and is conveniently placed where your thumb would naturally rest while your other fingers navigate feature options on the TFT screen. Even with a large screen, the overall layout of the design is pleasantly ergonomic and easy to handle.
Essentially, if you like the general style of the Vaporesso brand want a hefty, vibrant digital display, then you'll love how the Luxe looks and feels!
Performance
Along with quite the snazzy design, you'll get premium performance with the Luxe. You get a wattage range of 5-220W with precision temperature control, a readable resistance range between 0.03-5ohms, and these settings are clearly displayed on the large screen.
The versatility is fantastic, but so is the vapour production. The Luxe uses the OMNI Board 4.2 to support 0.001 insta-firing for quick and tasty puffs. With the readable resistance so varied, it's easy to pick out a vape juice tank that is ideal for freebase nicotine and a separate tank for salt nicotine!
The Luxe makes use of dual 18650 batteries and features quick charging. You can go from no charge to fully charged in an hour and a half, which is enough to easily support all-day use, even while supplying power to the display screen.
Like many Vaporesso kits, the Luxe is paired with the SKRR-S Tank, which is an ideal match for freebase nicotine vaping. It has a monster capacity of 8mL and is compatible with 0.2ohm coils or 0.15ohm coils. Between the tank, the battery, the chipset, and the insta-fire feature, you'll be making gigantic, thick clouds of tasty vapour in less than a second!
Final Verdict
The Luxe 220W is a fantastic, premium choice for box mod vaping. Given its high-end features, versatility, and premium vapour production, experienced vapers will feel right at home using the Luxe. If you've been looking for a new primary device and having a large display screen has been a sticking point, then the Luxe deserves a closer look.
However, the Luxe is not for everyone. Obviously, if you don't want or don't need a large display, then there are other box mods (including from Vaporesso) that will offer similar features at a lower price since such a large display is reflected in its price.
Beginner vapers may also want to reconsider getting the Luxe 220W. It's a significant investment into a device that you may or may not even end up liking, especially if you haven't learned what you do and do not want out of a device.
However, if you are certain on the features you want out of a box mod and a vibrant display is a priority for you, then you'll absolutely love the Vaporesso Luxe 220W.