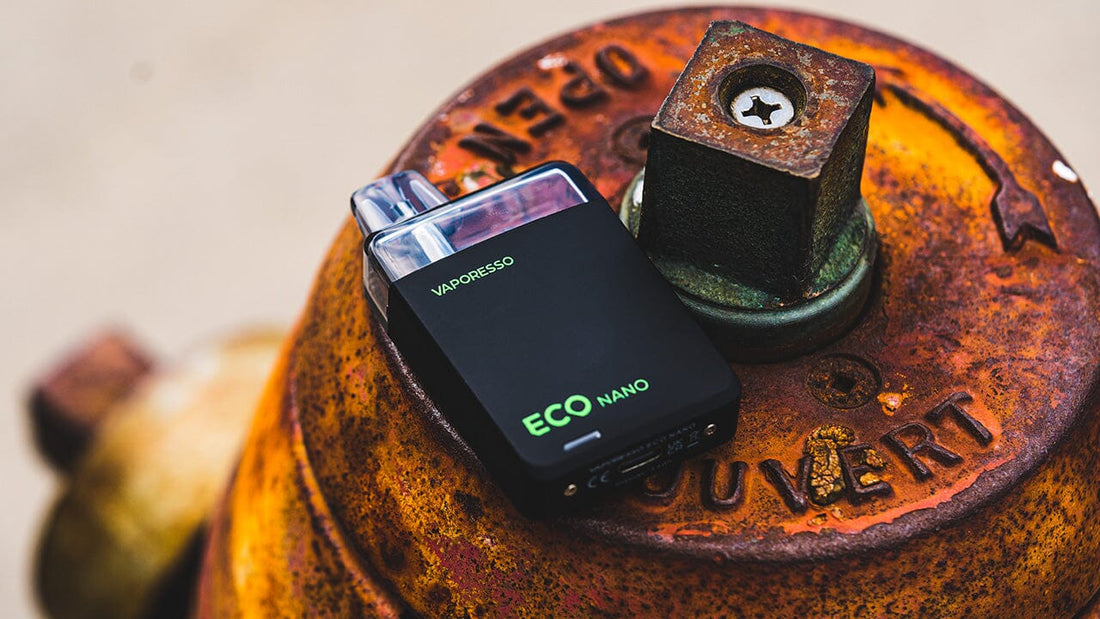 Vaporesso ECO Nano Pod Kit Review: Your Alternative to Disposable Vapes
In vaping, simplicity and convenience have become key factors for both beginners and experienced vapers. Vaporesso, a company established in 2015 to create a smoke-free world through innovation and experience, has consistently delivered excellent products. Among their latest offerings is the Vaporesso ECO Nano pod kit, poised to challenge the dominance of disposable vape devices flooding the market.
Vaporesso ECO Nano Pod Kit Features:
Device Specifications
The Vaporesso ECO Nano Pod Kit boasts a compact design of 44.7 x 18 x 77mm, making it lightweight and pocket-friendly. Its pod comes in two capacities: 6ml and a TPD-compliant 2ml version. The device is powered by a 1000mAh integrated battery, ensuring extended vaping sessions. Fast 1A type C USB charging ensures minimal downtime.
Design and Build Quality
The device's construction features a Zinc alloy body with a gradient spray coat paint finish, providing both durability and an appealing look. One notable design feature is the fully transparent pod, allowing vapers to monitor their E-liquid levels easily. This pod is made from toughened PCTG material, ensuring resilience against everyday wear and tear.
How to Use:
Filling the pod is a breeze. Simply remove the pod from the battery section, lift the fill tab, and use the generous 6mm opening to add your E-liquid. Removing the coil protection sticker on the pod's underside before filling is important to ensure proper saturation. After filling, drop the pod back into the battery section and let the E-liquid soak into the COREX cotton for around five minutes before your first vape.
Charging the device is equally straightforward. Connect the type C USB charging cable to the bottom of the battery section, ensuring a secure fit, and then plug the larger end into a suitable USB outlet. With fast charging, you'll be ready to vape in no time.
Performance:
Pod and Coil Options
The Vaporesso ECO Nano Pod Kit has a 0.8ohm mesh pod, offering excellent flavour and vapour production. There's also a 1.2ohm alternative, ideal for 50VG/50PG E-liquid blends.
Flavor and Vapor Production
Despite being a beginner-friendly device, the ECO Nano's flavour quality and vapour production surprises. While its MTL (Mouth-to-lung) experience may feel slightly loose for some, the auto-draw sensitivity is spot-on, responding to the lightest tugs. Flavour enthusiasts will appreciate the clean, well-defined notes, even for complex E-liquid profiles.
Battery Life and Puff Count
The device's battery life is nothing short of impressive. A single charge lasts 15 hours and fifteen minutes of vaping, making it perfect for all-day use. During this time, it produced approximately 1,100 puffs, surpassing the performance of many disposable vapes. Refilling the 6ml pod took a remarkable 25 hours and 45 minutes of continuous vaping, with the battery still going strong. The pod delivered an astonishing 1,850 puffs, suggesting it can be topped up multiple times before needing replacement.
Pros and Cons:
Pros
Lightweight and pocket-friendly

Incredibly easy to use

Excellent flavour and cloud production

Reversible pod for convenience

Transparent pod for E-liquid visibility

Zero leaking

Conservative E-liquid consumption

Sensitive auto draw

Fast one-hour type C USB charging
Cons
Average MTL vape style (subjective)

Limited LED indicators

Inability to charge in a vertical position
Final Verdict:
While the Vaporesso ECO Nano Pod Kit may not offer the tightest MTL experience, it excels in every other aspect. Its flavour and vapour production are outstanding, and the battery life and puff count are exceptional, rivalling many disposable vapes. If you're looking for an affordable and reliable alternative to disposable vapes, the Vaporesso ECO Nano Pod Kit is an excellent choice. Its consistent performance and ease of use make it an ideal starting point for those exploring vaping beyond disposables.
At VapeMeet, we're committed to providing you with premium vaping solutions. Explore our range of products and take advantage of exclusive deals to enhance your vaping experience. Choose STLTH Pro and redefine the way you vape! Stay updated with all our deals and promotions by following our Instagram page!