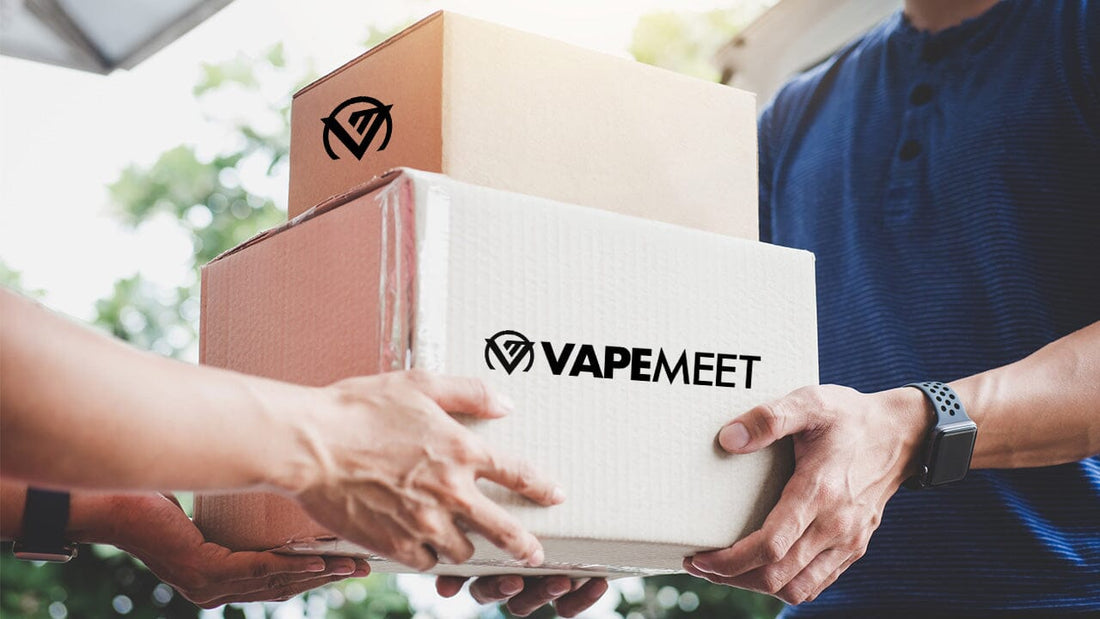 Vape Delivery to your Door with VapeMeet
Have you considered the convenience of vape delivery recently? 
Life can get busy, and sometimes it takes effort to get into the shop to make a refill or pick up a few pods and coils. We also know that it's often difficult for people in remote areas to make it into town to pick up, or often I have friends racing around to make it to places before they close. Life isn't perfect, but there are ways to make things easier, so your vape is the least of your worries.
But isn't buying vapes online complicated? Expensive? 
I hear you, and I know some of us are worried about ordering vapes online as they might be costly, slow to arrive in shipping, or overly complicated. There's also the worry of your order getting delivered or taken by a porch pirate. You may have never ordered vapes online before and are unsure how that works. Let me tell you about VapeMeet's online vape ordering system and how ordering online can help simplify your vaping life.
Get FREE shipping with VapeMeet.
VapeMeet has a super cool deal where they offer free shipping anywhere in Canada for orders that are $50.00 or more (before taxes). Plus, every package they send within Canada comes with tracking and is insured for $100.00 by default. That means you can keep an eye on your package and know it's protected while it's coming to you! How awesome is that?
Enjoy the best with same-day vape delivery.


Did you know that VapeMeet has a super cool Same Day Courier Service for some places in Ontario? If your postal code is in the delivery area, you can choose this option when checking out. The cost for this service is $8.00, but guess what? If your order is over $50.00 (before taxes), you can get it for free!
How Do I Order Vapes Online?


Here's how it works: if you place your vape delivery order before noon on a weekday (not weekends or holidays), your package will be sent and delivered on the same day between 1:00 PM and midnight. Your package will come the next business day if you order after noon.
If you're ordering for the first time, VapeMeet must see proof of your ID before sending your order. You can send a picture of your driver's license or passport to vapeshop@vapemeet.ca. If you don't send the ID by noon, your order will wait until VapeMeet knows who you are.
Once everything is ready, you'll get an email saying your package is with the courier. Later that day, you'll get a text telling you when the courier will be near your house (about 20 minutes before they arrive). You can even watch their journey with live tracking – how awesome is that?
Get it Delivered later with Canada Post & Canpar.


VapeMeet works with Canada Post and Canpar to ensure you get the best shipping prices. You'll see these prices when you're checking out. But remember, the delivery times they give you are just estimates – they can't promise it'll be exactly on time.
Let's say you're away from home when the vape delivery is attempted or don't have your ID. No problem! Your package will be safely transferred to the nearest post office or Canada Post fulfillment center, where you can pick it up later with your ID.
Please ensure that the address and name specified on your VapeMeet account are accurate, as we will only ship to that information. In the event of a shipment being returned due to incorrect details, kindly update your account information and cover the re-shipment cost. We kindly ask that you make necessary arrangements for someone to receive the package, as VapeMeet cannot be held responsible for any lost, stolen, or undeliverable shipments. 
Should your order be returned due to ID verification issues, VapeMeet will gladly refund you (excluding shipping costs and a 10% restocking fee). Please note that we do not provide re-shipment for such cases. We appreciate your understanding and look forward to assisting you.
So, there you have it – if you want to dive deeper into VapeMeet's vape delivery policies, you can check them out here or visit/call any of our locations to ask someone in person. VapeMeet's shipping policy caters to your busy lifestyle while ensuring a smooth and secure delivery process. Go ahead and confidently place your order, knowing that VapeMeet has your best interests in mind! Happy vaping!