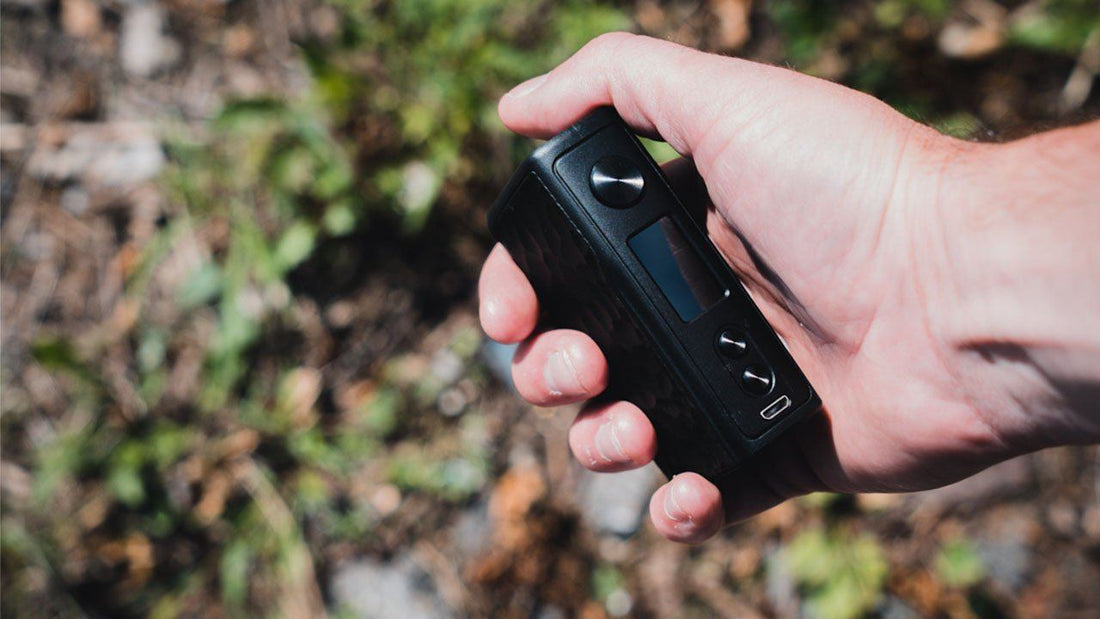 Vandy Vape Swell Mod Review
The Swell by Vandy Vape was made in collaboration with Tony B from the famed Vapor Trail Channel on YouTube. Among the many vaping designs he's been a part of, the Swell is one of his latest collaborations.
What can you expect from the Swell? You'll find a full-featured box mod that is positioned to be a fantastic primary device. Not only is it full of adjustable features and compatible with a broad range of vape juice tanks, but it also has some fun bells and whistles that help it stand out in the crowded field of premium box mods.
Let's dive into some of the premium features that the Vandy Vape Swell has to offer!
What's in the Box
1 x Swell Mod
1 x Micro USB Cable
1 x User Manual
Look and Feel
The look and feel is a standard, quality experience with the Swell. The body is constructed of zinc-allow, giving it a nice, light-weight feel without feeling low quality. The fire button and buttons used to navigate features flank the OLED display, and it's easy to use your thumb to adjust heating options without covering up information in the screen.
The body of the Swell has some decent durability built into it. It will withstand most moderate drops (it doesn't have a thick rubber coating, so don't throw it or something crazy), and it is entirely water-proof. If you're concerned about splashes, spills, or puddle drops, the Swell does well to resist damage from those hazards!
Do you have concerns about losing your box mod? Not with the Swell, you don't! If you've paired the device with the companion Vandy Vape app, you can ping the device to help you find it when you've misplaced it. It's a fantastic feature that has yet to be adopted among most premium box mod devices.
Overall, the look and feel of the Swell are simple but satisfying. The plate faces are available in a variety of designs, but the overall design is a standard, comfortable box shape that will fit most hands very well. Of course, the nifty location feature is fantastic, and one that really helps the Swell stand out!
Performance
The Swell's performance is...swell! It offers a wattage range of 5-188W, a voltage range of 0.5-7.5V, and can read resistances between 0.05-3.0ohms. You'll have a wide choice of e-liquid tanks or other attachments that will work swimmingly with the Swell.
The Swell also has a bunch of safety features, like open circuit protection, short circuit protection, overheating protection, and over current protection. The overall attention to the build quality and performance makes it easy to enjoy the Swell easily and safely.
This is all powered by dual 18650 batteries, a standard among premium box mods. The batteries are held in with a magnetic door panel, making it easy to install and replace batteries as needed.
In terms of performance, it's hard to go wrong with the Swell. It will work well with most vape juice tanks, though we recommend a low-resistance tank for freebase nicotine vaping and a tank with higher resistance for salt nicotine vaping.
Final Verdict
Vandy Vape has done an exceedingly good job with creating a box mod that offers superior performance and uncommon features. You'll be hard-pressed to find a vape liquid tank that doesn't work well with the Swell, and you can even consider some non-vape juice attachments (like for wax concentrates or dry herbs).
Being able to ping the box mod if you can't find it is such a simple, but impactful quality of life improvement that just isn't found in most high-end box mods. Combine that with the high-quality build and wonderful performance, and you'll find the Swell offers a vaping experience that will leave few disappointed.
If you can't tell by now, we think this device is...swell! Head over to the Swell Product Page to shop now!