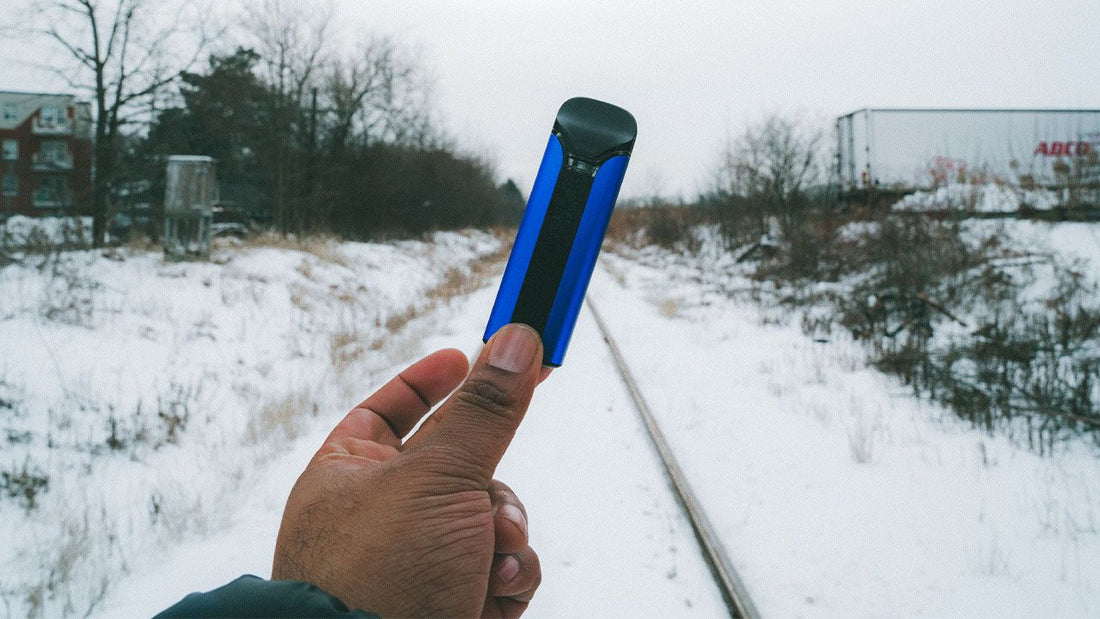 Uwell - Crown Pod Kit Review
The Uwell Crown Pod System is a compact and modern vape device from Uwell, touting the legendary Crown moniker. It combines a large 1250mAh built-in battery with a dual parallel coil arrangement with airflow control to deliver both MTL and DTL vaping. It is both draw-activated and button-activated. The regal pattern and the smooth edges are appealing and comfortable in the hands. There are two separate cartridges in the kit-a 0.6ohm pod for restricted DTL vape and a 1.0ohm pod for MTL vape. The Crown pod is compatible with regular juice or nic salt.
Specifications
Size: 95.6x30x18.0mm

Battery: 1250mAh Internal Battery

Maximum Wattage: 25w

Charging: Via Micro USB

E-Liquid Capacity: 3.0ml (2.0ml TPD)

Available colours: Black | Grey | Blue | Red (Looks Pink)
What's  In The Box
1 x Uwell Crown Device

1 x Micro USB Cable

1 x 1.0Ω Crown Pod

1 x 0.6Ω Crown Pod

1 x Warranty Card

1 x Manual
Design
The Uwell Crown Pod Kit is a compact, lightweight unit. It measures just 95.6mm x 30mm x 18mm and weighs 62.50g, which is smaller and lighter than many other pods on the market. Crafted from a durable and lightweight aluminum alloy, the Crown is resistant to wear and tear and is impact resistant. The base of the Crown is made of plastic, which is where the Micro USB charging port is mounted. The body is streamlined and flattened. The matte finish with a Royal Pattern strip on the front and back makes the Crown look vivid and visually stunning. There are no additional adjustment buttons available making it great for those looking for an exquisite, easy-to-use pod unit.
Flavour Production
The Uwell Crown Pod System comes with advanced Pro-FOCS flavouring technology, which controls the temperature of the heat and restores the flavour of the juice for a better vape experience. Overall, the crown offers a smooth, flavourful entry-level pod mod system that delivers a satisfying vape.
Overall Performance
The Uwell Crown Pod System is powered by a large 1250mAh battery that provides ample battery life for the entire day. Compared to the 520mAh battery of the Caliburn and Caliburn Koko pod kits, the Crown has a great increase in battery life. I used the 1.0ohm pod for 2 days before I needed to recharge. You're never going to think about battery life when you're out. The Crown can be fully charged in about 40 minutes via micro USB.
Battery Life
The Crown Pod has a built-in 1250mah battery, which is a decent size pod battery. It was more than enough to last me a full day of vaping consistently, and I would describe myself as a moderate vaper. If you are vaping heavily, you may need to charge it more frequently.
Verdict
The Uwell Crown Pod System is a lightweight, powerful pod unit. The 1250mAh battery is impressive and robust. The two different pods with adjustable airflow sliders allow you to enjoy the airy DTL draw and tighter MTL vaping. Advanced Pro-FOCS flavour technology ensures a rich and pure flavour. If you're looking for a simple and flavourful unit, the Crown Pod kit will be the perfect choice.
If you're still reading at this point then there's a good chance this product is exactly what you're looking for. Check out the Uwell Crown Pod product page and order yours today. You owe it to yourself!