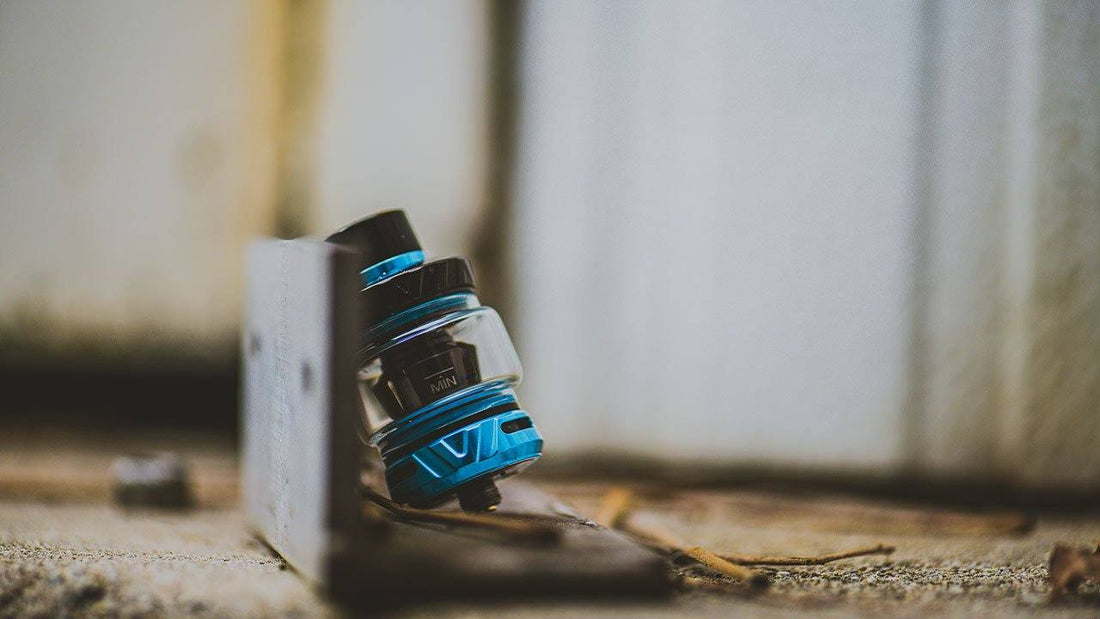 Uwell Crown 5 Tank Review
If you're a dedicated mid to low-wattage vaper, it can be challenging to find a vape juice tank that caters to a top-end vaping experience. A large swathe of top-quality vape tanks are geared towards box mods with enormous batteries and serious wattage output. For those who don't like high-wattage vaping (or simply don't want to invest in that kind of box mod), finding a high-end tank can be frustrating.
Does that sound like you? If it does, count yourself fortunate! The Uwell Crown 5 may be an amazing option for serious vapers who prefer low to mid-range wattage! The Crown 5 offers a durable build, respectable vape juice capacity, along with features and performance that have created a large, dedicated fan base!
What's in the Box
1 x Tank
1 x Replacement Glass
1 x Coil - 0.23ohm Mesh
1 x Coil - 0.3ohm Mesh
1 x Pack of O-Rings
1 x User's Manual
1 x Drip Tip Cover
Design
The Crown 5 is a chunky boy with a diameter of 29mm. This waistline makes it easy to accommodate the 5mL bubble tank, which gives you excellent capacity while providing a pleasing aesthetic. Though the Crown 5 has a 510 threaded connection, you'll want to make sure its larger diameter will comfortably fit on your preferred box mod.
The build features stainless steel and pyrex glass, giving the tank just a little splash of durability that will withstand most light to moderate drops without permanent damage. The base of the tank features dual-slotted airflow control, which can be adjusted to provide as much, or as little, extra air as you need while creating huge, tasty clouds!
When the time comes to refill, the Crown 5 is built with Uwell's quarter-turn top-fill system, making it easy to quickly refill, even if you're out and about. The fill slot is extra large and silicone coated, which prevents internal tank damage and unintentional spills and drips.
Performance
The performance of the Crown 5 is what fans of Uwell have come to expect (and maybe a pleasant surprise for vapers trying the brand for the first time). The vape juice tank is the first to use Uwell's new line of Crown 5 coils, which all have a key feature of mesh to rapidly produce vapour without sacrificing flavour.
You'll find two coils come included with the Crown 5. The first is the 0.23ohm UN2 Single Mesh Coil, rated for 65-70W, and the second is the 0.3ohm UN2-2 Dual Mesh Coils, which is rated for 50-55W. The power requirements for both of these coils are uncharacteristically low for high-end sub-ohm vaping (especially with the UN2-2 Dual Mesh Coils).
Uwell is known for an emphasis on flavour, and the Crown 5 includes their Pro-FOCS Flavour Testing Technology (which is a fancy term meaning temperature is controlled and regulated to smooth out flavours while providing big vapour volume, all the while avoiding harsh or scorched tastes).
Conclusion
The Crown 5 heavily caters to vapers who would consider themselves "flavour chasers," meaning they value the taste of the vapour produced above all other qualities. The cutting-edge mesh coils are designed to balance flavour and volume, though the core performance is still geared towards adding a fantastic depth of flavour to whatever freebase vape juice you choose to vape.
If you want the best flavour from your vape juice and have a mid-ranged box mod, this vape juice tank is perfect. It caters to moderate wattage outputs, and you can comfortably use this tank with a box mod with as little as 50W and still have an excellent experience.
Those who vape regularly and are looking to add a special depth of flavour to their vaping game will love what the Crown 5 brings to the table!
Don't just take our word for it, head over to the Crown 5 product page to shop now!