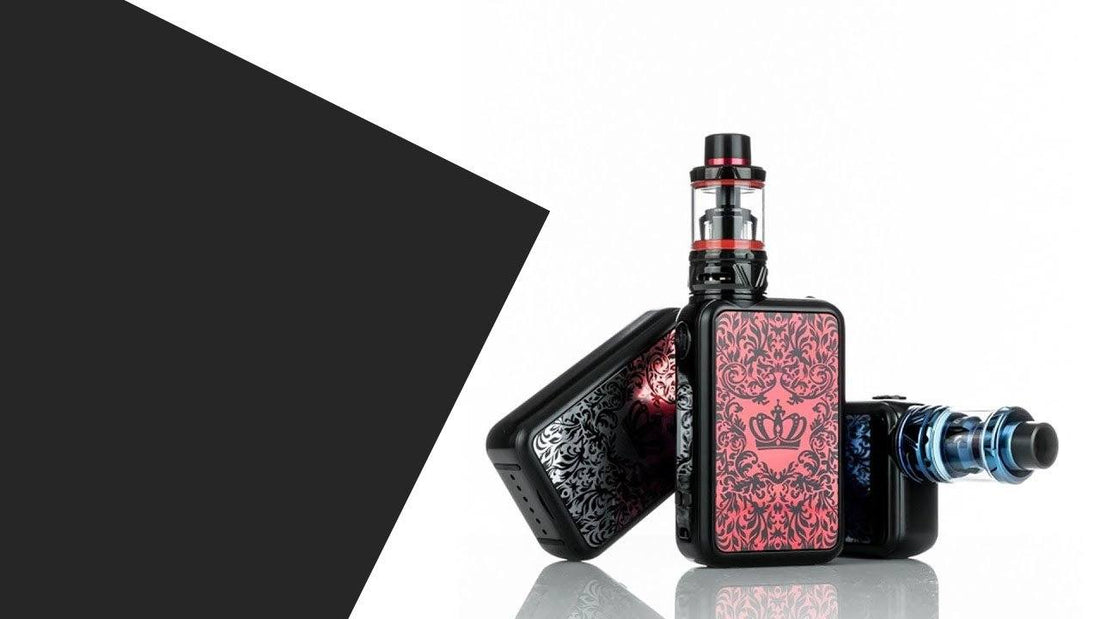 Uwell Crown 4 Tank Review
Uwell is a widely-acclaimed brand that has found special affection among sub-ohm vapers, and the Crown 4 is a fantastic example of the quality of vape juice tank the brand brings to the table. You'll find a wide variety of coils to choose from in the Crown line of choices, not to mention impressive e-liquid capacity, an easy-to-use design, a high-quality build with excellent materials, and some unique features (like self-cleaning!).
The Crown 4 touts itself as an amazing upgrade for serious sub-ohm vapers, but if you need a bit more convincing, read below to see how the Crown 4 can give your vaping the kick in quality you've been looking for!
What's in the Box
1 x Crown 4 Tank
1 x 0.2ohm SS904L Coil (Pre-Installed)
1 x 0.4ohm SS904L Coil
1 x Replacement Glass
1 x Instruction Manual
Design
The physical build of the Crown 4 is essentially industry standard, which will help it be compatible with most box mods. It has a 28mm base with a 510 threaded connection, so while it's a bit on the girthy end of vape juice tanks, most mid-range box mods will fit the Crown with ease. The build also makes use of stainless steel and pyrex glass to give a quality feel, durable performance, and a high-end look!
The Crown 4 has a standard vape juice capacity of 5mL, though it can be upgraded to a 6mL bubble tank (sold separately). When the time comes to refill, the Crown 4 uses a quarter-turn top-fill design, so you can quickly and easily get back to vaping without messy spills.
Finally, as any high-end e-liquid tank should have, the Crown 4 is equipped with an adjustable airflow ring at the base of the tank. This is a key feature for tweaking sub-ohm vapour, and airflow is top-notch with the Crown 4!
Performance
The performance of the Crown 4 will make sub-ohm vapers swoon. It makes use of the new Crown line of coil cores, and the tank comes with a 0.4ohm and 0.2ohm Dual SS904L coil, with wattage requirements of 60-70W and 70-80W respectively. Each of these coils uses double helix mesh, which gives a huge surface area to quickly and deliciously heat your chosen vape juice.
A stand-out feature of the Crown 4 line of coils is their ability to self-clean. There's a condensation holder within the atomizer that holds excess e-liquid until there is ample space for it to be vaporized. This helps to prevent build-up within the coil, helps to promote consistently great tasting vapour, and improves the overall life of the coil!
The performance of the Crown 4 is outstanding, especially for sub-ohm vapers.
Conclusion
Uwell is known for quality, and the Crown 4 is no exception. You'll find a wide variety of excellent sub-ohm coils to use packed into a vape juice tank with excellent build quality, optimal airflow, great vape juice capacity, and self-cleaning technology to help you get the most out of every drop of vape juice you use.
The wattage requirements for the coils tend to be pretty modest, but you'll want to make sure your box mod can provide an output of around 70-80W, especially if you plan on branching out away from the coils that come with the tank. It's also important to remember that sub-ohm vaping is not a great choice for salt-nicotine juices, so if that style of juice is your primary focus, you'll want a tank that provides coils with a higher resistance.
If your vaping needs and abilities aren't roadblocked by these few requirements, then the Crown 4 should treat your vaping lifestyle exceptionally well!