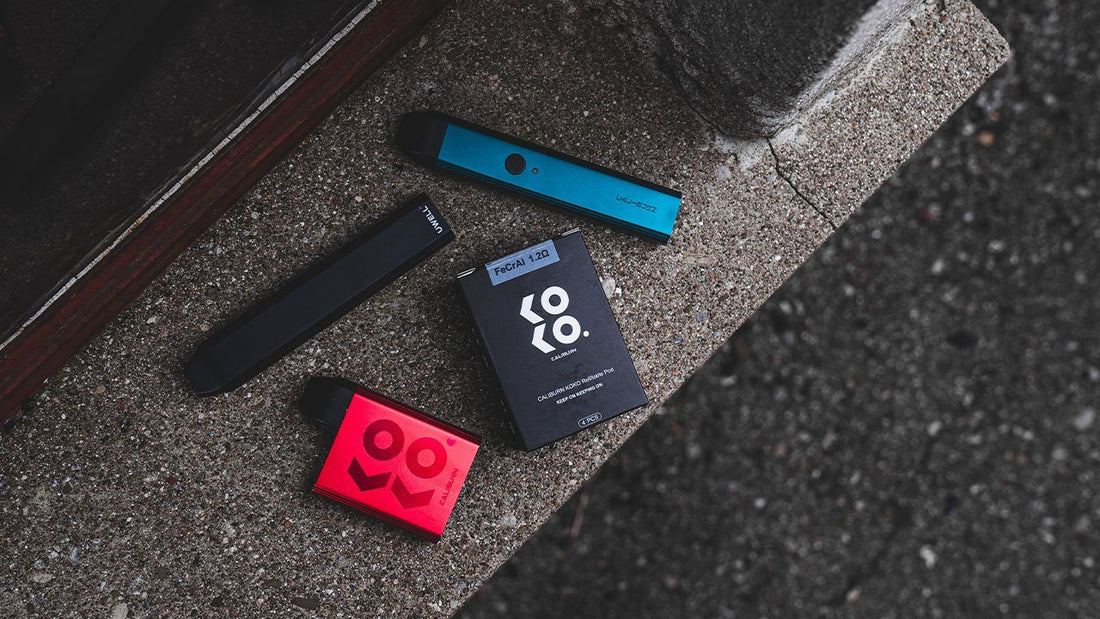 Uwell - Caliburn Pod Starter Kit Review
Throughout the countless new pod vape releases, one device has remained talked about as the 'pod vape to get' — the Uwell Caliburn. The Caliburn has been available for a while but it's still in high demand due to its great build quality and the flavour that it delivers. The Caliburn has a 520mAh battery and a 2ml capacity pod. Having been out for so long, is Uwell's Caliburn still worth picking up or are you better off with a new device? Read on to find out!
Specifications
Size: 110×21.2×11.6mm

E-liquid Capacity: 2ml

Battery: 520mAh (internal)

Output: 11W (max)

Material: Aluminum Alloy, PP, PC, ABS

Pod resistance: 1.4Ω

 
What's  In The Box
Caliburn battery with pod attached

1 x Replacement Caliburn pod

Micro USB charging cable

Manual
Design
A big reason why people love the Caliburn so much is the design. It looks simple but classy, and fits nicely in the hand. The Caliburn is made of aluminum-alloy and as a result, it's a very light device. You can throw it into your pants pockets or even a shirt pocket and barely notice that it's there.  It's still quite sturdy and durable though. There is a single button on the device used for turning it on or off (5 quick clicks) and for firing (the Caliburn also has an auto-draw sensor if you'd rather not press the button for it to fire). Underneath the button you'll find a single LED light that changes colour to indicate the life of the battery, more on that below.
To continue with its simplicity, the Caliburn uses a refillable pod that features a built-in coil. This means when the coil inside the pod burns out you simply throw the pod away and fill up a new one. If you don't like the hassle of changing and priming coils then the Caliburn might be for you. One design flaw I've noticed is that it is next to impossible to see how much e-liquid is left in your pod while it's attached to the device. There are two small "viewing windows" on each side of the Caliburn, but, in my opinion, they're too tiny to see anything. It would have been nice if Uwell had made them a bit bigger. Instead, in order to not vape your pod completely empty and risk burning the coil out prematurely, it's recommended to take the pod out periodically throughout the day and make sure your liquid level isn't getting too low.
Both types of pods are filled the same way - remove the black top cap on the pod, you'll see three holes, only use the outside holes for filling, NEVER fill the middle hole as this will flood your coil. It's recommended that after filling a new pod you let it sit for 10 minutes before using to ensure the coil is sufficiently primed.
Flavour Production
As of writing this review there are 2 different pods that will work with the Caliburn. The original Caliburn pod which comes in the kit and can be purchased in packs of four, and the Caliburn Koko pods, which are also available in four packs. The difference between the two is mainly the resistance of the coil in each pod. The originals have a 1.4Ω coil while the Koko pods have a 1.2Ω coil. With the lower resistance the Koko pods will give a slightly warmer vape, so if you find that you'd like your Caliburn to feel a bit stronger compared to the original pods you got with it then you might want to consider giving the Koko pods a shot. With that said, both types of pods give off  surprisingly good flavour for a device of the Caliburns size.
Overall Performance
The draw from either pod mentioned above is best described as loose, but not too airy, mouth-to-lung. The vapour production is a little more than you would expect for an 11W device, nothing over-the-top, but a decent amount of vapour nonetheless. Vapour production, flavour, and warmth all start to drop off as the battery dies as the Caliburn isn't a constant output device so this is to be expected. Once the battery gets to red it's a much weaker draw so it's best to charge it once it reaches that level.
Battery Life
The Caliburn has a 520mAh battery. Fully charged, the average user should expect to get through the better part of the day, if not a full day. It only outputs 11 watts of power so it uses very little
battery for each draw. On average I've been getting about 3 refills per charge. Charging is quick even though the Caliburn uses micro-USB charging. The LED underneath the power button indicates your battery charge level. There are three colours:
Green: 100-60%

Blue: 60-30%

Red: Under 30%
You can press the fire button once to check your battery level or when you puff with draw activation it will also light up the LED.
Verdict
The Caliburn has a few areas that could be improved but it's generally a solid vape. If you're after an extremely tight mouth-to-lung draw then you might want to look at another device. But for a loose mouth-to-lung draw, you'll definitely be happy with the Caliburn. Beginner vapers will love the ease of use, while more experienced vapers will still appreciate the flavor and long battery life that the Caliburn offers. For a nic salt vape, the Caliburn is definitely still among the best devices you can get today.
If you're still reading at this point then there's a good chance this product is exactly what you're looking for. Check out the Uwell Caliburn product page and order yours today. You owe it to yourself!