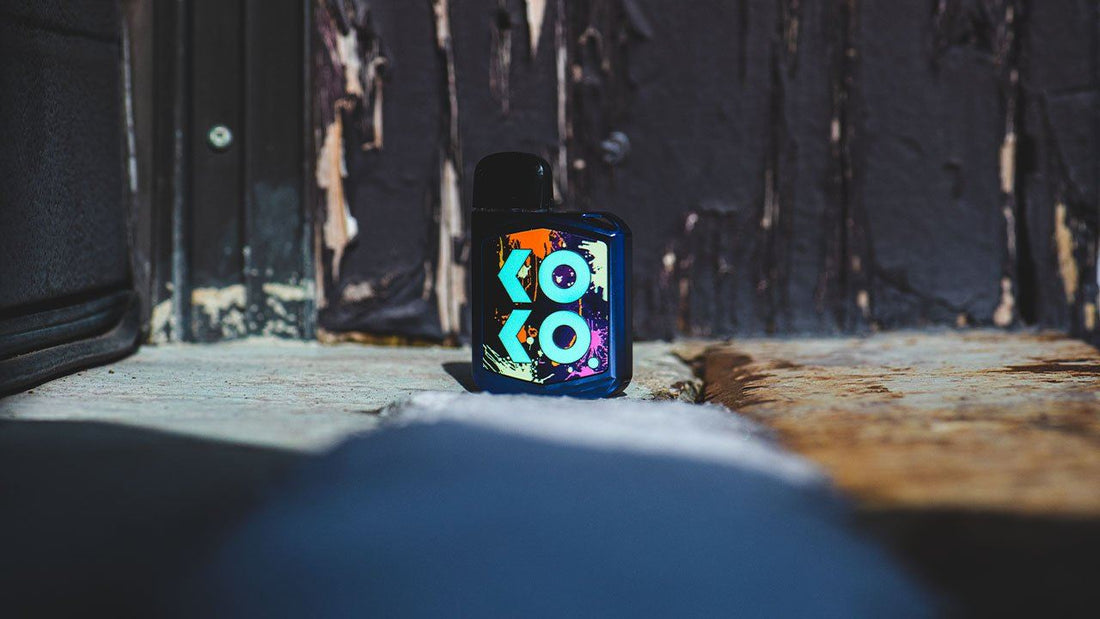 Uwell Caliburn Koko Prime Pod System Review
Pod vaping systems are fantastic choices for vapers looking for simple, easy-to-use devices with travel-friendly form factors. Uwell is a brand known for creating vapes that are great little travel companions, and the Caliburn Koko Prime follows that tradition.
Despite its name, the Caliburn Koko Prime is not the first of its kind. It follows the original Caliburn Koko, keeping the compact form factor while introducing some much-needed improvements for on-the-go vaping.
Looking for a cute little pod vape with BIG perfromance? Read below to see what the Caliburn Koko Prime has to offer!
Look and Feel
The Caliburn Koko Prime is an excellent choice for easy, discrete public vaping. It has dimensions of just 68x45.6x16mm, making it easy to pack away or to use without drawing a lot of attention. The body features a zinc alloy finish, which gives the Caliburn Koko Prime a quality feel and a bit of extra durability.
The decorative sides are magnetic, so you can switch and swap plates at your leisure. It's great for those looking to create a unique style (or keeping the plates off makes for a simple, minimalistic design).
The refillable pod holds 2mL of your favourite e-liquid, and with the included coils, you have a couple of decent options for either freebase or salt nicotine. When the pod is filled, simply take a hit and the Caliburn Koko Prime will automatically begin producing vapour, no buttons required!
Overall, the design is simple, discrete, and as fashionable as you want it to be.
Performance
Though it is pretty simple, the performance of the Caliburn Koko Prime is great for a draw fire vape. You'll get a choice of two coils: the original 0.8ohm meshed coil or the new 1.0ohm FeCrAl coil. Use the lower resistance with freebase e-juices to get more vapour, and use the higher resistance coil with salt nicotine juices to get the best flavour!
The battery in the Koko Prime is a solid improvement over the original Koko. You'll get a 690mAh battery, which, given the power requirements of the Koko Prime that are rather modest, provides impressive battery life. Most vapers will comfortably puff away most of the day at the 15W output without needing to worry about recharging the internal battery.
Given that the Caliburn Koko Prime is a simple, draw-fire, pod device, we found the performance to be surprisingly good! Most vapers won't find problems with performance a problem unless they are used to expensive box mod/e-liquid tank setups, which provide a more robust vaping experience (but also come at a steeper price point and more complicated features).
Conclusion
Uwell has made some excellent improvements to the original Koko, making the Caliburn Koko Prime a fantastic choice as an entry-level pod vape. A choice of coils is rare for this kind of design, and the overall vapour and flavour production was fantastic when compared to vapes of similar designs.
If you aren't used to pod or draw fire vapes, you should know they aren't for everyone. If you're looking to upgrade to a box mod device with a high-end vape juice tank, the Koko Prime is not for you. "Simple" is the keyword here, so you won't find variable power settings, a large coil selection, beefy battery life, or high wattage output.
Should you be in the market for an easy to use, travel-friendly pod vape that gives quality performance and solid battery life, then you'll find the Uwell Caliburn Koko Prime to be an outstanding choice.