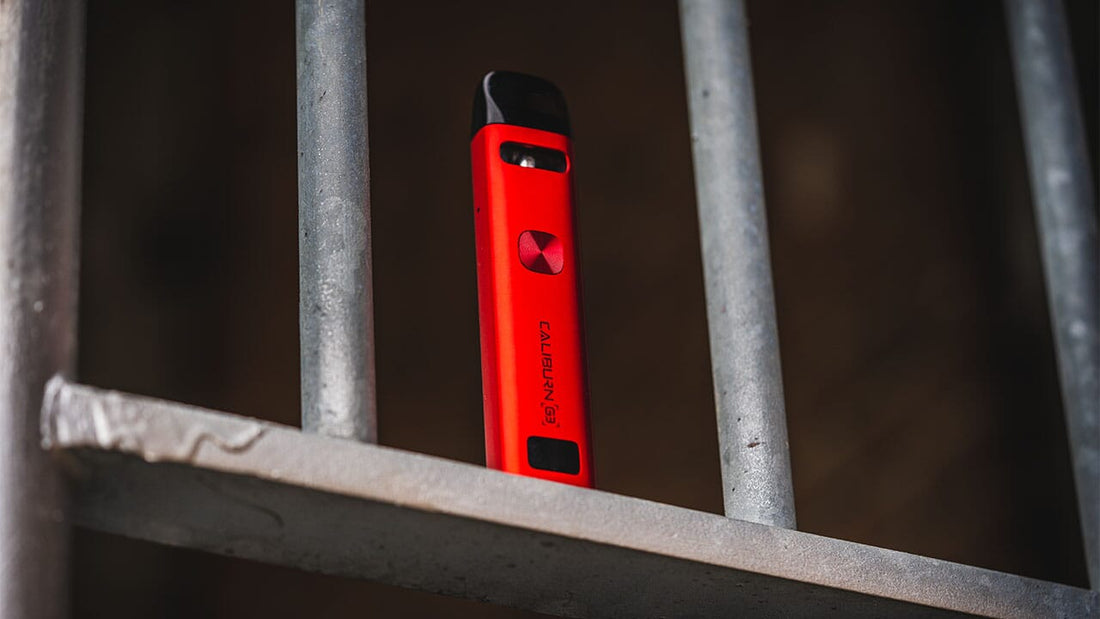 UWELL Caliburn G3 Review: The Ultimate Pod Vape Upgrade
Welcome to our in-depth review of the UWELL Caliburn G3, the latest addition to the highly regarded Caliburn series. In this post, we'll delve into the pros and cons, design and build quality, pod and coil system, features, battery life, and overall performance of this impressive pod vape. By the end, you'll see whether the Caliburn G3 is the right choice for your vaping needs.
Design and Build Quality of the G3
The Caliburn G3 boasts a sleek, slender design with a textured activation button for easy use. Its aluminum alloy construction exudes durability and class. Thanks to its flat base, the device sits sturdily on flat surfaces and offers a choice of six muted colours for a classy appearance. Notably, the cut-outs on the pod socket provide visibility of the liquid level in your pods, a thoughtful design feature.
Pod and Coil System
One of the significant upgrades from the G2 is the G3's pods. They hold 25% more liquid (2.5ml) and feature fixed coils, reducing the risk of leaks. Ultrasonic welding in the pod construction further enhances leak prevention. These pods are easy to fill and secure magnetically in the socket.
Features and Functionality
The Caliburn G3 offers adjustable wattage (up to 25W) and airflow settings. Its button and draw activation modes provide versatility in usage. The OLED display offers comprehensive information, including battery status, power level, and coil resistance. However, distinguishing between airflow settings without puffing can be a minor inconvenience.
Battery Life and Charging
Equipped with a 900mAh battery, the Caliburn G3 delivers satisfactory performance, especially at lower wattage settings. Fast 2A USB-C charging ensures quick recharge times, often taking only 30 minutes from empty to full charge.
Performance
In terms of performance, the Caliburn G3 impresses with its coil longevity, flavorful vape, and leak-free experience. It accommodates RDL and MTL vaping styles, offering flexibility for users with varying preferences. Even at the lowest power setting of 5W, the coil responds instantly, delivering a consistent vaping experience.
Pros and Cons
Let's review and examine the strengths and weaknesses of the Caliburn G3:
Pros:
Small, slim, and light: The G3 retains the compact pen style form characteristics of its predecessor, making it portable and pocket-friendly.
Well-constructed from aluminum alloy: The device's build quality ensures durability and longevity.
Produces good flavour and a decent throat hit: Vapers can expect a satisfying flavour experience.
Clear and bright OLED display: The informative display provides essential information at a glance.
Many adjustments are possible: Adjustable wattage and airflow cater to various vaping preferences.
Pods are almost leak-free: Thanks to improved construction, leaks are a thing of the past.
Fast 2A charging with USB-C: Quick charging minimizes downtime.
Several pod/coil resistance options: Customize your vaping experience to suit your preferences.
Cons:
2.5ml pods might still be a bit small for some: Some users may find the pod capacity limiting for extended vaping sessions.
The button feels slightly flimsy: The tactile feel of the button could be improved.
A larger capacity battery would have been nice: While the 900mAh battery is decent, some vapers might desire more capacity.
Verdict
In conclusion, the UWELL Caliburn G3 stands out as a remarkable pod vape. While it may not revolutionize the industry, it excels in every aspect it addresses, and I liked it a lot more than the older models of this vape. If you're seeking an easy-to-use pod vape with room for adjusting your vape style, the Caliburn G3 is an excellent choice. Its improvements over the G2 are substantial and make it a worthwhile upgrade.
Conclusion
To sum it up, the UWELL Caliburn G3 is a noteworthy addition to the Caliburn series, offering significant improvements in design, features, and performance. Whether you're a seasoned vaper or a newcomer, the G3's versatility and reliability make it a solid choice. If you've had experience with the Caliburn G3 or have any questions, please share your thoughts in the comments below.
At VapeMeet, we're committed to providing you with premium vaping solutions. Explore our range of products and take advantage of exclusive deals to enhance your vaping experience. Choose STLTH Pro and redefine the way you vape! Stay updated with all our deals and promotions by following our Instagram page!