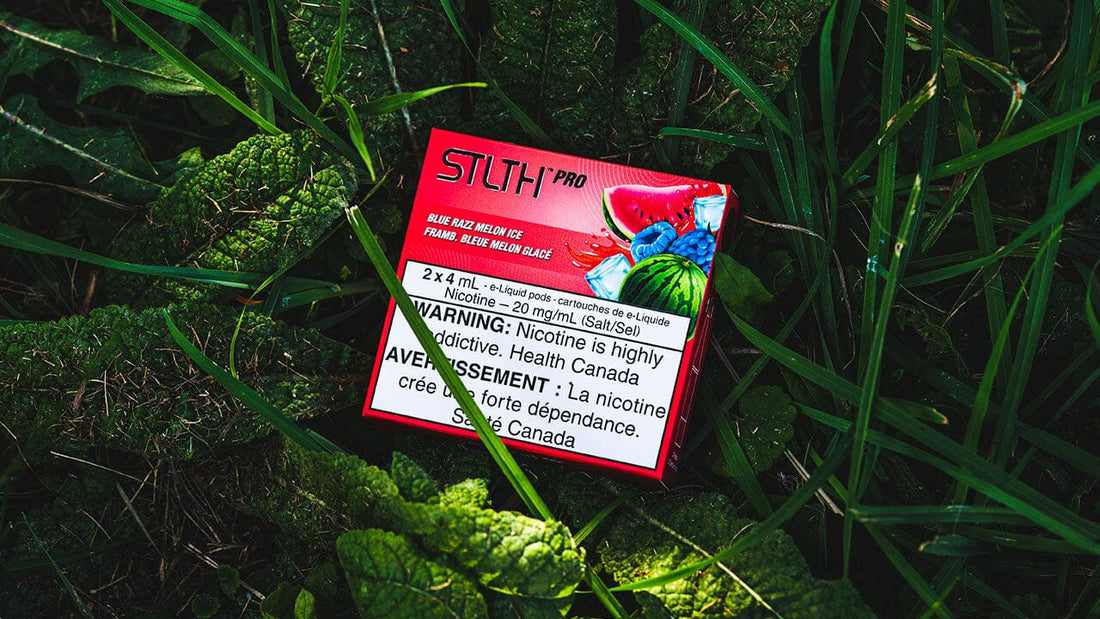 Unveiling the Power Trio: Top 3 STLTH Pro Pods for Vaping Excellence
Today, we're diving into the world of STLTH Pro flavours, and let me tell you, these three flavours are making waves in the vaping community. No fluff, no fuss—let's get straight to the point and explore why these three are the top-ranked flavours you need to try.
STLTH Pro Vape Pods Highlights:
But wait, there's more to these STLTH Pro vape pods than just fantastic flavours! Each pod contains a generous 4.0 mL of e-liquid, ensuring plenty of vaping enjoyment. With a standard 20 mg/mL nicotine strength, you get the perfect balance of flavour and satisfaction. It's the ideal combination to make these top-ranked flavours even more appealing.
Picture this: a burst of tangy raspberries colliding with zesty lemon and limes, all wrapped in a refreshing citrus punch. Raspberry Lemon Lime Ice is like a summer day captured in a vape pod. The tartness of the raspberries dances harmoniously with the bright citrus notes of lemon and limes, creating a tantalizing contrast that keeps your taste buds on their toes. But it's that icy finish that truly elevates this flavour. It's not just refreshing; it's a frosty blast that makes Raspberry Lemon Lime Ice perfect for a hot day or when you need a little pick-me-up. Crisp, clean, and downright delicious—this flavour earns its top spot with every puff.
Sometimes, simplicity reigns supreme, and that's precisely the case with Lush Ice. Imagine the pure essence of watermelon, sweet and juicy, mingling with a chilly menthol breeze. Lush Ice is a straightforward, no-nonsense flavour that delivers exactly what it promises. The watermelon is ripe and bursting with sweetness, and the menthol adds a layer of coolness that's incredibly satisfying. It's a timeless combination that never gets old. Lush Ice is like biting into a ripe watermelon on a scorching summer day, and that's why it's a fan favourite. If you appreciate the beauty of a single, well-executed flavour, this one's for you.
Now, let's talk about a flavour bringing the best of both worlds to your STLTH Pro device. Blue Razz Melon Ice is a masterclass in blending flavours to perfection. It's a symphony of sweet blue raspberries and succulent melons with a frosty finish that ties it all together. The blue raspberry adds vibrant, candy-like sweetness, while the melon brings a natural, juicy goodness. And the ice? It's the cherry on top, lending a refreshing edge that keeps you returning for more. Blue Razz Melon Ice embodies balance—a sweet and icy fusion that's impossible to resist. No wonder this flavour has earned its place among the best.
Why STLTH Pro Pod Vaping Is Great:
Now, let's take a moment to appreciate why pod vaping is a game-changer. It's all about simplicity and convenience. With pod systems like the STLTH Pro, you just pop a pod in and are ready to vape. No fussing with tanks, coils, or messy e-liquids. It's a straightforward, hassle-free experience perfect for newcomers and seasoned vapers.
But here's where the STLTH Canada team takes it a step further. They are not just about great vaping but are also about positively impacting the environment. They are proud participants in the National Greening Program, a partnership with Tree Canada. Every sale of STLTH Pro products contributes to the planting of trees. It's our way of creating a greener future for all.
With pod vaping, you also waste less. Unlike disposable vapes, where you throw out the entire unit, pods are eco-friendly and reduce the amount of waste in landfills. Plus, you keep batteries out of the landfill, which is a win for sustainability. So, when you choose STLTH Pro pods, you're not just enhancing your vaping journey; you're also playing a part in creating a greener, more sustainable future.
In Conclusion:
In conclusion, the STLTH Pro lineup has truly outdone itself with these top-ranked flavours. Raspberry Lemon Lime Ice, Lush Ice, and Blue Razz Melon Ice offer unique and unforgettable vaping experiences. Whether you're craving the bright and tart, the sweet and icy, or the perfect blend of both, these flavours have something for everyone. So, grab your STLTH Pro device, load up on these fantastic pods, and enjoy vaping at its finest. It's time to savour the flavour while positively impacting the environment. Happy vaping!
At VapeMeet, we're committed to providing you with premium vaping solutions. Explore our range of products and take advantage of exclusive deals to enhance your vaping experience. Choose STLTH Pro and redefine the way you vape! Stay updated with all our deals and promotions by following our Instagram page!