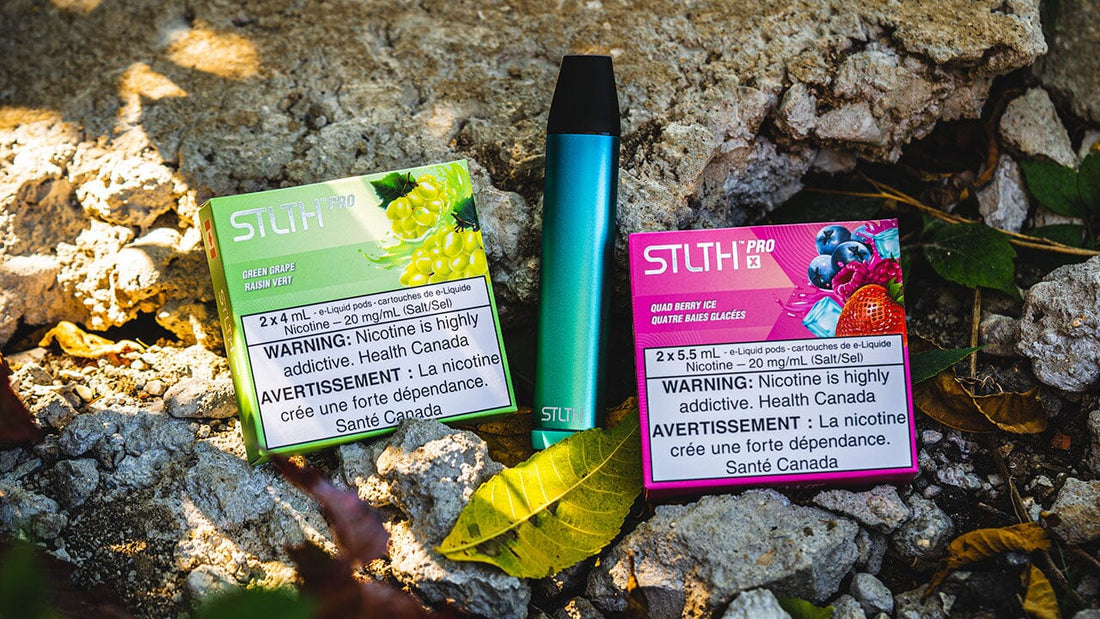 Unveiling the Future of Vaping with STLTH Pro Vape Pod Kit
Picture this: It was a regular morning as I walked into my workplace, holding a box that contained something I was eager to show off. Little did I know that my day would take an unexpected turn. As I opened that box, it felt like I was unveiling a secret treasure, and what lay inside left everyone around me in sheer amazement.
The moment that box of the STLTH Pro Vape Pod Kit was in my hands, I knew I was holding something special. But it wasn't until I revealed its contents that the magic truly happened. As I opened the box, a collective "wow" echoed through the room. Colleagues, friends, and curious onlookers stood around me, their eyes locked on this sleek, purple-blue ombre device. It was huge, and it was undeniably pretty.
"Wow, that's so HUGE and pretty!" they exclaimed, and I couldn't agree more. The STLTH Pro had already left an impression before it was out of the box. Little did they know that there were even more surprises in store.
A Surprisingly Sleek Powerhouse: 800 mAh Rechargeable Battery
When it comes to vaping, every enthusiast can appreciate extended vaping sessions without the hassle of constantly recharging. With the STLTH Pro Vape Pod Kit, you can do just that. This sleek and newly designed device boasts a formidable 800 mAh rechargeable battery, marking a 70% increase in battery size compared to its predecessor, the STLTH Original Device.
But I must admit, when I first took the STLTH Pro Vape out of the box, I was pleasantly surprised by its size. It's larger than what I was used to, but it still maintains its slim and compact design, making it a breeze to slip into my pocket without discomfort. It's the perfect blend of power and portability, and I couldn't be happier with how easy it is to carry around.
The STLTH PRO Splash of Personalization: Cool Colours to Choose From
Speaking of surprises, one of the things that caught my eye immediately was the range of stunning ombre colours available for the STLTH Pro Vape. I opted for the mesmerizing purple-blue ombre, and it's not just a vaping device; it's a fashion statement. It adds a touch of style to my vaping experience, and I love that I can choose a colour that reflects my personality and taste.
When my friend saw the STLTH Pro Vape, he first exclaimed, "Did we mention how big this thing is?" And indeed, it's hard to ignore the enhanced size of this device. But as I've discovered, bigger doesn't mean bulkier. It's big in power and performance while remaining sleek and easy to carry.
Exploring the Pod Options: STLTH Pro vs. STLTH Pro X Pods
But let's get to the heart of the vaping experience - the pods themselves. The STLTH Pro Vape Pod Kit offers two pod options: the STLTH Pro Pods and the STLTH Pro X Pods. Here's the scoop: the STLTH Pro X Pods have an impressive 5.5ml of e-Liquid capacity, while the STLTH Pro Pods offer a generous 4ml.
What's truly remarkable about these pods is their longevity. Each pack includes two pods, and trust me when I say these pods last a very long time. Combining e-liquid capacity and efficient design means fewer pod replacements and more uninterrupted vaping pleasure.
I also appreciate the attention to detail with each pod being individually wrapped. It's a slight touch that ensures the freshness and quality of each pod, which adds to the overall convenience of the STLTH Pro Vape experience. Plus, with the generous pod size, there's no need to carry spare pods wherever you go constantly.
A Flavorful Adventure: High-Quality E-Juice Selection
Now, let's talk about the flavours. What I love about the STLTH Pro Vape Kit is that it retains the same high-quality e-juice in all STLTH vapes. The flavours are outstanding, and I couldn't be happier with the range of options available.
While I'm a massive fan of the Quad Berry flavour pods for their fruity burst, I also appreciate that the lineup includes the classic Golden Tobacco. Sometimes, I crave a more mellow and familiar taste, and the Golden Tobacco delivers just that. It's the perfect balance to switch things up in my vaping routine.
Don't get me wrong; I also enjoy the fruity and minty flavours. The variety offered by STLTH means I can switch between flavours without spills, messes, or high costs. It's a simple and convenient setup that keeps my vaping experience fresh and exciting.
Charging Made Easy: USB-C Cable Included
Now, let's talk about the convenience of charging the STLTH Pro Vape Pod Kit. Each device comes with a USB-C cable, a game-changer in speed and ease of use. With USB-C, you don't have to worry about fumbling with the cable orientation; it plugs in effortlessly every time.
One of the standout features I noticed was that I didn't need to keep charging my device throughout the day like I did with older STLTH models. The 800 mAh rechargeable battery is incredibly efficient, keeping pace with my vaping habits without skipping a beat. It's a testament to the thoughtfulness of the design – this STLTH is significant, in charge, and keeps a charge working just as hard as I do.
A Greener Choice: Environmentally-Friendly Vaping
Here's another reason why I'm excited about the STLTH Pro Vape Pod Kit. It's the environmentally better option compared to disposable vapes. With disposables, you're not just throwing away the pods; you're also contributing to battery waste, which can harm our environment when not disposed of properly.
But with the STLTH Pro Vape, you're making a conscious choice for sustainability. You're only throwing out the pods, reducing the impact on the environment significantly. This eco-friendly approach aligns with the values of responsible vaping.
What's even more impressive is that STLTH is a participant in the National Greening Program. Every purchase of STLTH products contributes to the planting of trees through Tree Canada. It's a small but meaningful gesture that makes me feel better about my vaping choices. Supporting a brand dedicated to greener initiatives is a step toward a cleaner, more sustainable future.
An Ideal Choice for Quitting Smoking
Now, let's talk about why the STLTH Pro Vape Pod Kit can be an excellent choice for individuals looking to quit smoking. The design and experience of the STLTH Pro are remarkably close to that of an actual cigarette. The transition can feel more natural, making it easier for smokers to embrace vaping as a smoking alternative.
One standout feature is the ease of selecting pods. It's a straightforward process that doesn't involve the mess and maintenance often associated with other vaping devices. And unlike some disposables where the flavour can become overwhelming, with the STLTH Pro, you vape until the juice is gone. This eliminates the need to toss out devices prematurely, saving you money and reducing waste.
Moreover, the STLTH Pro offers diverse flavours, so you're not committed to just one flavour. Vape Tongue, a common occurrence when you become accustomed to one flavour, is less likely to happen with the STLTH Pro. The excitement of trying different flavours keeps your vaping experience enjoyable and varied, making it a more appealing choice for those looking to quit smoking.
Conclusion: Becoming the Vape Hero
In my journey with the STLTH Pro Vape Pod Kit, I've experienced vaping excellence that I didn't think was possible. The 800 mAh rechargeable battery combination, the innovative STLTH PRO Pod collection, the incredible e-juice flavours, and the commitment to environmental sustainability have genuinely redefined what vaping means to me. It's about more than just clouds of vapour; it's about convenience, power, enjoyment, and doing our part for the planet.
As I walked into my workplace that morning with the boxed STLTH Pro, little did I know that I was about to become the vape hero of the day. The surprise and amazement that filled the room when I unveiled this remarkable vaping device and its generously sized pods are moments I won't forget. It was a testament to the power of innovation and quality in vaping.
If you're ready to embrace the future of vaping while positively impacting the environment and seeking an ideal alternative to smoking, try the STLTH Pro Vape Pod Kit. Elevate your vaping adventure with this remarkable device, and let's collectively make the world a greener place.
At VapeMeet, we're committed to providing you with premium vaping solutions. Explore our range of products and take advantage of exclusive deals to enhance your vaping experience. Choose STLTH Pro and redefine the way you vape! Stay updated with all our deals and promotions by following our Instagram page!