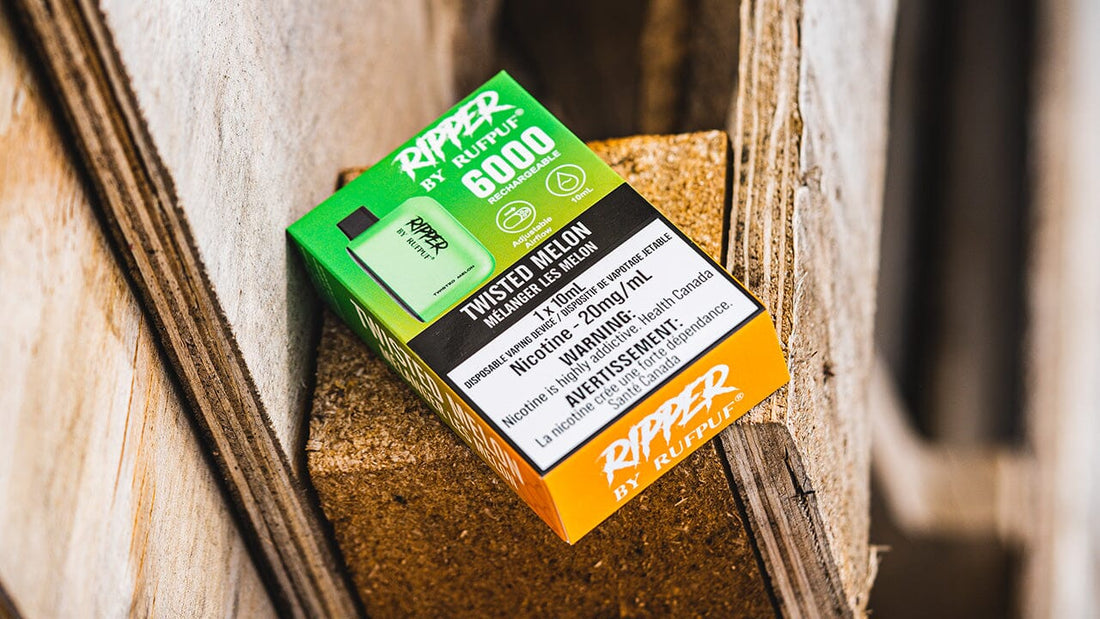 Unveiling the Four Exciting New RufPuf Flavours at VapeMeet
Hey, vape fans! We have great news for you. We added four delectable new RufPuf flavours to the vape collection at all VapeMeet locations that are a total must-try. I have already discussed in a previous blog how RufPuf has premium ingredients, exceptional flavour profiles, and high-quality disposable vapes. However, in this blog post, I'll walk you through how the team at VapeMeet all experienced these four new RufPuf flavours that just dropped. By the end, you'll be itching to try these fantastic disposable vapes for yourself!
Let's kick it off with Ripper by Twisted Melon – a wonderful mixture that skillfully blends juicy watermelon and honeydew melon. This flavour creates a refreshing and invigorating vaping experience, perfect for those warm summer days. When we tried Ripper by Twisted Melon, we loved how the sweet watermelon notes complemented the tartness of the honeydew. This results in a harmonious and satisfying vape sesh you don't want to miss!
Next is the delicious Sik Strawberry Raspberry Ice, a delightful blend of succulent strawberries, tangy raspberries, and a refreshing icy finish. This flavour provides the perfect balance of fruity sweetness and cooling delight, making it a superb way to freshen up your vaping routine.
Trying out Sik Strawberry Raspberry Ice left us feeling rejuvenated, and we were eager to explore more! This "rainbow-treat" berry vape offers a perfect balance of luscious berries and a cooling sensation - it's like picking out all the juicy red and pink fruity treats in the bag and putting them in a vape!
For anyone looking for a refreshingly intense vaping experience, RufPuf's Extreme Mint is perfect! The flavour gives a powerful, refreshing blast of minty freshness that awakes your senses. Its bold and intense flavour amazed us, finding it satisfying and refreshing. If you love minty vapes, this one is the ultimate must-try!
And here we have the final flavour- Triple Berry Peach! It's a delightful fusion of juicy peaches, ripe strawberries, tangy raspberries and succulent blueberries—a perfect balance of sweetness from summer fruits and the tart taste of berries. Our time with Triple Berry Peach was delightful, as the blend of flavours created a smooth, balanced and enjoyable vaping experience.
Why Choose RufPuf Disposables?
We're excited about RufPuf disposable vapes! They're the perfect combo of convenience, style, and high-quality ingredients you can't help but notice. Whether you're on the go or kicking back, their small size and satisfying flavour profiles make them a no-brainer. Plus, with 6000 puffs at just $19.99 (before taxes), you won't find a better bang for your buck. Give them a try!
Final Thoughts
In conclusion, these four new RufPuf flavours available at VapeMeet are an exciting addition to their impressive lineup. Each flavour offers a unique and irresistible experience, ensuring something for every vaper's taste. Having tested these flavours, we can confidently say they are worth trying. So, don't wait any longer! Head over to VapeMeet and indulge in these fantastic RufPuf disposable vapes today – your taste buds will thank you!
Need more vapes in your feed? Stay up to date with all our deals and promotions by following our Instagram page!