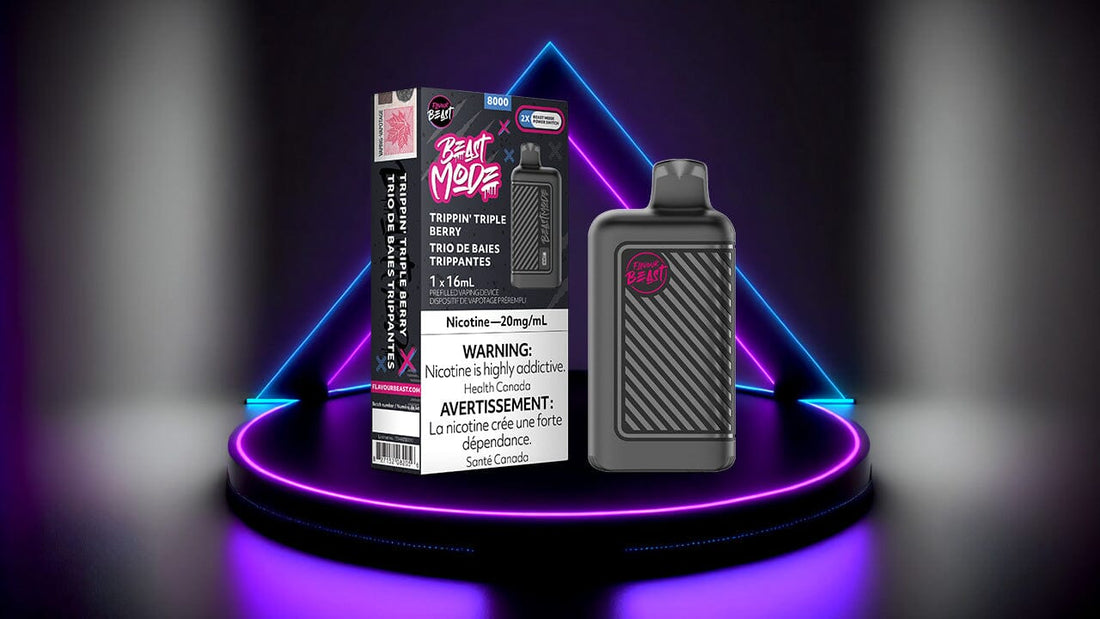 Unlock BEAST MODE with Flavour Beast's new 8000 Puff Disposable Vape
What do you think when you hear "flip the switch for BEAST MODE?"
For most of us, it conjures images of unleashing raw power, embracing the extraordinary, and taking things to a new level. Imagine flipping a switch and suddenly having superhuman abilities or experiencing an adrenaline rush like no other. Flipping the switch for Beast Mode in an ideal world should transform your reality into something wild and exhilarating. Think about going from zero to hero instantly, like a regular commuter becoming a race car driver or a quiet library turning into a rock concert with just the flip of a switch.
Let's talk about a real-world scenario where "Beast Mode" isn't just a catchphrase; it's a thrilling vaping experience. Enter the Flavour Beast Beast Mode vapes, the latest sensation in the vaping world. These cutting-edge devices allow you to do just that—flip the switch and transition between vaping modes that offer radically different sensations.
Unlocking Flavour Beast BEAST MODE
The Flavour Beast Beast Mode vapes feature an innovative Dual Mode System that caters to both your cravings for a smoother, cooler vaping experience and your desire for a more intense, powerful hit:
Standard Mode: In this mode, the 1.2Ω Mesh Coil and 10W power output provide a gentle, soothing vaping experience. It's perfect when you want to enjoy your favourite flavours without overwhelming your taste buds.
Beast Mode: For the thrill-seekers and cloud chasers out there, Beast Mode is the way to go. With the 0.6Ω Dual Mesh Coil and a robust 20W output, this mode delivers a more aggressive and intense vaping style, giving you a bold and satisfying hit.
Flavour Beast Extended Puff Capacity
Another remarkable feature of the Flavour Beast Beast Mode vapes is their impressive puff capacity. With the ability to provide up to 8000 puffs, these devices ensure you have plenty of vaping enjoyment before needing a recharge or refill. Whether you're an occasional vaper or a daily enthusiast, this extended capacity ensures your vape experience lasts longer.
Intuitive OLED Screen
One of the key elements of the Flavour Beast Beast Mode vapes is the intuitive OLED screen. This built-in screen is your window into a more controlled and informed vaping experience. It provides essential information at a glance, including the percentage of battery life remaining and the e-liquid level in the vape.
The battery level is displayed as a percentage, ensuring that you have a clear understanding of how much power is left in your device. The e-liquid level is a drop-shaped indicator that depletes as you use it. It's a visual representation that gives you a quick and intuitive way to monitor your e-liquid consumption.
Here's a personal note: Some users might find these detailed indicators helpful in managing their vaping experience, but for me, it's a bit of a double-edged sword. While it's undoubtedly informative, the visual nature of the e-liquid indicator can make me hyperfocus on every drop. It's a minor quirk driven by my own preferences, but for many, having this level of insight into their vape can be a valuable tool.
The OLED screen ultimately keeps you well-informed and in control, allowing you to make the most of your vaping moments without any surprises, even if you occasionally get caught up in the details like me.
Generous Liquid Volume
With a 16 mL liquid capacity and a nicotine content of 20mg/mL, the Flavour Beast Beast Mode vapes offer a generous supply of e-liquid. This means less time spent refilling and more time enjoying your vape, ensuring convenience for on-the-go vapers.
In conclusion, the Flavour Beast Beast Mode vapes are not your average vaping device, They're a game-changer. With the Dual Mode System and seamless airflow control, they cater to casual vapers and hardcore vaping enthusiasts. It's all about choice and control, allowing you to switch between Standard Mode and Beast Mode, depending on your mood and preferences.
Whether you're seeking a relaxing vaping experience or a more intense hit, the Flavour Beast Beast Mode vapes have got you covered. So, why settle for one-dimensional vaping when you can explore both sides of the spectrum with a single device? Try out the Flavour Beast Beast Mode vapes today and embark on a vaping journey that's truly tailored to you.
At VapeMeet, we're committed to providing you with premium vaping solutions. Explore our range of products and take advantage of exclusive deals to enhance your vaping experience. Choose STLTH Pro and redefine the way you vape! Stay updated with all our deals and promotions by following our Instagram page!