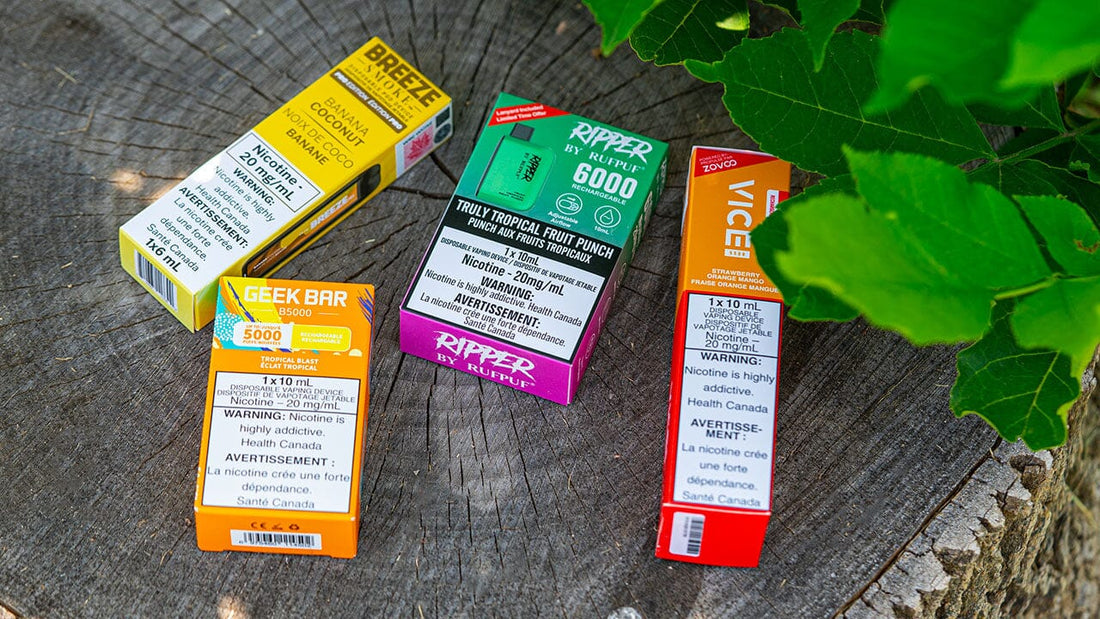 Top 5 Tropical Flavoured Disposable Vapes from VapeMeet.ca: An In-Depth Review
There's nothing quite like the sweet taste and scent of a tropical flavoured disposable vape to help celebrate the summer. In fact, my friends and I jumped the gun this summer and celebrated on the May 24 weekend by driving 4 hours to the cottage to prepare for the 2023 summer season. The cottage isn't one of those fancy ones, but it's nice enough that we can get away on the weekends and enjoy some of the excellent weather swimming and fishing up at the lake. Wouldn't you know it? I proactively packed my SMOK Nord 5 and two extra pods for the drive there and back. You should have seen the look on my face when we started driving back home, and horror took over me when I realized halfway home I had forgotten my vape at the cottage.
Honestly, it was the perfect excuse to GO BACK to the cottage the following week (can we do this every weekend?), but it left me burned that I did something like that. I had to wait a whole week to get my Nord 5 back and to get me thru, I bought a Minican 3 to tough it out. 
Yeah, I could have avoided all this if I had followed the excellent advice I offer other people: buying a disposable vape when travelling. We've all been there when all we want to do is to focus on enjoying the people and events going on vs what we're vaping. I know people who only smoke now when they are drinking, and I'm proud of them when they pick up a disposable vape vs a pack of smokes when we go out to the bars. 
If you're looking for the best-tasting tropical flavoured disposable vapes to celebrate all the good vibes this summer, I've got you covered! Choosing the right disposable vape requires more than excellent flavour and features. That's why I'll take you through the vapour production, draw, size, battery life and more to help you find the perfect fit. Let's get started!
Geek Bar - Tropical Blast 
I've been hooked on the Geek Bars lately, and for good reasons! The flavours are delicious, and with over 5000 puffs, the device is a tiny powerhouse. 
One of the things I love about Geek Bars is that each vape gives me the same fantastic flavour every time, unlike some disposables that change flavour over time. These vapes are so consistent! 
I've been buying and vaping these fantastic devices for five months now, and it's been a fiesta for my taste buds. My summer favourite is the Tropical Blast flavour, packed with Pineapple, Mango, Papaya and Guava. Yum! It's no wonder it's our #1 pick for tropical vapes!
Ripper RufPuf- Truly Tropical Fruit Punch
Come check out VapeMeet's newest line of disposable vapes, the Ripper. They're an impressive option with over 6000 puffs and a price point of only $19.99. The Tropical Fruit Punch vape, Truly, has been a huge hit, with its sweet flavour reminiscent of a Hawaiian punch. You will not be disappointed with the Ripper this summer.
Breeze Pro - Banana Coconut 
I'm excited to share this with you because it tastes like a delicious banana cream pie. Coconuts and bananas are among the tastiest and creamiest tropical fruits, and with Breeze Pro's cool sweetness, you know you're getting a fantastic vape. While this disposable offers only 2000 puffs, it's perfect for a camping or fishing trip where recharging won't be an issue. Once it's done, recycle your disposable vape at any VapeMeet location or dispose of it properly.
Vice 5500 - Strawberry Orange Mango 
I highly recommend Vice's Strawberry Orange Mango vape for anyone seeking a sweet summer flavour. While orange can be a hit-or-miss fruit for vaping, the Vice 5500 blend of Strawberry, Orange, and Mango is thoroughly enjoyable. Each puff delivers a delightful and relaxing vape experience. With 5500 puffs per device, charge them 30 minutes between vape sessions to get the most out of each disposable.
Escape this summer with any of these fantastic tropical flavoured disposable vapes. Whether by the lake or on an adventure, you can enjoy your downtime without worrying about losing or accidentally damaging your vape. The ultimate goal is to spend your summer exactly how you want it and make those memories last!
Need more vape deals in your feed? Follow us on Instagram and never miss when we drop new product or offer sweet deals on vapes!