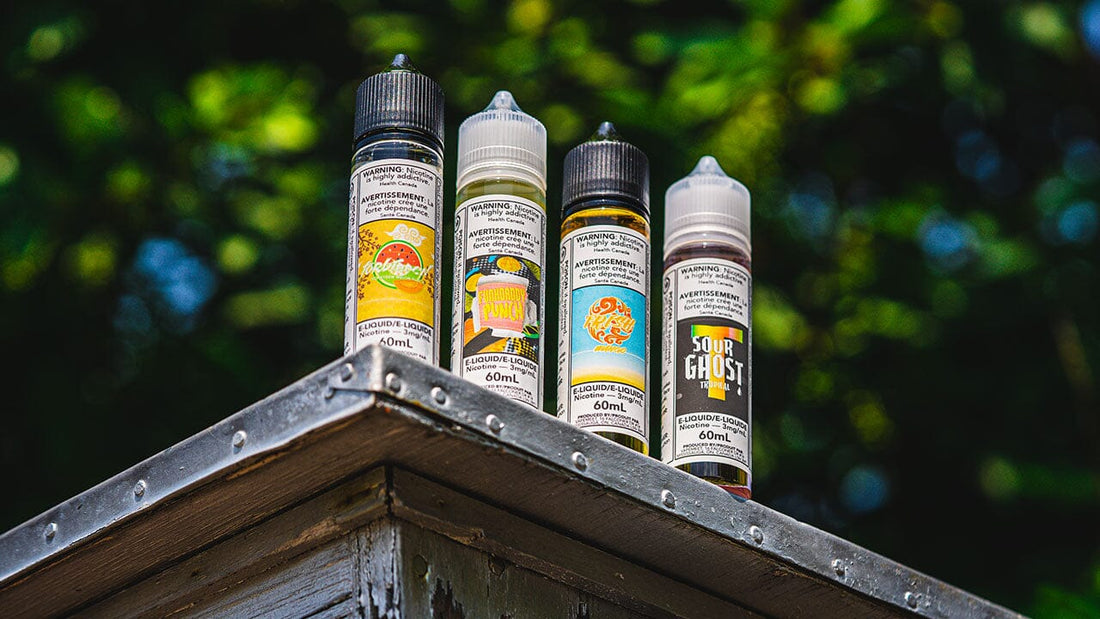 Top 4 Tropical Flavoured Vape Juices from VapeMeet.ca: An In-Depth Review
Just like you, I have a set of favourite e-juice flavours. However, sticking to our usual picks means we often miss exciting new flavours. So, in the spirit of summer, I have prepared a list of tropical vape juices to spice up your vaping experience. Keep reading to discover these delightful treats that'll make your summer even more special.
When I took up vaping in the summer of 2016, my friends and I couldn't get enough of "watermelon" flavoured vapes. It may sound silly now, but at the time, we were new to it all and excited to enjoy yummy vapes while ditching smoking, hopefully for good!
Wow, did we save loads of money that summer by ditching the smokes! I used to smoke a pack and a half a day, and during our camping trips, we'd throw those disgusting butts into the fire pit or our trusty Maxwell coffee tin. By the end of the weekend, the can would be filled to the brim with gross cigarette garbage, and eventually, we started thinking we should quit. So that summer, we all gave up smoking and started vaping. Not only did it save us so much money, but we noticed weeks later that we all had more energy when hiking, biking, and swimming. It was like night and day! Since then, we've all been smoke-free and still going strong. Go, team friendship! But yeah, I must admit, we vaped a LOT of watermelons...
The Top 4 Best Tropical Vape Juices at VapeMeet 
I created this list with a focus on exotic and tropical flavours. Instead of recommending the typical pineapple or watermelon, I dug deeper. Believe it or not, there are countless watermelon e-juices out there! Don't worry; I've got you covered with options beyond watermelon, so let's explore what this summer offers.
I only included fruit flavours for this list, but stay tuned for more lists featuring treats and savoury options in the future!
You'll be pleased to know that this blend does include watermelon, but it's beautifully offset by two other delicious melons to create a truly unique summer flavour. This refreshing vape juice boasts a melon blend of honeydew and cantaloupe, all finished with that trademark Forbidden excitement. Enjoy!
The Funksauce line embodies big, bold flavours, and the Funk Daddy Punch is the boldest. This fruity blend is a tropical paradise with a hint of watermelon and other secret flavours that will surprise and delight you. I know what you're thinking - more watermelon? But trust me, this blend is nothing short of amazing! Perfect for sipping poolside, it will knock your socks off with its beautiful combination of flavours.
Fresh Mango - For those who need cool and simple
Let's add some fresh minty flavours to the list, and the Fresh Mango E-Liquid is the perfect vape for summer. It's got a sweet, juicy mango flavour with a hint of zingy lime, all wrapped up in a refreshing menthol hit. Not too strong; it's just as a pallet cleanser between all those BBQ burgers hot off the grill in the backyard.
Sour Ghost Tropical - All round best every day vape with a summer twist
Sour Ghost is incredible! I'm hooked on the signature mix of dragon fruits and berries in the Sour Ghost blends. The original combination is my go-to vape, and I even know a few folks who swear by Sour Ghost or OMC only. I'm thrilled we now have a tropical blend of Sour Ghost. Enjoy your favourite e-juice with a kick of summer - it doesn't get any better!
The Sour Ghost Tropical e-liquid is a deliciously exotic blend of mixed berries and dragon fruit. Coconut, pineapple and black currant complete this magic potion. With so much happening in one bottle, it's easy to see why Sour Ghost Tropical is my ultimate #1 pick in the list.
I wish we had a list like this when we began our vape journey in 2016! We set big goals to switch from smoking, and I'm proud of us for making it happen. Who wants to smell like cigarettes when we can smell like a tropical paradise? This summer, we'll explore our favourites from this list, making unforgettable memories surrounded by a pool and puffing out huge tropical clouds. And since we're saving so much not buying cigarettes, we may even set a goal for a REAL tropical escape to someplace warm this winter. Join us and experience the wonders of vaping!
Get your summer vape game on this year and try a trip to the tropics without leaving the comfort of your backyard. If you need more vape love in your feed, follow us on Instagram and stay in the know of all our deals and news!