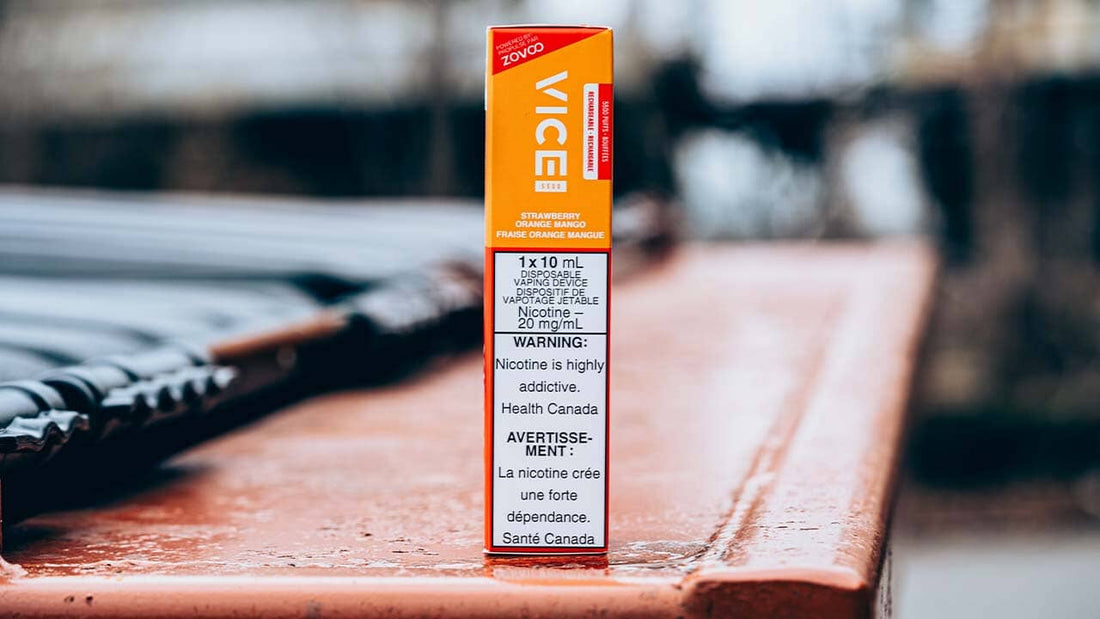 The Vice 5500 Review: A Disposable Vape That Fits Your Budget and Lifestyle
Are you looking for an affordable vape that will taste great but won't break the bank? Consider the Vice 5500 disposable vape available now at VapeMeet. This device delivers a satisfying hit of nicotine and is budget-friendly, making it an excellent choice for novice and experienced vapers. Whether you're transitioning from smoking or prefer a sleek and low-maintenance device, the Vice 5500 covers you. Keep reading to discover why this affordable vape is worth your consideration!
Get a High-Quality, Affordable Vape: The Vice 5500 Disposable Device
Whether you're new to vaping or an experienced veteran looking for an affordable option, the Vice 5500 Disposable Vape is excellent. Its long-lasting battery life will impress you, providing up to 5500 puffs. You only need to charge the Vice when the battery runs low using any USB-C charging cord, and you'll be back up and puffing in no time.
When people ask me questions about switching to vapes, they often ask how it compares to smoking. Based on my research and experience, approximately 100 puffs from a vape is equivalent to ten cigarettes. So, if you use the Vice 5500, which should equal 550 cigarettes, it should last you an entire week or longer, depending on your usage. I enjoy explaining this comparison to my friends and showing them the cost savings of switching from smoking to vaping.
If you're looking for a dependable but affordable vape device, the Vice 5500 Disposable Vape is worth considering! 
The features of the Vice 5500 Disposable Vape 
The Vice 5500 disposable vape is perfect for experienced vapers and those looking to quit smoking. Not only is it incredibly affordable, but it also boasts many other features that will make your vaping experience seamless and enjoyable.
One of the remarkable features of the Vice 5500 is its elegant design. With a length of only 4 inches and a width of 1 inch, it is slim enough to fit discreetly in your pocket or purse without taking up much space. It also has a draw-activated firing system that makes it easy to use without pressing buttons. 
How to charge your Vice Vape 
Each Vice 5500 comes with charging instructions to help keep you puffing. This disposable boasts a powerful 280mAh rechargeable battery that guarantees consistent and seamless hits with every use. To charge this vape, simply use a USB-C charging cable and power block (not included) to recharge. It only takes 3-45 minutes on avenrage to fully charge the vape.

This device has an uncomplicated yet efficient airflow system that enables effortless deep draws. Moreover, the Vice employs a salt-based nicotine formula that delivers maximum nicotine satisfaction, making it ideal for smokers seeking a quick and easy way to fulfill their cravings.
Benefits of Vaping vs Smoking: 
Vaping has gained popularity due to its numerous health benefits over smoking. Firstly, the vapour produced by e-cigarettes contains fewer harmful chemicals than tobacco smoke. Studies indicate that vaping eliminates up to 95% of toxins found in cigarette smoke. By switching to e-cigarettes, you can significantly reduce the risk of developing diseases like lung cancer, bronchitis, and heart disease. The Vice 5500 is an excellent choice for experienced vapers and those wanting to quit smoking.
Experience Flavorful and Affordable Vaping with The Vice 
The Vice 5500 proves that quality doesn't have to be expensive. It provides satisfying hits and is a wise investment for those seeking more than just a budget-friendly option. Don't overspend on vapes - the Vice 5500 is a wallet-friendly choice that lasts a long time and won't disappoint!
VapeMeet is currently carrying a selection of flavours from the Vice 5500 line, and here are a few of our best sellers:
A delightfully delicious, banana-flavoured e-juice that's sure to transport vapers to a tropical paradise! It's no wonder this disposable vape is considered one of the best on the market - the cool, refreshing banana ice taste gives a flavourful yet subtle kick that sets it apart from any other disposable vape. 
Indulge in a luxurious vaping experience with the Vice 5500 disposable vape, now in the refreshing Lush Ice flavour. The cool and unique twist of watermelon and ice will transport you to a summertime paradise, leaving you craving more. With this Vice 5500 vape, you will surely please your taste buds and make your vaping journey even more enjoyable. Try it out today!
Are you looking for a switch on the old blue raspberry vape flavour? Look no further than Vice 5500 disposable vape in Blue Razz Melon Ice. This unique blend of blueberries, raspberries, and melons has an extra icy kick for a refreshing experience. It's the perfect choice for vapers on the go who want to indulge their sweet tooth cravings.
Fancy a tasty mix of 3 classic flavours? Then try Vice 5500 Strawberry Orange Mango! Expertly crafted by Vice, each flavour shines through when you take a puff, making for an irresistible and delicious combo. With bright strawberries, mangoes and zesty oranges, this vape tastes like pure sunshine and will leave you feeling refreshed.
Conclusion:
The Vice 5500 Disposable Vape is an ideal option for anyone looking for an affordable vape to save money while reaping the benefits of vaping. Its convenience, affordability, and reliable performance make it great for those looking to switch from smoking or just wanting to enjoy the overall vaping experience. Those on a budget need not worry as the Vice 5500 comes at a friendly price and provides enough features to make it a suitable alternative to more expensive vapes. This device screams "bang for your buck," meaning you can have all the fun without worrying about spending too much money on a device. Grab one today, taste what we're talking about, and switch to vaping today!
Need more vape news in your feed? Follow us on Instagram and stay current with all our ongoing deals and promotions!