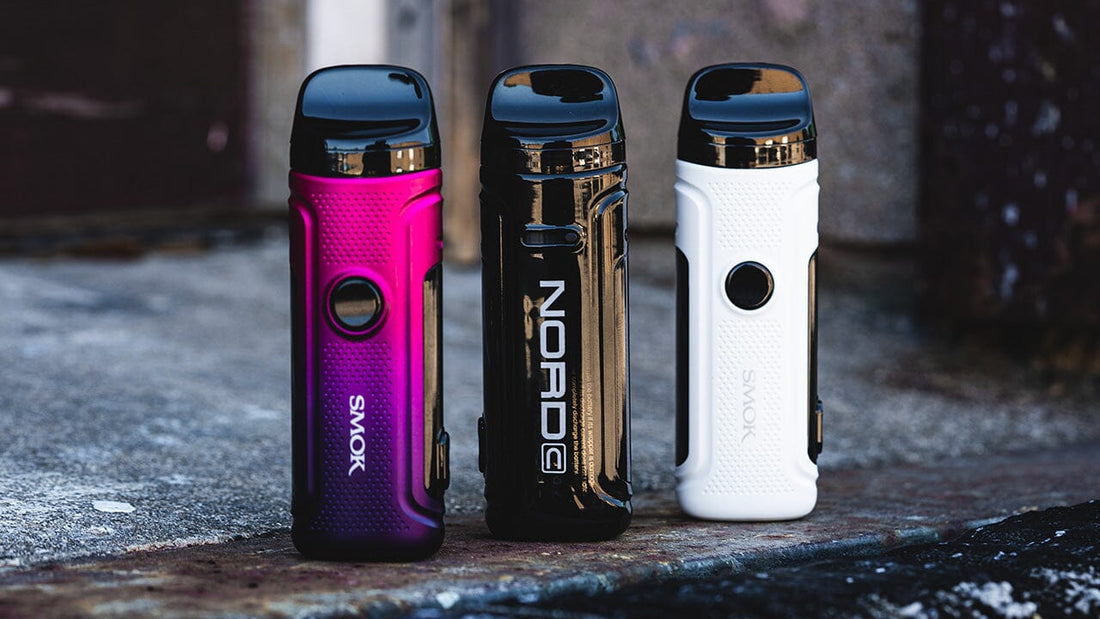 The SMOK Nord C Kit Review: Packing a Powerful Kick in a Tiny Package
The SMOK Nord C Kit is the latest addition to SMOK's Nord lineup, perfect for vapers on the go. This little powerhouse packs a punch with many features for a top-notch vaping experience. In this article, we'll dive deep into the SMOK Nord C Kit, giving you our initial impressions, a rundown of its cool features, how to use it, performance insights, what's inside the kit, the pros and cons, and our final take on it.
First Impressions of the SMOK Nord C
The SMOK Nord C Kit is a sleek, pocket-friendly, super comfy device. It's just the right size, measuring at 105.9mm x 33.74mm x 23.95mm. It comes in many eye-catching colours like black, white, silver, and blue. It's got a button you press to vape, and the 0.69-inch OLED screen is clear as day, showing your battery life, wattage, and resistance.
Features and Functions
Now, onto the juicy stuff! The SMOK Nord C Kit boasts a 4.5ml Nord C pod with a no-mess, top-filling system. It clicks in magnetically, so there is no wobbling around here.
But what sets this kit apart is its compatibility with the RPM 2 coil series. You get choices! It comes with a pre-installed RPM2 Mesh 0.16ohm coil, delivering flavour and vapour out of this world. And if you're into a tighter draw, they throw in an SMOK RPM 2 DC 0.6ohm MTL Coil, too.
You've also got a nifty airflow switch on the side. Want more or less airflow? Just slide it to your liking.
With an 1800mAh battery, this thing lasts all day. And it's pretty flexible with a resistance range of (0.16Ω-2.5Ω)±5% and a power range of (5W-50W)±2W.
Basic Operations
Don't worry, SMOK has made operating this vape super easy. Click the fire button five times quickly to turn it on. You'll see the SMOK logo on that OLED screen, and you're good to vape.
To adjust the wattage, press the fire button three times quickly and use the up and down buttons. And there's a lock feature, so you won't accidentally mess with your wattage.
Filling up the pod is a breeze. Pop it out, find the fill port on the side, and pour in your e-liquid. Slide it back into place, and you're ready to roll.
Performance
Oh boy, does this kit deliver! That RPM2 Mesh 0.16ohm coil serves up tasty clouds. Plus, the adjustable airflow means you can fine-tune your experience. The battery lasts a whole day and charges up in no time, just over an hour.
What's sweet is the versatility. You can switch out coils to match your style. So, if you're into experimenting, this kit's got your back.
What's in the SMOK Nord C Kit
Here's what you get:
1 x SMOK Nord C DEVICE (1800mAh)

1 x SMOK Nord C POD (RPM2 Mesh 0.16ohm Coil Preinstalled)(4.5ml)

1 x SMOK RPM 2 DC 0.6ohm MTL Coil

1 x Type-C Cable

1 x User Manual
Pros and Cons of the SMOK Nord C Kit
Pros:
Super portable and compact
Easy top-fill system
Options galore with RPM 2 coils
Customize your airflow
Killer balance of flavour and vapour
Speedy charging for convenience
Cons:
No temperature control mode (but who needs that in a pod vape?)
Max wattage might not suit fans of super-hot vapes
The Verdict
The SMOK Nord C Kit is a solid pick for those who want a portable vape that is balanced with performance. It's user-friendly, has many features, and lets you fine-tune your experience. Sure, it might lack a temperature control mode, but for most vapers, that's okay. This kit delivers fantastic flavour and vapour in a compact, easy-to-carry package.
At VapeMeet, we're committed to providing you with premium vaping solutions. Explore our range of products and take advantage of exclusive deals to enhance your vaping experience. Choose STLTH Pro and redefine the way you vape! Stay updated with all our deals and promotions by following our Instagram page!