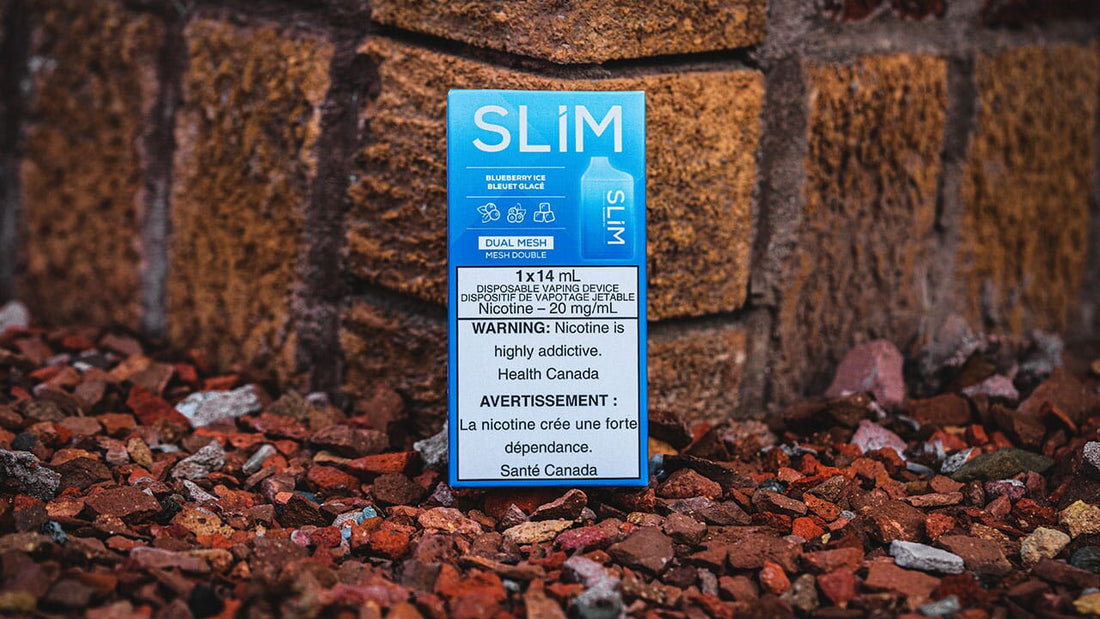 The Slim 7500 Disposable Vape Review: Uniting Convenience and Flavour in Perfect Harmony!
It feels like every other week I stumble upon new options in the world of disposable vapes. One such gem is the Slim 7500 Disposable Vape. What immediately caught my attention was its sleek design and wide range of mouthwatering flavours. In this vape review, i'll dive into all the features that set the Slim 7500 apart from the competition, covering its stunning design, impressive performance, delightful flavour experience, convenient usability, and easy accessibility. Join me as we explore the world of the Slim 7500! 
The Slim Vape: Design and Performance
The Slim 7500 vape boasts an incredibly sleek and slim design. Its slim profile makes it the perfect companion for on-the-go use, almost as thin as my iPhone. It easily slips into my back pocket when I'm in a hurry, adding a touch of discretion to carrying it around. The device is impressively lightweight and conveniently fits in your pocket or purse. The special soft coating adds a pleasant feel when holding it.
What sets the Slim 7500 apart from the competition is its dual vertical mesh coil system. This innovative feature enhances the vaping experience while minimizing the risk of dry hits and overheating. Moreover, the device delivers smooth and satisfying throat hits thanks to its well-calibrated nicotine delivery system. This vape is noticeably thinner than other disposables I've tried, and pulling it out sparks instant conversations with friends who are captivated by its sleek appearance.
The Slim Vape Flavour Experience 
But enough of how this vape looks, how does it hold up? Another impressive feature of the Slim 7500 is its flavour system. It is one of the most potent and long-lasting disposable vapes on the market. The device's high-quality salt nicotine formulation is pre-filled into the device, delivering smooth and satisfying hits without being too harsh on the throat. The Slim 7500 comes in a range of fantastic flavours, such as fruity, menthol, and dessert variants. I myself tried the Banana Berry Ice, and I was instantly hooked as it tasted exactly like a summer smoothie without overbearing menthol in the ice.
If you start going through a lot of disposable vapes, you'll notice that there's quite a bit of menthol ice to get through. Sometimes, though, you might not be in the mood for that icy sensation. Personally, I tend to prefer straight flavour blends, so it was a pleasant surprise to actually taste the different flavours instead of just the icy menthol. Especially towards the end of the vape, it's nice to get that authentic flavour experience.
I don't know about you, but sometimes I experience what I like to call the "vape slurry" towards the end of a disposable vape. It's when the battery doesn't fire like it used to, and you don't get that same first-time feel anymore. It ends up tasting like when your slushie has melted, and all you can taste is the intense syrup.
But let me tell you, it's Tuesday, and this vape is still going strong. Even on the 7000th hit, it tastes just as good as the very first one. Now, that's what I call a HUGE win.
Convenience and Accessibility 
The Slim 7500 Disposable Vape is designed to be ultra-convenient, making it the perfect device for vapers who are always on the move. The battery capacity is impressive and offers up to 7500 puffs, meaning it can last for an extended period before recharging. The Type-C rechargeable battery is easily charged with any compatible charger, making it accessible to all users. For a price point of $21.99 before taxes, I was most impressed with this vape and I can't wait to try other flavours in the line. 
Conclusion: 
In conclusion, the Slim 7500 Disposable Vape is an excellent option for vapers who value convenience, flavour, and performance. Its stylish design, dual vertical mesh coil system, and high-quality salt nicotine formulation provide an unmatched vaping experience. Additionally, its long battery life and easy recharging make it a truly accessible option for any vaping enthusiast. We encourage readers to give the Slim 7500 a try and experience the ultimate vaping pleasure.
Need more vapes in your feed? Stay up to date with all our deals and promotions by following our Instagram page!