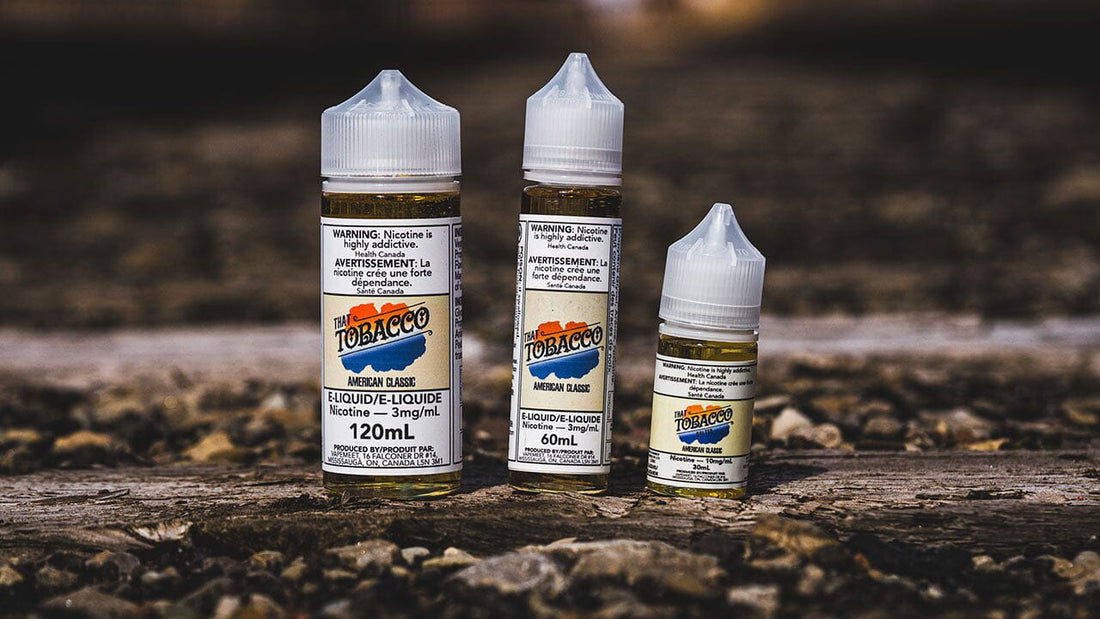 The Best Nutty Vape: Try the New That Tobacco American Classic at VapeMeet
Do you love the taste of nuts? If so, you'll love VapeMeet's new That Tobacco American Classic flavour! This vape is a delicious blend of walnut and tobacco that will leave your taste buds wanting more. The team at VapeMeet has been hard at work creating the best nutty tobacco vape out there, and we've succeeded. I recently sampled the new walnut tobacco blend, leaving me with a few thoughts.
It took me a while before I was curious enough to try a nutty tobacco vape, but I found that I liked it after I did. I held off for the longest time as I switched from smoking to vaping several years ago, and going for a vape in a tobacco flavour seemed like a step back. I was trying to leave the world of smoking behind me! However, I would talk to friends, and they would swear by their walnut tobacco so much that it was the only flavour they vaped. I was curious and decided to give it a try.
I was skeptical about how a walnut tobacco vape would turn out as it has a different sweetness offered in other vapes. However, the That Tobacco American Classic from VapeMeet is fantastic! The flavour profile of this vape is an exciting balance between sweet and nutty walnuts that play on your tongue delightfully. There's no overpowering taste or hint of a synthetic aftertaste, just walnut tobacco's smooth and soothing flavour.
Looking for a solid Walnut Tobacco Flavour Vape
At VapeMeet, there are several tobacco flavours in the That Tobacco line, and the American Classic is by far my clear favourite. The combination of walnut and tobacco gives this vape a unique flavour that I haven't experienced with other e-liquids. It's subtle but delicious with its deep and full-bodied flavour.
So why would you want a tobacco-flavoured vape? The answer could be you enjoy the taste. Also, if you used to smoke cigarettes for years and have yet to try a tobacco-flavoured vape, you are missing out. Still, I will tell you that pairing a tobacco-flavoured vape with a glass of wine (or any alcohol) is fantastic. I am a massive fan of sweet-tasting vapes, but the Tobacco American Classic is an excellent change of pace.
Is there sugar in my vape?
I can find many sweet flavours of e-juice on the market, though it's good to remember that vapes don't have sugar in them. That's right- there's no sugar in vaping juice!!! Only artificial sweeteners such as stevia can be used in all Canadian vaping products. Typically recipes will use liquid sucralose or ethyl maltol, and the amount added is between 1% and 2% of the liquid. Still, suppose you want to eliminate all sugars from your diet, including artificial ones. In that case, grabbing a sweet-tasting vape might not be the best choice as it could induce your sugar cravings and having options such as tobacco and nuts might be a better pallet choice. Furthermore, if you have diabetes, you should still talk to your doctor about vaping and your health due to nicotine, as nicotine will raise your blood sugar levels.
Overall, the That Tobacco American Classic E-Liquid is an excellent choice for those looking for a fantastic new E-liquid experience. With its delectable combination of walnut and tobacco flavours, vapers of all levels can enjoy this e-liquid's unforgettable taste. At VapeMeet, we only make the finest vape juices for your enjoyment. So if you're ready to ditch the cigs and go digital, That Tobacco American Classic E-Liquid is worth considering! Come out to any of our stores today, and don't hesitate to drop us a line if you have any questions or concerns about the Tobacco American Classic E-Liquid – we would be more than happy to help!
Remember to follow us on our Instagram Account to get the latest news on all our new and upcoming vape flavours!