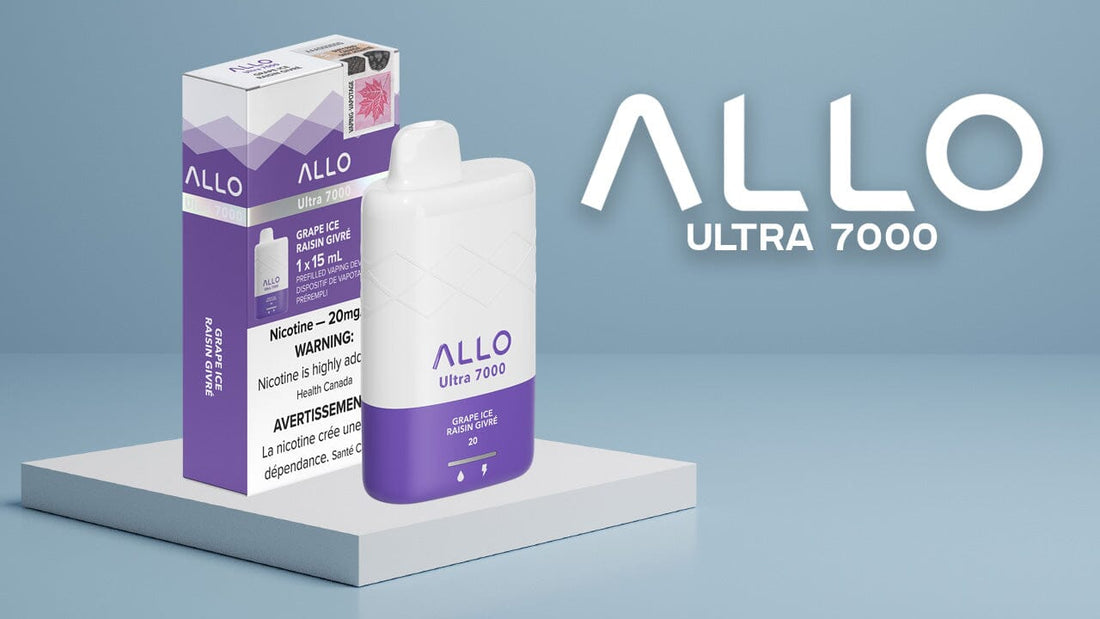 The Allo Ultra 7000 Disposable Vape - Simplifying Your Vaping Experience
In a world filled with endless vaping possibilities, I vividly recall the day I stumbled upon my first Allo disposable vape. It was a breath of fresh air, a delightful departure from the chaos of complexity that often defines the vaping landscape.
What struck me most was its consistency. Each draw delivered a manageable and enjoyable taste of indulgence. It's not about bold, over-the-top flavours or a rush of icy sensations; it's about a dependable, good flavour.
The Allo Ultra is a vaping device that offers a simple yet elegant solution in a world where complicated devices often overshadow simplicity. Sometimes, you want a satisfying vaping experience without any flashy extras. The Allo Ultra understands this sentiment and delivers a flavour profile that is refreshingly simple and easy to enjoy. It is an excellent choice for those who prefer an uncomplicated vaping experience.
For those who prefer their vaping journey to be straightforward and delightful, the Allo Ultra 7000 has your back. It's time to explore how this unassuming device meets my expectations of its commitment to simplicity and quality.
Simplicity Meets Style
The Allo Ultra has a simple yet highly effective design that distinguishes it from other flagon-style vapes. It fits comfortably in your hand and has a stylish white exterior reflecting sophistication and simplicity. Among the few vapes that adopt this white-style design, Allo stands out, making it easier to find in your bag. Additionally, it features a slight honeycomb-style grip that enhances its functionality.
Stay in Control with Built-In Indicators
The Allo Ultra 7000 goes further with this new design with its built-in battery and e-liquid level indicators. These features ensure that you're always aware of your device's status. There are no surprises, just a dependable vaping experience. 
7000 Puffs of Consistent Flavor
The Allo Ultra 7000 boasts a remarkable 7000 puffs of reliably delicious flavour. No more constant refills or searching for replacement cartridges. This vape is designed to satisfy you for extended periods, making it an ideal choice for those who value convenience. It has a 500mAh rechargeable battery that performs well and takes around a half hour to charge.  
Timeless Allo Flavour Profile, Now in a Larger Format
If you're a fan of the classic Allo flavour, you will be satisfied with the Allo Ultra 7000. It offers the same signature taste in a larger size, giving you more of what you love. The product reminds us that, sometimes, simplicity is the key to sophistication. Allo delivered precisely what I wanted - that classic Allo flavour with more puffs and no gimmicks or tricks. It's just a delicious vaping experience.
Breaking Down the Barrier
What had previously deterred me from choosing Allo was the trend of disposable vapes with larger puff counts, promising better value for money. These vapes were built to last, and I found myself tempted by Allo but often passing it up.
I'm delighted to announce that the Allo Ultra 7000 has arrived, offering the same trusted Allo flavour profiles in a more extensive, convenient disposable vape. This development addresses the value-for-money aspect that larger puff counts provide.
So, if you've been considering Allo but are still deciding due to the allure of higher puff counts from competitors, the Allo Ultra 7000 has answered your call. It combines simplicity, reliability, and now, a more extensive vaping experience, making it an enticing choice for all vape enthusiasts.
In conclusion, the Allo Ultra 7000 Disposable Vape is a testament to the beauty of simplicity. It's not about chasing extravagant flavours or overwhelming sensations; it's about delivering a consistently good vaping experience. The Allo Ultra understands that sometimes, less is more, and it offers a simply enjoyable flavour profile.
So, if you're looking for a vaping companion that keeps things simple yet elegant, the Allo Ultra 7000 is your choice. It's not just a vape; it's your ticket to straightforward vaping bliss, now with more puffs to enjoy.

At VapeMeet, we're committed to providing you with premium vaping solutions. Explore our range of products and take advantage of exclusive deals to enhance your vaping experience. Choose STLTH Pro and redefine the way you vape! Stay updated with all our deals and promotions by following our Instagram page!