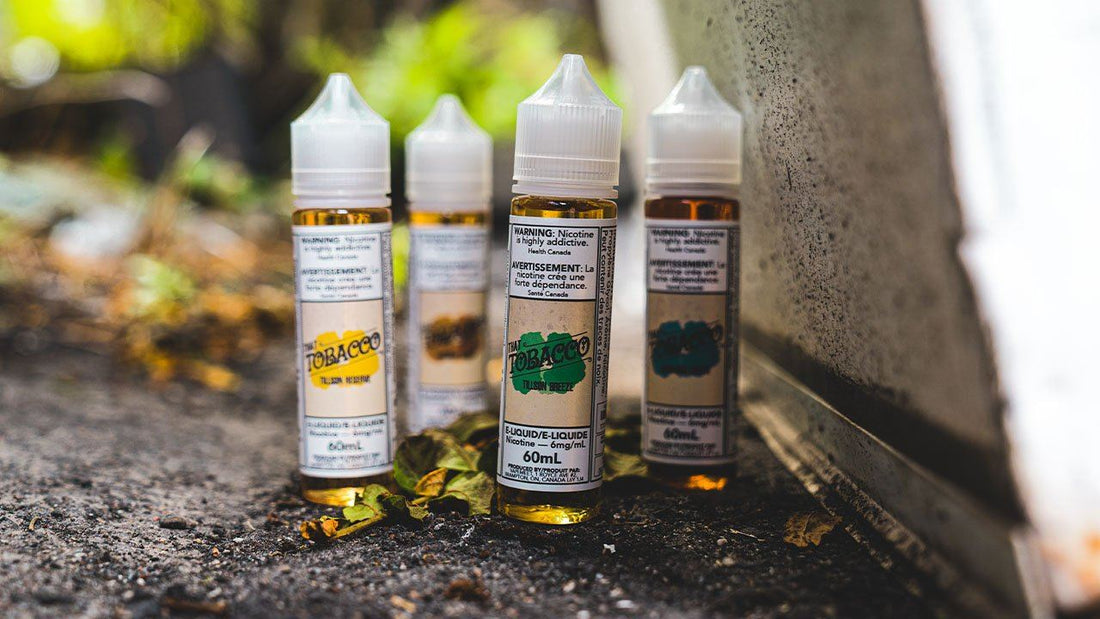 That Tobacco E-Liquid Review
That Tobacco is a line of tobacco flavoured e-juice crafted by yours truly, VapeMeet. We craft our recipes with authentic tobacco tastes in mind, That Tobacco recreates a wide variety of authentic tobacco tastes that former smokers will love. Don't expect the taste of stale cigarettes. Instead, get ready to enjoy flavours like Carolina Sweet, Tillson Breeze, Tillson Reserve, and Virginia Roast.
That Tobacco is available in 60mL and 120mL bottles in 0mg, 3mg, 6mg, 12mg, and 18mg freebase nicotine concentrations. The extra kick from the 18mg concentration is perfect for current tobacco smokers looking to wean off cigarettes without sweating their way through nicotine withdrawals.
The VG/PG ratio for all flavours is 40VG/60PG, which means this product line will produce thin vapour that is packed full of bright, easily identifiable tasting notes. If you want a vape juice line dedicated to authentic tobacco flavours, That Tobacco is it!
The Flavours

Just because That Tobacco is a tobacco-oriented e-liquid line doesn't mean the recipes will be repetitive. Each bottle of this vape juice hits on some of the unique tasting notes you can find in different tobacco strains.
Inspired by tobacco grown in the Carolinas, Carolina Sweet is a light, sweet concoction. You'll taste notes of Cavendish and Burley tobacco strains that mix for a gentle, sweet, and slightly savoury vaping experience. A great choice to replace the end-of-day cigarette you usually smoke to unwind.
Named after the historic tobacco-growing region of Tillsonburg, Tillson Reserve is an appropriate memorial to Canada's tobacco-growing heritage. We blend the predominant flavours of three different tobacco strains to create a full-bodied, gently sweet, and thoroughly smooth flavour. It's as close to smoking a classic pipe as you can get without real tobacco! Try it to see why it remains a customer favourite among That Tobacco's product line!
Tillson Breeze is the same vape juice recipe as Tillson Reserve with a splash of menthol added! When the two combine, you still get the sweet smoothness of Tillson Reserve but it's followed up with an icy blast of menthol goodness. An amazing choice if you are trying to wean yourself off of menthol cigarettes or if you just love the taste of tobacco and menthol!
Virginia is another region famous for its tobacco, but it's also famous for its peanuts! We've combined classic Virginian tobacco with the taste of freshly roasted peanuts to create a savoury, nutty e-juice that pairs great with your choice of whiskey or rum.
Conclusion
That Tobacco is a well-crafted vape liquid line that provides some of the most authentic tobacco flavours you'll have in a vape liquid. Whether you want something light and sweet, full-bodied and rich, satisfyingly savoury, or something cool and minty, you'll find a vape liquid you love in That Tobacco.