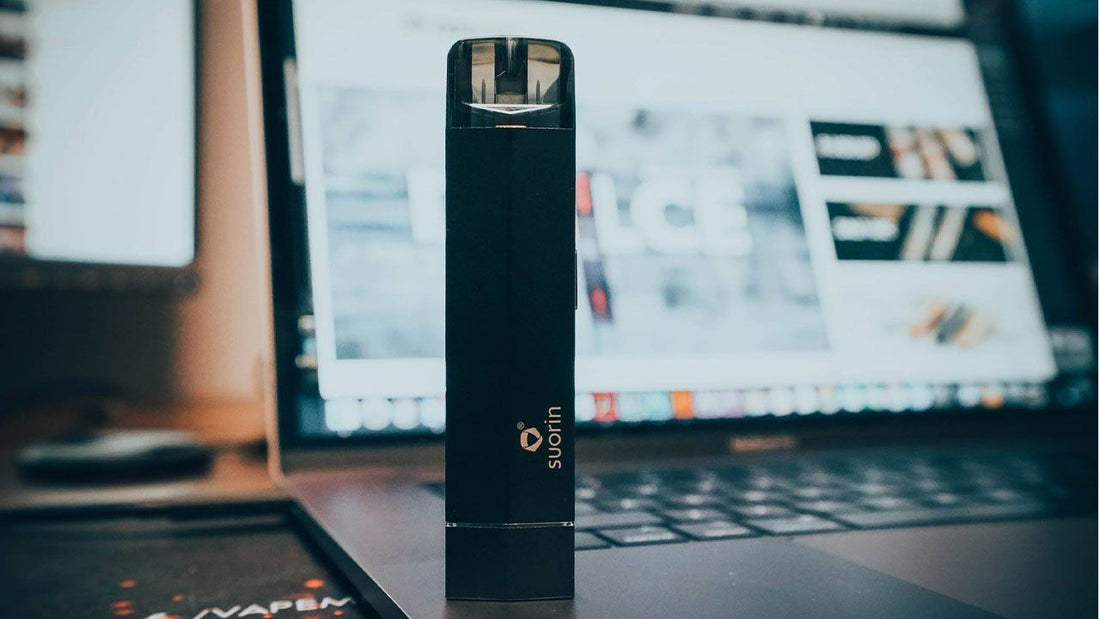 Suorin - Edge Pod System Review
The Suorin Edge is a compact pod system that uses refillable 1.5ml e-liquid capacity pods and has a spare 250mAh battery. The Edge kit includes two batteries (one pre-installed and a spare) so that vapers can use the device anytime. While there are two cells in the box, the cartridges are obviously missing. Users will need to buy them separately.
Specifications
Battery: 230mAh

Coil Resistance: 1.4ohm

Output: 10w Max

Pod Capacity: 1.5ml

USB C charge port

Material: Aluminum Alloy Shell
What's  In The Box
1 x Suorin Edge device

1 x Suorin Edge Case

2 x Suorin Edge Batteries

1 x USB Cable

1 x Warranty Card

1 x User Manual
Design
The Suorin Edge pod system features an elegant, streamlined and minimalist style that comes in different colours. The concept is an upgrade of Sourin's previous launches, including the Suorin Air, a rectangular shaped pod with a two-piece assembly. The edge is super slim and portable; it makes a light, easy-to-go vape. The edge pod device is protected by a metal chassis that can withstand minor dings and drops, making it very durable. Two replaceable and rechargeable batteries provide users with longer vaping sessions and more flexible indoor and outdoor applications.
Flavour Production
The edge pod (which is sold separately) has a capacity of 1.5ml and consists of an exceptional horizontal 1.4ohm coil atomizer with organic cotton to prevent annoying leaks. It also has a rubber latch that effectively secures the pod to prevent messy spills while filling. The pods themselves require very little care or maintenance. Depending on how much it is vaped, and what kind of e-juice (regular or nicotine salt), it will last for at least a week before the wicks begin to burn. It's easier to get the most satisfying hits of your favourite flavour thanks to the auto-drawing technology feature complemented by a comfortable, tight mouthpiece that matches the shape of your mouth.
Overall Performance
The exterior of the Edge appears rather sleek, with just the cell in place. But when the pod is inserted, the Edge loses, well, its design edge, just a little bit. The black, flat-tipped mouthpiece of the pod is separated from the bold, sharp lines of the rest of the unit. The mouthpiece does make for better grip, however, and the air outlet hole can still generate a lot of vapour. There is
no adjustable airflow, but there are airflow holes between the cartridge and the outside of the unit. Users should be careful not to insert the mouthpiece too far into their mouths, as they could cover the hole and limit the airflow.
Battery Life
The two aspects that are really special about the Edge Pod System are that Suorin built it with a removable battery and incorporated a relatively new charging system known as the USB-C. The Edge comes with two 230mAh batteries that you can swap in and out when your batteries are low or dead. Getting the two batteries helps you to still have a backup battery that is fully charged. When you're using one, the other can be charged on its own in the meantime. And then, when the battery you're using dies, the fully charged battery can be easily swapped in. It can't really get any more convenient than that. The Suorin Edge battery can be charged easily in around 30 minutes or less using a USB-C charging cable.
Verdict
The flawless functionality of the Suorin Edge pod system is due to its unique nature that offers an unrivalled vaping experience. Quick rechargeable and replaceable batteries will allow you to vape all day long without any limitations.
If you're still reading at this point then there's a good chance this product is exactly what you're looking for. Check out the Suorin Edge product page and order yours today. You owe it to yourself!