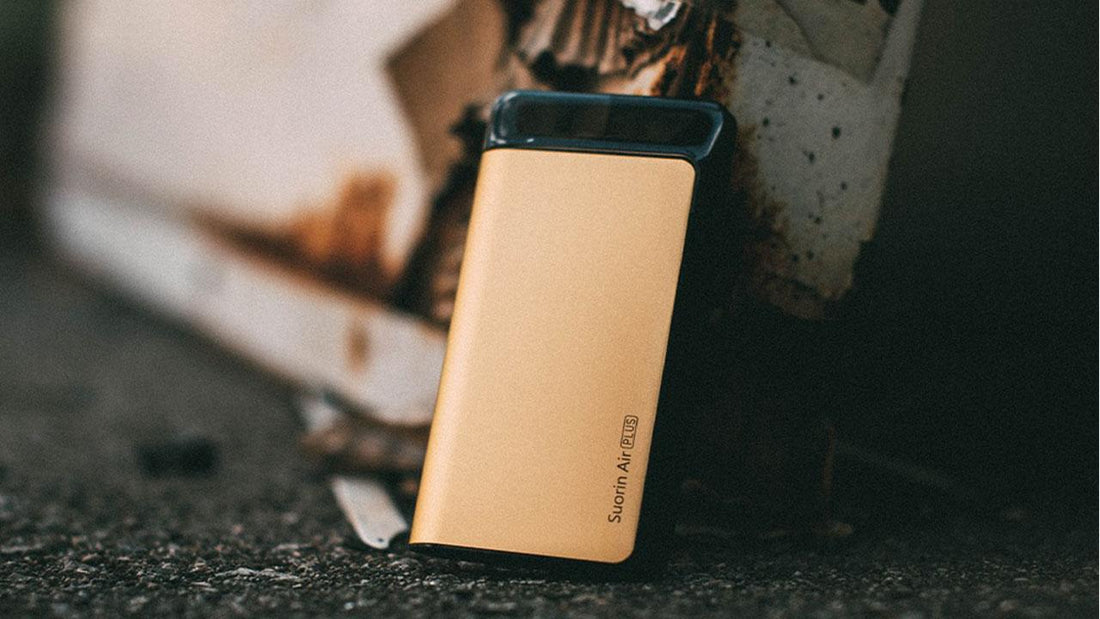 Suorin - Air Plus 930mah Pod Kit Review
The Suorin Air Plus Pod System significantly improves the original Suorin Air, boasting a longer-lasting battery, more power, and two brand new cartridges that cater to either nicotine salt and free-base nicotine. I really enjoyed vaping on the previous model, so I couldn't wait to try this updated pod device!
Specifications
Size: 93.2×49.9×9.9mm

Output: 22W max

Battery: 930mAh)

LED battery indicator

Coils: 0.7ohm / 0.8ohm

Material: Zinc-Aluminum alloy and some other plastic

E-liquid capacity: 3.2ml (standard) / 2ml (TPD)
What's  In The Box
Suorin AirPlus device

USB cable

Empty Pod 0.7 Ohm (Freebase Nic)

Empty pod 1.0 ohm (Salt Nic)

Suorin AirPlus battery unit

User Manual
Design
The build is very ergonomic and makes it easier to move this unit around. The Suorin vape pod is made of zinc-aluminum and plastic. It is available in various colours such as red, gold, blue teal, blue diamond, black gunmetal, mulberry and silver. The Suorin Air Plus measures 93.2 x 49.9 x 9.9mm, which is still ultra-thin for a vape device but far larger than the original. Although the tall, boxy Air Plus may not be everyone's cup of tea, design-wise, the look and feel come together nicely.
Flavour Production
The two pods included have 1ohm and 0.7ohm coils, which don't seem very different until you vape them. As expected, the 1-ohm pods offer a snug, but spicy, warm draw. Any PG-heavy liquid would flow wonderfully, giving MTL vapers a lot to like. I also have to remind you of longevity. Both pods gave me 10 days of steady vaping until a slightly subdued taste took hold. And even that was tolerable for a few more days.
Overall Performance
Now, as far as performance is concerned, Suorin Air Plus has a lot to live up to. People are always buying the old Air for a reasonable cause these days. Apart from its unique nature, it also emulates the closed, cigarette-like pull, which is what you want when your main client base is made up of smokers or fresh ex-smokers. If this style of vaping is what you prefer, it is best to stick with the 1-ohm pods.
Battery Life
Battery life was certainly not the key strength of the original Suorin Air. Its 400mAh battery capacity was decent in 2017, but today, with virtually every manufacturer trying to cram the largest possible battery in their pod system, Suorin needed to change. And that's exactly what they did, significantly increasing the size of its new Air Plus and increasing the battery capacity to 930mAh. This is more than enough for a unit with a maximum output of 22W. Even though Suorin Air Plus features USB Type-C charging, it still takes around an hour to completely charge after the battery has been drained. Luckily, you can even use it when charging.
Verdict
The Suorin Air Plus is definitely one of the best pod vapes out there, that's for sure. There's not a lot of bad stuff to say about this unit. The flavour and the clouds are fantastic, and the battery life is even better. I really like the design, too. The shape and the slim profile are very appealing. It's great for when you don't want to carry a massive, heavy device with you.
If you're still reading at this point then there's a good chance this product is exactly what you're looking for. Check out the Suorin Air Plus product page and order yours today. You owe it to yourself!