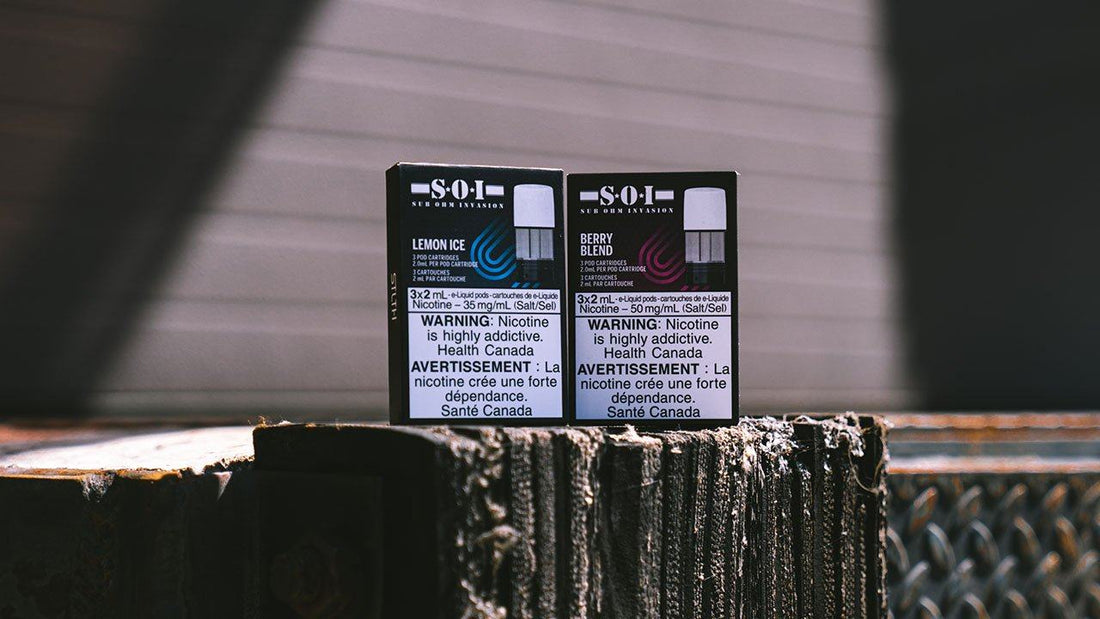 Sub Ohm Invasion STLTH Pods Review
Sub Ohm Invasion is reminiscent of the thick vapour clouds created by sub-ohm vaping that provide amazing mouthfeel. While these vape pods aren't truly sub-ohm vaping, they do make use of salt nicotine and tasty recipes to recreate a similarly satisfying feel. Expect to find flavours like Berry Blend, Lemon Ice Pods, and R.E.
Sub Ohm Invasion pods come in packs of three with 2mL of vape juice in each. They are blended with either 35mg or 50mg salt nicotine concentrations with 50VG/50PG mixes.
The Flavours
Sub Ohm Invasion focuses on tantalizing fruity blends that are sure to keep your taste buds engaged and satisfied. Take a look at their flavour offerings below to see which best suits you!
Berry Blend takes some of the classic berry tastes you've grown to love and throws them into a delicious salt nicotine recipe. The sweetness of berries will hit your mouth on the inhale, while subtle hints of dragon fruit will be available on the exhale. Berry Blend is a calmly sweet mix that will please sweet-tooths everywhere!
If you want a pleasantly sour punch to the mouth, then throw your face into the fist of Lemon Ice. It takes the dominant sour notes of lemon, a bit of the sweetness of lime, and infuses a refreshingly icy blast on the exhale. Lovers of sour or mint will slip and slide for Lemon Ice.
R.E. stands for "rainbow explosion," which is exactly what happens in your mouth when you vape this e-juice. You'll find a wide collection of vibrant, sweet flavours that will remind you of so many of your favourite nostalgic treats. If you love complex blends of a bunch of delicious flavours, then try R.E. and brace for impact!
Conclusion
Sub Ohm Invasion not only provides a satisfying mouth and throat feel but also brings an impressive collection of sweet, fruit-forward vape juices to the table. If their unique fruit-blends sound enticing, know that your taste buds will not be disappointed!