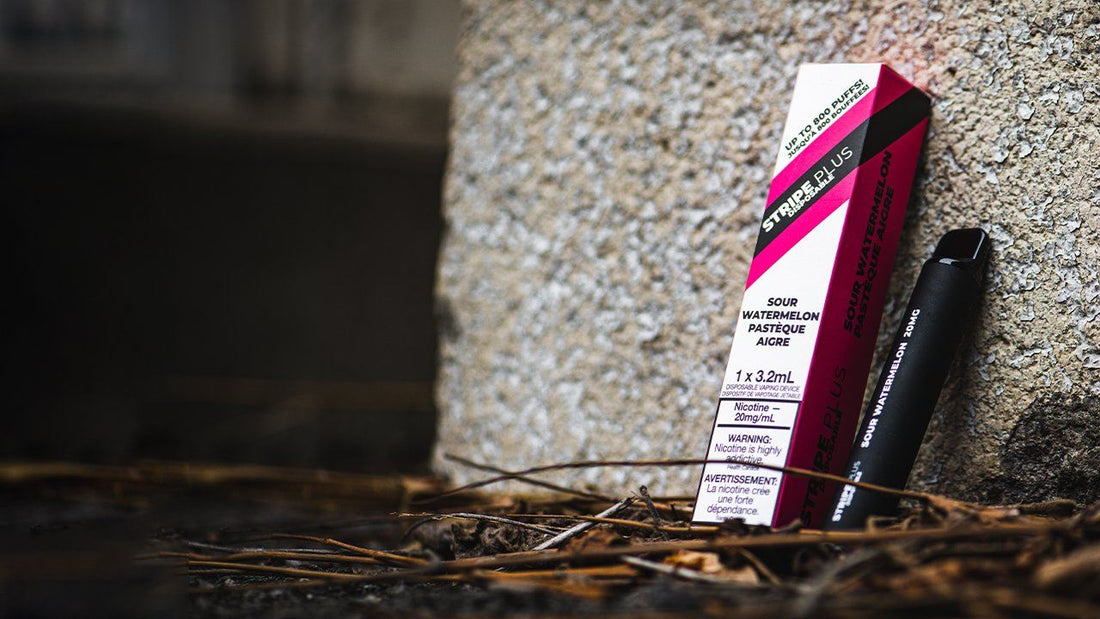 Stripe Plus Disposable Review
We love what we've done with the Stripe Disposable line of vaping products, though we did notice one improvement we could make; packing in more of the delicious vape juice you've grown to love! Stripe Plus is loaded with the same juicy flavours from Stripe, but you'll get more than twice the juice and almost double the battery power!
If you're looking for a bigger, longer-lasting disposable vape loaded with vape juice you already love, then Stripe Plus should be on your radar.
Specs
Stripe Plus vapes come loaded with a whopping 3.2mL of vape juice and a 550mAh battery, giving you an impressive 800 puffs per device. We've designed the coils to have 1.2ohms of resistance, meaning more power is getting to your vape juice, which means bigger, more satisfying clouds!
Stripe Plus vape liquids come in either 20mg or 50mg salt nicotine content in a 50VG/50PG blend.
The Flavours
Stripe Plus is filled with the flavours you've grown to love from Stripe. What's that? You are unfamiliar with the flavours Stripe has to offer? Well, strap in and take a look at the tasty flavours you can expect to find!
The sweet blend of apple flavours has become best friends with chilly mint, resulting in the tasty blend of Apple Chill! You'll catch sweet and tart apple notes that are pleasantly smoothed out by a cool breeze of mint! Apple Chill is crisp, refreshing, and is dying to be vaped by you!
If you're looking for a bit of icy creaminess, then Banana Chill is looking to chill with your taste buds! Icy mint cuts the sweet banana perfectly, resulting in another satisfying fruit-mint blend that is neither too cold nor too sweet. We love this minty blend, and rumour has it that you will, too!
The tarty, sweet flavours of blue raspberry have joined forces with lemon to create a tantalizing trio of flavour in Blue Razz Lemon! You'll taste a burst of sweet sourness on the inhale, while the exhale will allow for the blue raspberry to really shine through the lemony goodness. Blue raspberry never looked so good as in Blue Razz Lemon!
Zippity zoppity here comes the flavour of Fizzy! Formulated to recreate your favourite fizz, Fizzy will hit that craving perfectly. You'll love the smooth, dark flavour made just a bit sharp to recreate the real thing!
Frozen grapes are an incredible snack (seriously, try it), and we've brought that flavour new life in Grape Chill! Juicy grape and cool mint collaborate to create a flavour sensation that is delectably smooth and cool. Lovers of grape will be anxious to court Grape Chill!
If you've struggled to enjoy real grapefruit, you'll be surprised by Grapefruit! You'll get a great blend of sweet, and sour notes without being overwhelmed by any of them. The result is an authentic grapefruit flavour without the sharp, bitter notes that beleaguer some real grapefruit eaters. If you like vape juice with a profound depth of flavour, then Grapefruit will hit you just right.
Listen, not all of us can be cool, suave, and chill. However, you can enjoy the suave taste of Guava Chill, instead! Smooth and creamy with just the right amount of sweetness, the guava flavours blend perfectly with the mint. You'll get a mouthful of gentle exotic sweetness and a refreshing hit of mint!
You'll be singing happy birthday to yourself when you try Happy Birthday! Rich, birthday bliss flavours with layers of vanilla bean will transport you to your favourite birthday memories. If you have no pleasant birthday memories, then it sounds like Happy Birthday is just what you need!
The uncommon tastes of lychee and the common, cool taste of mint create Lychee Chill, one of our more unique mint blends. Expect for the lychee notes of rose and pear to peek out from behind the bold tastes of mint. You'll love the mint-forward tastes of Lychee Chill!
If you prefer your minty blends to be more fruit-forward, then brace for Mango Chill! Strong, juicy notes of mango dominate the blend, with mint making its presence known on the exhale. The result is a pleasant fruit-dominant recipe with just the right amount of icy chill.
For a Megazord of enticing flavours, Mango Pineapple Chill has arrived to vanquish the villains of lack-lustre taste. Smooth mango, sweet and tart pineapple, and cool mint form an incredible flavour that has to be experienced to be believed. You'll find a pleasantly complex, giant-monster free flavour in Mango Pineapple Chill!
There are two huge reasons you'll love Melon; cantaloupe and honeydew. The perilous pair of delicious fruits form the base of this tasty vape liquid, tasting so beautiful you'll need to remember to adjust your gaze accordingly. Not to be outdone by the huge flavour of these two fruits, you'll get the thick, juicy sweetness of peach to go along with it. If you want a tantalizing, seductive flavour, you'll find it in Melon!
Mint Chill is a chilly mint taste looking to combine coolness and iciness! Peppermint, spearmint, and menthol join hands to create an aggressively cool flavour that will keep you feeling icing long after the vapour has left your lips. If you want to be smacked in the mouth with an ice fist, then Mint Chill is rolling up its sleeves!
Peach is a popular flavour because its sweet, juicy goodness is hard to beat. However, combine that tantalizing taste with mint, and you get a whole new world of yummy flavours! The mint keeps the peach from getting too sweet, and the peach keeps the mint from being too forward, resulting in a yin-yang blend of cool peachy goodness.
Sour watermelon is a popular flavour with vapers for a simple reason; it's completely delicious. We've done the classic taste justice in our own blend of Sour Watermelon. With just enough sweet and just enough sour, you get a satisfying one-two punch of sweet-sour goodness without being overwhelmed by either.
Just as sour watermelon is an objectively good blend, so too is strawberry and banana, which is why we made Strawberry Banana! Sharp and creamy smooth sweet flavours collide to create a cascade of fruit goodness that you will fall in love with. If you happen to fancy this particular pair of flavours, then you would also fancy trying Strawberry Banana!
Verily, we have concocted yet another recipe of a very popular flavour duo, creating Strawberry Kiwi! Sweet and tangy go blow for blow on your taste buds, creating an enticing flavour dynamic that is beloved by vapers from all over! Again, if you happen to fancy this flavour duo, then your mind, body, and soul will feel fulfilled by our take on Strawberry Kiwi!
Sour and sweet decide to join forces in creating a sweet and tarty experience in Strawberry Lemon. More sweet citrus than sour, the lemon pairs nicely with the strawberry to give a truly summery experience. Those looking for a super sweet, super tasty vapour juice will be quite delighted with Strawberry Lemon.
Our final minty flavour is the perfect prescription for battling nasty, hot summer days. Watermelon Chill is perfectly sweet, perfectly juicy, and perfectly minty, and the three blended together will taste so natural you'll think mint watermelons grow in the wild!
Watermelon pairs well with all kinds of different flavours and raspberries are no exception. You'll get more sweet notes than tart ones from the raspberry, while the strong flavour of watermelon serves as the recipe's foundational flavour. The result is a unique sweet mix with just the tiniest hint of raspberry tartness.
Conclusion
Stripe Plus takes what Stripe Disposable offers, with a higher capacity and a longer-lasting battery. If you know there's a Stripe flavour you love, you owe it yourself to go big and get the Stripe Plus variety instead!