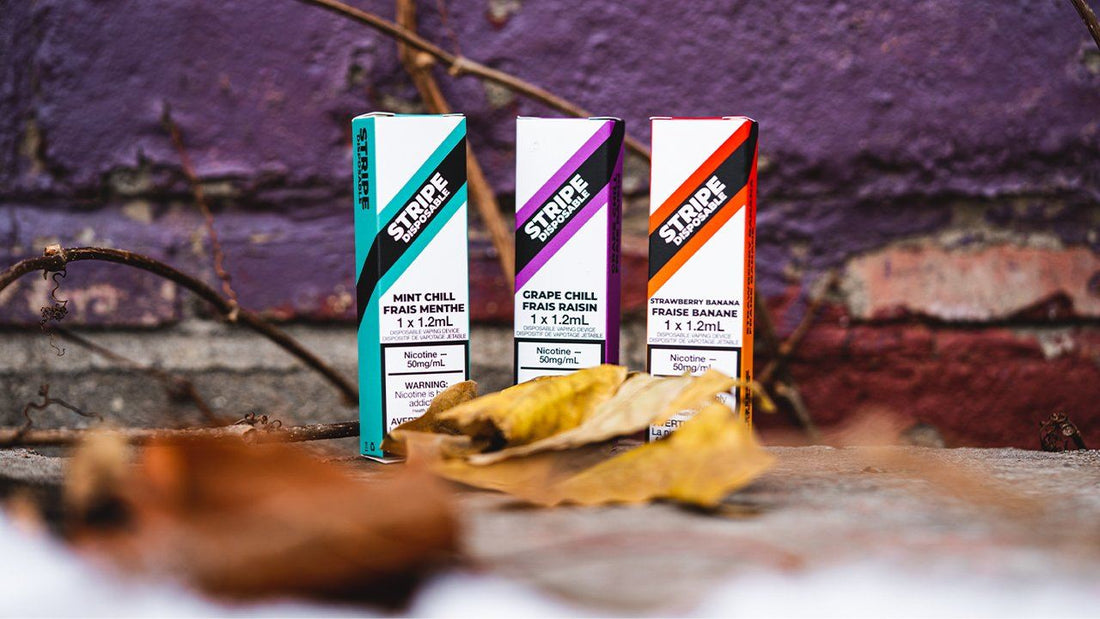 Stripe Disposable Review
Stop. Being that you're on this page, you're likely already aware of what disposable vapes have to offer. You're already sold on the low-hassle, easy-to-use experience they offer. You're not here to decide if you should try disposable vapes. Rather, you're here because you're deciding which disposable vape to try. In a crowded field, it can be hard to decide which brand to choose.  
However, for us, the answer is clear: Strip Disposable. The devices are small and discrete but still provide plenty of vapour, a great salt nicotine kick, and with 20 flavours to choose from, it's a nigh certainty that you'll find something you love.
Why are we so confident? Stripe Disposables are crafted by the industries leading experts: us! We've crafted each and every juice to make sure you love the taste, whether it be sweet sour, or something truly unique!
Specs
Stripe Disposable vapes come pre-filled with 1.2mL of vape juice and a 280mAh battery. That'll get you about 300 puffs with each disposable vape. Vapour is produced on a coil with 1.2ohms of resistance, meaning it'll be easier to get satisfying puffs of vapour each time you pull.
Stripe Diposable vape liquids come in either 20mg or 50mg salt nicotine content in a 50VG/50PG blend.
The Flavours
Stripe Disposable has an impressive suite of flavours. You'll find standalone classics, tasty fruity blends, and some unique recipes you won't find anywhere else.
Apple and mint join forces to create the crisp, refreshing blend of Apple Chill. You'll find a pleasant blend of sweet and tart apple flavours, all cut but a gust of chilly flavour. Apple Chill is a great choice for apple lovers who want something to cut the extra tart and sweet flavours.
There's always money in the banana stand, and there's always delicious flavour in Banana Chill. Creamy, sweet banana notes blend with the chill blast of mint quite nicely, creating an experience like biting into a frozen banana. If you're looking for creamy, icy goodness, then Banana Chill is right for you!
Everyone loves a good collaboration, and Blue Razz Lemon does not disappoint. The sweetness of blueberries and raspberries along with the sourness of lemons unite to create a delicious sweet and sour experience that is a tastebud delight! Contrasting-blend lovers will be head over heels for Blue Razz Lemon.
Dark fizz fans will feel right at home with Fizzy. Reminiscent of your favourite fizz with the familiar bite of carbonation, Fizzy excels at being sweet and...well...fizzy...without being too syrupy and lacking a chemical aftertaste. Vapers looking to enjoy the wonderful tastes of fizz without the sugar will be bubbly with glee to try Fizzy.
Stripe has another tasty mint blend that will grip your tastebuds: Grape Chill! The juicy smooth sweetness of grape blends amazingly with cool blasts of mint. The result is a flavour that is sweet-forward while the mint keeps it from getting too syrupy. Feel free to come chill with Grape Chill anytime!
Grapefruit brings equal parts sour and sweet into a delicious citrus recipe. The sharp notes of each will hit on the inhale, while the flavours even out on the exhale, letting you get a good taste of the full-bodied sweetness. Grapefruit is another excellent sweet and sour blend, but this time it's citrus oriented.
Oh, you'd like a minty flavour that isn't grape, banana, or apple? We won't call you picky. Instead, we'll call upon the creamy smoothness of Guava Chill! It's smooth like banana but comes with a complex sweet and tangy flavour unlike any other in the Stripe lineup. The blend ends up being more minty than fruity, though the exotic guava aftertaste will win over nearly any vaper.
Happy Birthday lets you have your treat and eat it, too! Sweet and rich notes will swirl in your mouth with an even spread of vanilla bean. The most decadent Stripe flavour, Happy Birthday is our gift to those who prefer treat flavours than fruit flavours.
Lychee is an uncommon flavour in the Western world, but its delicious, unique taste is growing increasingly popular, especially among vapers! You'll get pear-like sweetness (and for those discerning vapers, you may even detect rose!) Combine that deliciously unique fruit with mint, and you get an uncommonly delicious recipe. If you're ready to make a change from traditional vape flavours, Lychee Chill is your chance!
We have heard the masses clamouring for a broader selection of minty choices, and we have heeded that call. For the next introduction to our minty suite of flavours, we present Mango Chill! Our mango flavour is carefully crafted to taste juicy, smooth, and tropical, and the addition of mint adds a cool breeze to this island paradise of flavour. If you need something sweet and refreshing, Mango Chill is awaiting you!
We get it. Many of you feel sad when mango is all by itself. Why, how could it possibly find happiness with just chill by its side? We're not monsters, so we've paired mango with pineapple to make the chilly, tropical sensation of Mango Pineapple Chill! You'll get the smooth notes of mango mixed with the sharp sweetness of pineapple; all brought together with cool mint. You'll find this to be a deliciously cool, smooth, and sharply sweet vape juice!
Even though this flavour is "Melon," we all know that melons are best in pairs! Your tongue will swirl around two big melon flavours, cantaloupe and honeydew, which will be a super juicy, full-bodied sweetness. Of course, two huge melons are only made better with a juicy peach, and discerning vapers will catch subtle peach notes on the exhale. Busty melon flavours with just the right sized peach tastes, could you really ask for more?
Mint Chill combines the cool, icy flavour of mint with the cool, icy flavour of more mint! Of course, you'll catch peppermint, sweet spearmint, and powerful menthol. Mint lovers will want a jacket to take on the refreshing coolness of Mint Chill.
Oh yes, we're not done with chilly tastes. Peach Chill takes the fuzzy sweetness of peach and blasts it with chilly mint. Imagine eating your favourite peachy treat with a healthy dose of mint. The smooth, gentle peach tastes blends well with mint, and we're sure Peach Chill will hit your palate in just the right way.
Our take on a classic flavour will leave you puckered with glee. Sour Watermelon takes the summer-time sweetness of watermelon and smacks it with sour (but not too sour) flavour, bringing back memories of your favourite nostalgic treat. You won't be disappointed with this mix, and it's our favourite sour flavour in the Stripe product line!
We're not done bringing you classic, delicious flavours. Strawberry Banana is our blend of the longstanding favourite, and you'll be blown away by it. Sweet strawberry and creamy banana join hands to recreate a thick, delicious flavour. Fans of this traditional pairing will not be disappointed by Strawberry Banana!
Well, well, well, if it isn't another delicious, traditional blend brought to you by yours truly! We've made sure the sweetness of strawberry and the tanginess of kiwi hits a perfect blend. This vape liquid is neither too sugary nor too oddly tangy, and you'll find it hits that Goldilocks level of blending...just right!
Who doesn't love a refreshing glass of strawberry lemon? We certainly do, which inspired us to make Strawberry Lemon! You'll catch sweet strawberry and sugar notes that even out the sour citrus flavour of lemon, giving you a delicious, thirst-quenching taste! Strawberry Lemon is a wonderful choice for vaping during hot summer days, but we've found ourselves enjoying it all year long!
Watermelon Chill is the final minty flavour in our suite of tastes, and it is a fantastic grande finale! Juicy, sweet watermelon notes will hit your tastebuds first, while the pleasant coolness of mint keeps things from getting too syrupy sweet. Watermelon Chill is another excellent summer vaping option, but it's also one of our favourite mint flavours in the entire line of vape liquids!
Watermelon and raspberry don't hang out much, but when they do, they create the unique, tasty flavour of Watermelon Razz! Not only do you get sweet watermelon, but you get the sweet and tarty flavour of raspberry, too! The result is a complex sweet blend that you can really flesh out on the exhale. Watermelon Razz is one of our more complex fruity blends, and vaping scholars everywhere will love it!
Conclusion
Stripe Disposables offer authentic fruit flavours, classic sweet blends, and a whole bunch of minty options! We have painstakingly searched for ingredients and crafted recipes to make sure that, regardless of the flavour you choose, you will be blown away by the long-lasting, vivid flavour of each vape juice. It's impossible to go wrong with Stripe, so pick a new flavour and get to vaping!
You've made it to the end of our review, what are you waiting for!? Head over to the Stripe Disposable collection page to shop now!