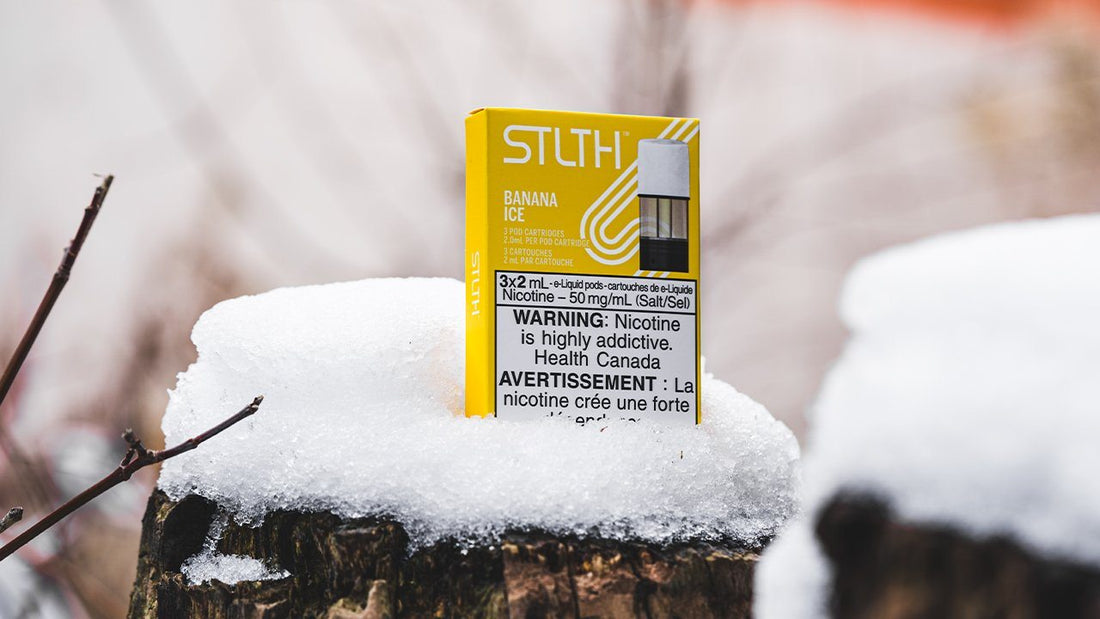 STLTH Pods Review
STLTH didn't just make a pod vape pen that is fantastic to use. They've also concocted a huge suite of tasty vape juice blends. You'll find simple, straightforward flavours along with interesting, unique blends. You'll see flavours like Banana Ice, Berry Blast, Blue Raspberry, Crisp Apple, Flavourless, Frost, Honeydew Menthol, Mango, Peach, Strawberry, Tobacco, and Tundra Berry.  
STLTH vape pods come in packs of three, and each pod holds 2mL of vape juice. Most flavours are available in 20mg, 35mg and 50mg salt nicotine blends. Flavours are also mixed with a 50VG/50PG ratio, helping to let tasty flavours shine through in tasty, thin clouds of vapour.
The Flavours
STLTH vape pods offer a large variety of vape juices to choose from. Take a look at our review of the blends STLTH offers!
The smooth sweetness of banana and the cool hit of mint makes for a delicious vape juice experience! While the recipe is simple, the experience is one that you won't soon forget. If you like banana or mint flavours, then Banana Ice should be locked and loaded in your STLTH vape!  
As the name aptly describes, your mouth will be blasted with berry in this delicious fruity blend. You'll catch prominent notes of raspberries, strawberries, with hints of other berry notes. Berry Blast is a fantastic berry-forward blend that hits the sweet and slightly tart notes in just the right way.
STLTH offers a delicious take on the classic flavour of Blue Raspberry. You'll catch sharp sour notes in the intake with an excellent mix of sour and sweet on the exhale. If you love trying out blue raspberry flavours across vape juice lines, you will not be disappointed with STLTH's tasty blend!
Crisp Apple brings simple sweet and tart flavours that, simply put, are delicious. The tartness will hit your cheeks with just enough bite to not be overwhelming, and the apple sweetness will wash over your mouth. Crisp Apple reminds you of a fresh, tasty apple without leaving a bitter, lingering aftertaste like other lower-quality blends.
Do you enjoy vaping but hate tasting it? Well, then you should try Flavourless! You'll love how subtle notes of nothing wash over your palate, and you'll catch rich notes of nothing on both the inhale and exhale. If you don't want to taste anything, then try Flavourless!
You'll get a great blast of mint with Frost! Blended with a great mix of peppermint and spearmint, strong cool notes will frost your palette over while gentle spearmint sweetness will hit your taste buds on the exhale. Frost is a tasty choice for mint lovers!
Honeydew Menthol takes ripe honeydew (not the half-ripe monstrosities that are so common in supermarkets) and adds a cool menthol finish. You'll get juicy, smooth, and sweet notes from honeydew with a refreshing mix of menthol. Honeydew Menthol is a fantastic, sweet-mint blend that is sure to make your taste buds dance!
Getting a mango flavour right can be tricky. Some don't have enough mango flavour, giving a chemical-like taste. If there's too much sweetness, it tastes syrupy. Mango from STLTH strikes a perfect balance in its recipe, achieving an amazing Mango flavour that is not too sweet.
Peach by STLTH offers an authentically peach flavour into your device. You'll catch sweet notes that taste like real fruit instead of being overly sweet or overwhelming. On the inhale, your taste buds will catch sweet notes, while the full-bodied smoothness of real peach will coat your mouth on the inhale. Peach is a fantastic take on a classic flavour, brought to you by STLTH!
STLTH has another fantastic take on a classic flavour; Strawberry. A sweet but not too sweet taste will hit your taste buds on the inhale, with sweet and mild tart notes hitting your mouth in the exhale. Strawberry is a simple recipe, but it is also simply delicious!
Tobacco flavours and salt nicotine go hand in hand to create a wonderful mouth and throat feel. Add in the delicious medium blend formulated by STLTH, and you get an authentic cigarette smoking experience without needing to smoke real tobacco. If you're a fan of mild tobacco, you'll love Tobacco by STLTH.
Tundra Berry brings in the tarty, sweet tastes of berries with the icy punch of menthol to create a deliciously sweet and minty blend. Discerning vapers will be able to pick out the specific berry notes that are blended into this tasty recipe. If you want to know what berries are blended in, you'll have to give Tundra Berry a try yourself!
Conclusion

STLTH has formulated an impressive display of tasty vape juices. You'll find great recipes of simple, classic flavours as well as unique blends that are tough to find in other vape pod brands. STLTH makes it easy to give their pod vaporizers a try by offering all kinds of delicious vape juice flavours!